News Around Webster: Goedereis, Palmer, and Stiles
Goedereis Elected to Council on Undergraduate Research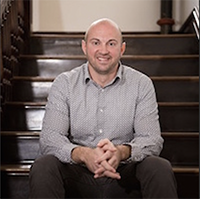 Eric Goedereis, Associate Professor and Chair of Psychology at Webster University, has been elected a Councilor in the Psychology Division of the Council on Undergraduate Research (CUR).

Goedereis was elected based on his work in supporting and promoting high-quality mentored undergraduate research, scholarship and creative activity. "I look forward to serving in this role and am excited about how this leadership position within CUR will give Webster University a voice at the national level, especially as we work toward improving and institutionalizing our commitment to high-impact practices at the university," said Goedereis. His term begins July 1, 2022.
In addition to the 18-member executive board, the CUR has a general council that serves as the governing body for the organization. These individuals are highly engaged volunteers who have a passion for undergraduate research and advocate for furthering the mission and vision of CUR. Members include division councilors from the 13 divisions: Arts and Humanities, At-Large, Biology, Chemistry, Education, Engineering, Geosciences, Health Sciences, Math and Computer Sciences, Physics and Astronomy, Psychology, Social Sciences and Undergraduate Research Programs.
They are all directly involved in shaping the future of undergraduate research within their respective divisions and are empowered to use their knowledge and experience to help advance undergraduate research in ways that improve students' lives and makes a difference in the community.
Founded in 1978, the CUR is an organization of individual, institutional and affiliate members from around the world that share a focus on providing high-quality and collaborative undergraduate research, scholarly, and creative activity opportunities for faculty and students. More than 700 institutions and more than 13,000 individuals belong to CUR. CUR believes that faculty members enhance their teaching and contribution to society by remaining active in research and by involving undergraduates in research, and that students engaged in undergraduate research succeed in their studies and professional advancement.
Julie Palmer Competed in IRONMAN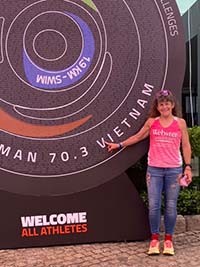 Webster business professor Julie Palmer recently completed in the sixth VNG IRONMAN 70.3 held in Da Nang, Viet Nam. She won first place in her age group, 55-59, with a time of six hours, 22 minutes after finishing the 1.9 kilometer swim, 90 kilometer biking portion and 21.1 kilometer run.
With this time, Palmer qualifies for a slot in the "Worlds" or 2022 World Championships IRONMAN 70.3 which she last competed in back in 2017.
Da Nang, known for amazing landmarks, spectacular beaches and delicious food, landed the city on a recent New York Times "52 Places to Go" list. The scenic race backdrop consisted of the beautiful mountains and vibrant blue sea with a flat racecourse that finished on the beach.
The 2022 World Championship IRONMAN 70.3 will be held in St. George, Utah, in October.
A triathlon is an endurance multisport race consisting of swimming, cycling and running over various distances. Triathletes compete for fastest overall completion time, racing each segment sequentially with the time transitioning between the disciplines included.
Stiles Published Article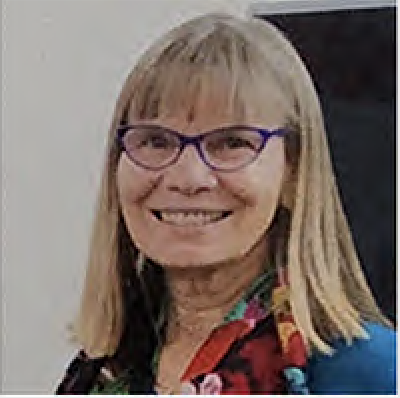 Deborah A. Stiles, Ph.D., a Webster professor in Applied Educational Psychology and School Psychology, the director of the Intercultural Research Center and a Fellow for the Institute for Human Rights and Humanitarian Studies, had an article published in The Peace Psychologist entitled, "9/11 Revisited: Psychological Trauma, Personal Reflections, and Meaning-Making."
Stiles, a peace-based psychologist, was affected by 9/11 after growing up in Summit, New Jersey — which is next to lower Manhattan and the World Trade Center Towers. Being 953 miles away with family still there when the attack occurred, she did not know for 12 hours if her family members were safe or not.
The article is in the Winter 2021|2022, Volume 31, Issue 1, pages 23 – 26.