Webster University Internship Expo Returns to In-Person Format After Two Years, Sees Great Success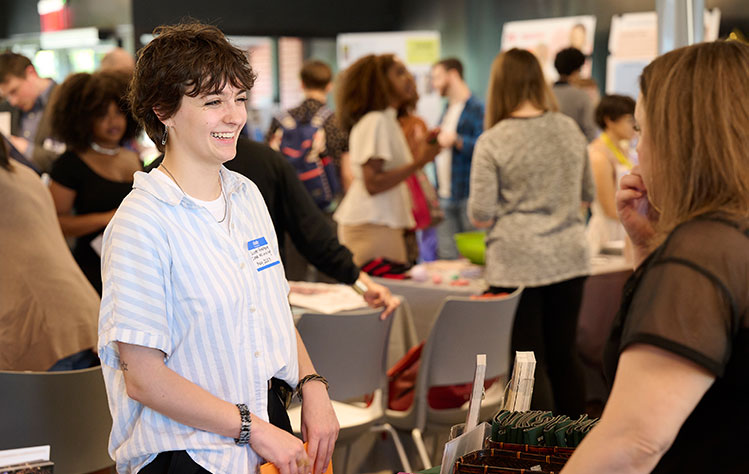 The value of experiential education was on full display last week as Webster University's School of Communications hosted its first in-person Internship Expo in two years. The event welcomed 60 representatives from 26 partner organizations and capped off a robust Careers Week teaming with eager students.
Trezette Dixon, director of the School of Communication Internship Program, expressed great pride and gratitude for the event's remarkable turnout.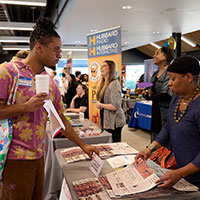 "It was exhilarating to witness the excitement of our talented internship seekers connecting with enthusiastic creatives in the fields of Animation, Film Production, Audio Engineering, Game Design, Journalism, Advertising and Media," Dixon said. "I was also overjoyed to see former interns engaging on the other side of the recruiting table to continue the pipeline of Webster University talent while supporting their fellow Gorloks."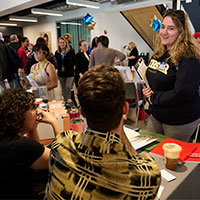 Former internship program participants-turned-professionals-in-demand included Liana Gallyoun-Arroyo and Johnny Pelhank (New Honor Society), Drew Fisher (TOKY Branding + Design), Jonathan Shaver and Matthew Creek (Shock City Studios), Teresa Fuller (Lin. Woods Inspired Media), Drake Vogl (Mob Entertainment) and Staci
Johns (Kalinga Studios).
The event also featured six student-led poster presentations that showcased students' successful Spring and Summer 2022 internship experiences. Participating students included Lily Sothmeier, Film, Television and Video Production (Anheuser-Busch Communications and Avatar Studios), Garrett Dohlke, Sports Communication and Journalism (In-Depth with Graham Bensinger), Camila Angulo, Advertising and Marketing (Marcone Supply), Mckaylah Bell, Media Studies (Buckingham Strategic Wealth), Joshua Wright, Media Studies (New Honor Society), and Cole Anderson, Film, Television and Video Production (Lifetime Media).
The University extends tremendous thanks to the following participants and School of Communications Internship Program partners:
Abstrakt Marketing Group
Greater St. Louis Area Council, Boy Scouts of America
Community Music School of Webster University
CTI, Conference Technologies, Inc.
Coolfire Studios
Mob Entertainment
Gateway Studios & Production Services
Hubbard Radio St. Louis, LLC
Ironman Sound Industries
Kalinga Production Studios
Lin. Woods Inspired Media, LLC
Logic Systems Sound and Lighting
Mandalay Sports Media, Tollin Productions
Midsummer Night Screams Film Festival
New Honor Society
Opera Theatre of Saint Louis
Shock City Studios
Saint Louis Magazine, SLM Media Group
Sophia M. Sachs Butterfly House
St. Louis Symphony Orchestra
Monica Butler, Butler Group, LLC
The Sheldon Concert Hall
The St. Louis American
Webster-Kirkwood Times
TOKY Branding + Design
Unbridled Media