Julie Smith Leads State Department Briefing on Online Disinformation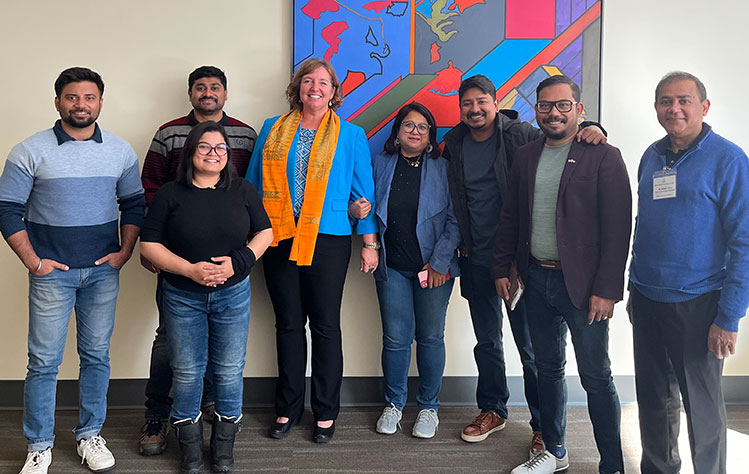 When the U.S. State Department was asked by members of the International News Media for help in understanding disinformation on social media, department representatives knew exactly who to turn to for help in explaining the complexities – Webster University School of Communications Instructor Julie Smith.
Smith met with eight representatives of the media and government agencies from India on Wednesday, Nov. 9 and led them in a quick course on what disinformation is, how to spot it, and how an understanding of media literacy can help combat its spread online.
The program, called "Countering Mis/Disinformation: Enhancing Journalistic Legitimacy in Media and Law Enforcement," was part of the State Department's International Visitor Leadership Program. The event was held at Webster's Gateway Campus in downtown St. Louis.
"All of the people who were there were really nice, incredibly interesting and brought great questions and insights. In fact, I think I learned more from them about media in other parts of the world," Smith said. "I walked them through the basics about media literacy and showed them many of the tricks of the trade, such as how to do a reverse image search or how to detect if a 'source' is fake or biased."
All of the participants were visitors from India. They were:
Tamaghna Banerjee, special correspondent from The Times of India newspaper.
Debasmita Das, deputy commissioner of police, Southeast Division, Kolkata Police Department.
Arkamoy Datta Majumdar, principal correspondent for The Telegraph newspaper.
Arup Dey Senior, sub-editor for Bartaman Patrika newspaper.
Indrajit Kundu, deputy editor, India Today Television and Aaj Tak TV Today Network Ltd.
Praween Prakash, deputy commissioner of police, Cyber Crime, Detective Department, Kolkata Police Department.
Kamalika Sengupta, editor for East CNN-News18 Digital.
Chandrani Sinha, an independent journalist.
Smith clearly had an impact on the participants. Shortly after the session was over, Kundu tweeted, "Debunking #fakenews is an endless game. And most often it's never enough. That's where media literacy comes in. More power to you @julnilsmith. We need to educate our audiences and media literacy should be part of every school curriculum."
Smith has built a national reputation for debunking misinformation and spreading the word about media literacy. She is frequently interviewed and quoted by media across the United States, including the Washington Post and U.S.A. Today. She is also a frequent guest on KMOX Radio in St. Louis and is co-host of the popular podcast "What the Media," which is part of KMOX' s Media Literacy Project. Earlier this year, Smith was named co-winner of the prestigious regional Edward R. Murrow Award for her work with KMOX.
Smith is the author of the book "Master the Media: How Teaching Media Literacy Can Save Our Plugged-In World," and "Wake 'Em Up! Super-charge your student engagement." The "What the Media?" podcasts can be found on Stitcher, Apple Podcasts and Google Podcasts.