Kaiser Named Assistant Vice President for Academic Affairs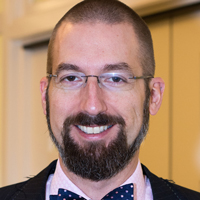 The Office of Academic Affairs is pleased to announce that Professor DJ Kaiser has been named assistant vice president (AVP) for Academic Affairs at Webster, effective July 1. In this role, Kaiser will assume responsibility for projects related to HLC and specialized accreditations (including Webster's upcoming HLC quality initiative); assist in international initiatives aimed at expanding Webster's academic programs globally; and provide guidance and support for external grants, including opportunities for funding for global projects.

"DJ's experience and demonstrated success in accreditation, program launch and growth in the U.S. and internationally and collaborative grant work in the School of Education and the MA in Teaching English to Speakers of Other Languages (TESOL) program are significant," said Vice President for Academic Affairs Nancy Hellerud. "We look forward to him joining the Office of Academic Affairs and bringing those skills to projects that impact all six schools and colleges and span the global network."

Kaiser will join Academic Affairs in Loretto Hall on July 1. While serving as AVP for Academic Affairs, Kaiser will continue to direct the MA in TESOL program and serve as project director for the National Professional Development Grant, a $2.7 million grant awarded in 2017 for a multi-year project to prepare St. Louis-area teachers to meet the needs of English learners through coursework at Webster.

Kaiser joined Webster University in 2011. He holds bachelor's degrees in Linguistics and Spanish from the University of Illinois; a master's in Teaching English as a Second Language also from the University of Illinois; a master's in Drama from Washington University in St. Louis; and a doctorate in Comparative Literature and graduate certificate in Translation Studies, also from Washington University.