Webster Community Celebrates the Lunar New Year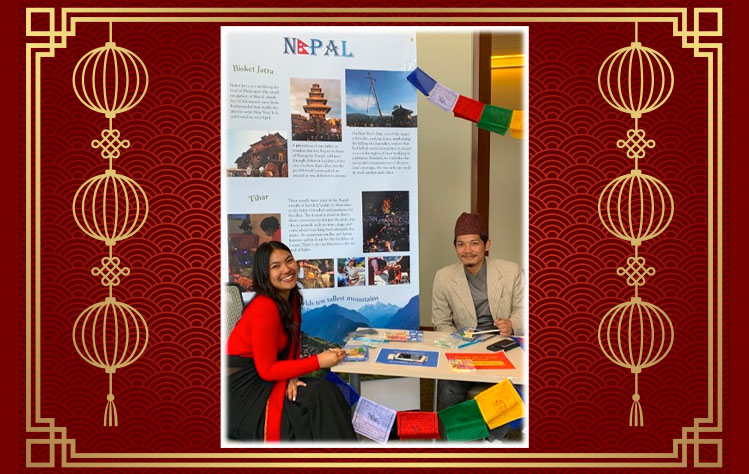 The long-awaited Lunar New Year Across Asia festival took place at the main campus on April 4, after being postponed due to COVID concerns. Though too late to observe according to the Chinese lunar calendar, the event was just in time for Nepalese New Year observed on April 14. Sponsored by the Confucius Institute, Webster University faculty, staff, and students came together in the East Academic Building Commons to observe the Lunar New Year, a staple which unites quite a number of cultures across Asia in celebration.
Lunar New Year Celebration Traditions
Nepalese New Year is marked with a chariot procession to the capital city, Kathmandu.
On the eve of the Japanese New Year, Shogatsu, temple priests ring a bell 108 times to rid the world of the 108 worldly desires of humans before the new year begins.
The Philippines is a blend of many cultures: the world's longest Christmas season (four months!) and Lunar New Year traditions brought in by the Chinese diaspora share space on the islands.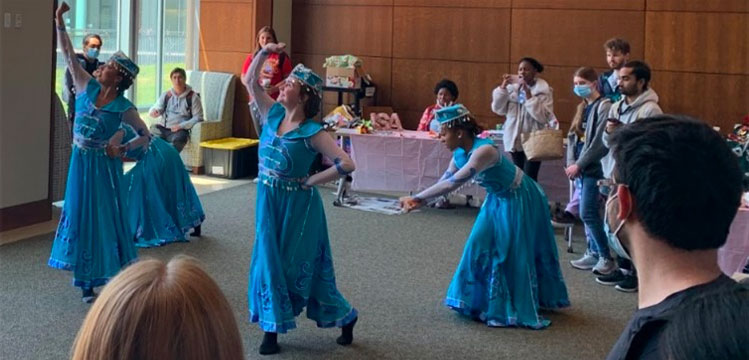 Members of the Webster community hailing from China, Japan, Vietnam, Nepal, Thailand, Pakistan and the Philippines decked the East Academic Building's Edward Jones Commons in festive décor, donned their traditional dress, and ran interactive tables to share knowledge about their traditions. To supplement the games, raffles and scavenger hunt for multilingual New Year greetings, the festival offered a catered lunch and dance performance. Professor Xi Zhao led her dance students in performances of Mongolian, Tibetan and Dai styles. Attendees were able to sample Nepali, Japanese, Pakistani and Chinese dishes; the Pakistani samosas and gulab jamon were generously sponsored by Mideast Market.
Ginger Hu, adjunct faculty member in the Global Languages, Cultures and Societies Department, helped to run the table dedicated to Chinese Lunar New Year traditions. "I think we had a great turnout!" said Hu. "Students were very eager to learn about all the different countries. And they especially liked the raffle prizes!" Students could spin to win keychains of a plush tiger, a zodiac wheel or a dancing dragon.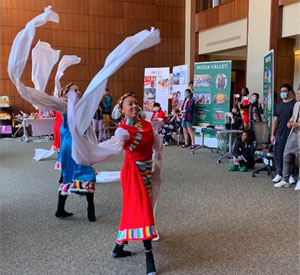 Smriti Shrestha, an international student from Nepal, can attest to the size of the crowds. She "held the floor" almost all day, posing for pictures and capturing the interest of passersby with her presentation about Nepali festivals, the Sherpa ethnic group, and the Gurkha soldiers. "It meant a lot to me that so many people wanted to learn about my culture."
The dancers were a big hit with the crowd. "I can't imagine the dedication it took them to learn those steps," said attendee Michelle Milla. "As soon as it was finished, I couldn't help but want to see even more dances!"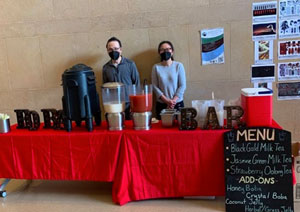 A variety of tasty treats were on hand for students: momos, pork buns, sushi, and shrimp dumplings, among others. The biggest hit was the samosas from Mideast Market, much to the delight of Khousleem Bano, an international student from Pakistan who helped to bring samples from Mideast Market to the celebration. "I heard everybody went for those first," said Bano.
Altogether, the event was so well-received that students clamored for more content. "I would absolutely love to participate in another event like this in the future. The interactive format made it compelling in a way that a presentation just cannot do. I'm so grateful for having the opportunity to learn about Asian culture in this way," said Milla.
Special thanks to Xiaohong Xiao, Ginger Hu, Hitomi Salini, Sarah Navarette, Xi Zhao, Tom Winkleman, Laura Rodak, Naima Dawid, Smriti Shrestha, Maria Lourdes Young, Khoushleem Bano, Nuhong Thi Cao, Nikita Thapa, Saurav Rana, Jenna Dietl, Jessica Berman, Ta'Lyssa Jones, Andrew Lamb, Lydia Q Dames, Tess Davies, Gray Griffiths-Hill, Jameson Horvath, Leah Munier, Katrina Soltwisch, Maddy Bergmann, Marlee Doniff, McKenzie Grzina, Ashley Mason, Maria Vitelli, Mylan Wray, Demi King and others.