Webster Alumna Named Educator of the Year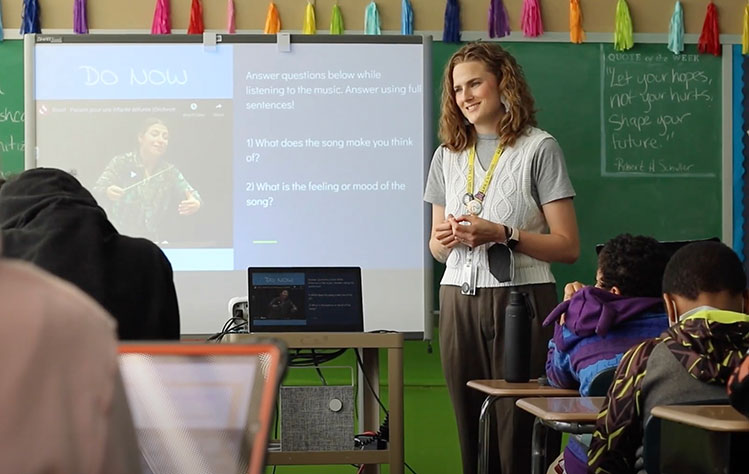 Webster University alumna Korryn McDonald was named Saint Louis Public School's 2022 Visual and Performing Arts Educator of the Year in May.
A music teacher at Busch Middle School of Character, McDonald, who is originally from Kansas, moved to St. Louis in 2014 to attend Webster. She graduated in 2019 with a bachelor's in Music Education. It was during her Webster years, as she relayed in a celebratory video released by her district, that she realized the true depth of what music can accomplish in the classroom.
"As I was going through college, I realized how wonderful of a tool music is to teach anything," McDonald said. "You can teach community. You can teach humanity. You can teach so many different kinds of skills that are separate from just music."
When her students were asked what makes "Ms. McDonald" so special, it was her energy and effort they mentioned most.
"She knows how to make a class as fun as possible," said Tamiyah, a seventh-grade student of McDonald's. "She's amazing."
"She's a really awesome teacher because she tries her best always," added sixth-grader, Jair. "It's just really awesome how she just tries every time even when there's struggling."
McDonald's students' enthusiasm is mirrored by her own. In fact, her deep love for her job as well as the drive she has to help her students succeed sometimes gets her so excited that her students feel the need to remind her to calm down.
"When it clicks, I will literally jump up and down in my class," she said with a laugh. "I'm like 'This is the best job ever! Oh my gosh, this is so cool. I love what I do! I love watching you guys learn.' And then my students will be like, 'Okay, chill.'"