News Around Webster: School of Education Presentations at Webster Geneva's Creativity Week Conference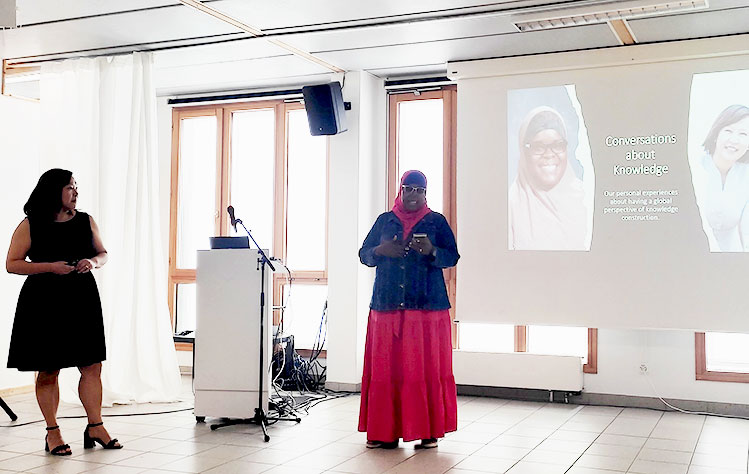 Professor Yin Lam Lee-Johnson (left) and Tamara Rodney (right) present their research at Webster Geneva's fourth annual Creativity Week Conference. Photo courtesy of Rokhatoy Boltaeva.
Doctoral Student and Dissertation Chair's Collaborative Research Presentation at Webster Geneva's Creativity Week
Tamara Rodney, a student in the Ed.D. program with an emphasis in Transformative Learning in the Global Community, co-presented with School of Education Professor Yin Lam Lee-Johnson, their co-authored conference paper, "Pushing the Boundaries of Epistemologies to create Transformative Learning Experiences."
The paper offers a critical review of the definitions of epistemology in educational research, confronted the dominance of white epistemology, and conceptualized an inclusive lens of epistemologies that fosters a global perspective on knowledge construction.
In their presentation, Rodney and Lee-Johnson ask the question, "Can epistemology be plural and inclusive?" Their presentation offered a review of literature on transformative learning and they advocated for educators and researchers to reconceptualize teaching and learning with a creative mindset on knowledge construction. Their presentation can be viewed online.
"Presenting during this year's Creativity Week was transformational in and of itself!" Rodney said. "Transformation is at the foundation of Webster University's Ed.D. program, so how fitting. Working with Dr. Lee-Johnson and being able to observe her ways of working and knowing was instructive and priceless.
"Also, being able to share our ideas with others and see people nod their heads in agreement or have them discuss with me afterward how our research ideas and focus intersect, was communal and empowering. I began relationships and made connections that will guide my work, research and experience in academia for days, months and years to come. This conference allowed me to feel a part of creative scholars and thinkers without any inferiority or fear."
"The Creativity Week offered a unique opportunity for us to make connections with our overseas campus in Geneva and other international partners in research and education," Lee-Johnson said. "I am very glad to have an opportunity to co-present with our doctoral student, Tamara. We both received many accolades from the participants. We hope to continue to foster research collaborations with our overseas campus in the future."
Lee-Johnson is the chair and director of Webster's Ed.D. program. She is also Rodney's dissertation Chair.
Basiyr Rodney Co-Facilitated Workshop at Webster Geneva's Creativity Week
The Chair of the Department of Teacher Education, Professor Basiyr Rodney, co-facilitated a workshop with Rokhatoy Boltaeva, program coordinator of Education & Innovation in Tashkent. More information about their workshop can be found online.
The Webster Center for Creativity and Innovation (WCCI) hosted the fourth annual Creativity Week Conference at the Geneva campus June 7-11. Creativity Week features paper presentations, workshops, panels, keynotes, visual arts/photography, documentary, as well as circus arts. The conference attracted more than 30 presentations from all over the world. Some of the countries represented included the U.S.A., U.K., Canada, Switzerland, Brazil, Australia, Romania, Norway, Colombia, Austria, Israel and Uzbekistan.
"Creativity Week is the annual celebration of creativity and innovation research and practice organized on the Webster Geneva campus by the WCCI and its partners," WCCI Director Vlad Glaveanu said. "It showcases the state of the art in these emerging fields and brings together a wide international audience of researchers, practitioners, and students. The 2022 edition, under the theme 'Togetherness,' marked the return to an in-person version of the event and it was a memorable opportunity to meet, learn, and be creative together."
More information about the Webster Center for Creativity and Innovation and Webster's Ed.D. program is online.