News Around Webster: George, Smith, McKinney and Assner-Alvey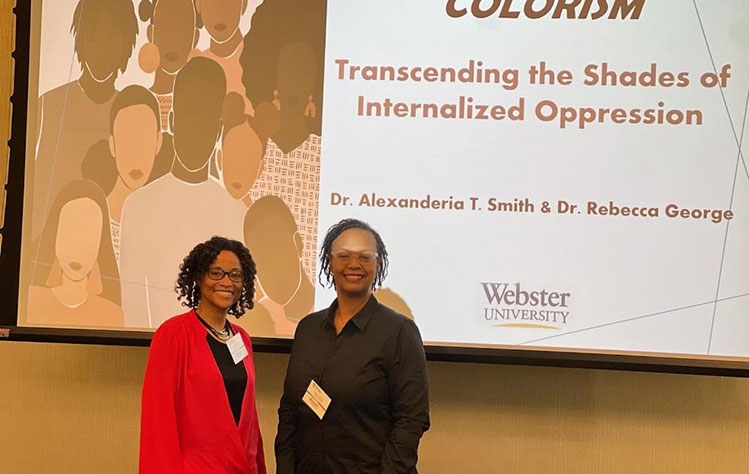 Professors Present "Complicity in Colorism" at Educational Conference
Professors Rebecca George and Alexanderia Smith presented at the National Cross Cultural and Education Conference for Research Action and Change in Savannah, Georgia on Sept. 23. Their presentation, "Complicity in Colorism: Transcending the Shades of Internalized Oppression," provided the historical context of colorism and discussed ways in which this can still be seen today in the media, the dating scene and even among friends and family.
Through a spoken word piece, written by Smith, they offered the skill of cognitive restructuring as a means to combat the impact of colorism. George and Smith are both full-time faculty in Webster's Department of Professional Counseling and are based in Columbia, South Carolina.
Alumnus Selected for State Department Program
The U.S. Department of State has selected Webster alumnus Charles McKinney of Delaware (currently based in Baghdad, Iraq) for a virtual project, engaging with English language learners and teachers online in Ethiopia at American Spaces. McKinney is among the first to be selected for the Virtual English Language Educator Program, a new program created for the 2022-2023 academic year. For his virtual project, McKinney will facilitate the writing and speaking development of his Ethiopian counterparts for 10 weeks.
McKinney holds a master's in Teaching English as a Second Language from the School for International Training (SIT) Graduate Institute in Brattleboro, Vermont and a master's in Media Communications from Webster University Thailand, which he completed in 2014.
The Virtual English Language Educator Program is the premier online opportunity for experienced teachers of English to speakers of other languages to enact meaningful and sustainable changes in the way that English is taught abroad. Through projects developed by U.S. embassies in more than 80 countries, Virtual Educators work with local teachers, students, and educational professionals to improve the quality of English language instruction offered at prestigious universities, academic institutions and cultural centers.
Art Professor's Work on Display in Cincinnatti Gallery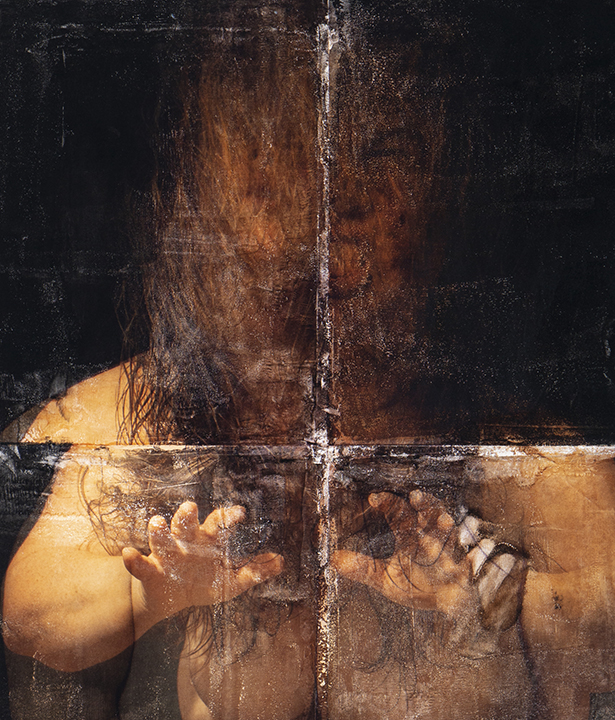 Professor Robin Assner-Alvey, Department of Art, Design & Art History, is presenting a solo exhibition, "Reassembled" at the Manifest Gallery in Cincinnati with the new body of work she created during her Spring 2022 Sabbatical.

"As a forty-four year-old plus size woman and artist living through a pandemic while trying to raise two young children, I feel an irresistible need to photograph myself," Assner-Alvey said in her artist statement. "I use my own body in a frank and honest manner to reflect on maternal ambivalence and the toll that motherhood can have on a person. At the end of long days, when I am both physically and mentally exhausted and have nothing else to give, I stand in front of the camera to document what is left of myself. There are many scars that come with being a mother, both emotional and physical. I explore this through the disjointed way that the photographs of the body are assembled. In the final images, my body appears dismembered, not in proper proportion, and has an underwater feel as if the person in the image is drowning and hanging on by a thread..."
For more information, visit http://www.manifestgallery.org/about/schedule.html.