Webster University To Host Symposium on Mental Health Access as a Social Justice Issue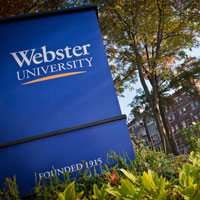 Webster University's Institute for Clinical Scholarship will host a summer symposium June 18 that will explore access to mental health programs and how that issue ties into social justice. The event is free, but registration is required.
This symposium is the first of what is planned to be a series of public meetings that will explore "Health, Mental Health & Access: An Ecological Perspective." Those who attend the symposium may be eligible for educational credit hours that are required to maintain specific licenses and certificates. The Summer Symposium is a collaboration between Webster University through the Webster Institute for Clinical Scholarship and Southern Illinois University Edwardsville's HRSA-BHWET Scholars Program.
"There are direct correlations between health care, mental health care and social justice issues that need to be better addressed," said Webster University Professor Muthoni Musangali. "Access to health care, whether that be for physical health or mental health, is really a question of social justice. It is important that we are intentional about making sure people of all income levels have access to mental health care when they need it rather than when things have gotten out of hand."
Guest speakers at the Summer Symposium include:
Dr. Matifadza Hlatshwayo Davis, MD, MPH, Director of Health for the City of St. Louis;
Dr. Jerrica Ampadu, Associate Professor, Director of We CARE Clinic, and Coordinator for Diversity at Southern Illinois University Edwardsville (SIUE) School of Nursing;
Dr. Lakesha Butler, Clinical Professor of Pharmacy Practice and Director of Diversity, Equity and Inclusion at Southern Illinois University Edwardsville (SIUE) School of Pharmacy;
Bob Hansman, Associate Professor and Civil Rights Activist;
Mr. Darrion Cockrell, the 2021 Missouri Teacher of the Year
Kimberly (Kim) Carter, faculty in the social work department at SIUE.
The Institute for Clinical Scholarship was created after Webster University was awarded the Health Resources and Services Administration - Behavioral Health Workforce Education and Training (HRSA-BHWET) grant last summer. The grant aims to increase the supply of behavioral health professionals while also improving distribution of a quality behavioral health workforce, thereby increasing access to behavioral health services. Professors Hasmik Chakaryan and Molly Stehn are co-investigators on this grant.
Under the four-year grant, Webster University will partner with the St. Louis County Department of Public Health and other community agencies to implement a Clinical Case Management/Ecological model to improve the delivery of mental health services to high-need and underserved populations within the greater Saint Louis region. These underserved communities include Black/African Americans, refugees and immigrants, English Language Learners, low-income, LGBTQ, rural, and others who face cultural, linguistic, and/or economic barriers to health care in the greater St. Louis region.
This innovative model seeks to remove barriers to care for vulnerable populations. Counselors will be specially trained to identify mental health issues in clients who seek medical treatment in the county and ensure that the mental health issues are addressed along with the medical issues. The program will pay special attention to marginalized populations, such as refugees and immigrants and individuals from underserved neighborhoods. This model has significantly enhanced collaboration with multiple health-care organizations in the region and the grant's partner-building efforts continue to grow.
The Institute for Clinical Scholarship will support the grant's purpose by building pathways for collaborative efforts among faculty, students, and mental health professionals in the St. Louis metropolitan area. The annual summer symposium is an essential tool to building those collaborations and supporting more research into the topics addressed. Through the Symposium, scholars will have an opportunity to come together to share their experience in the field of health and mental health care for the high-need communities in the St. Louis metro area. WICS scholars at Webster and grant recipients at SIUE will showcase internship experiences through poster presentations, case study presentations, and/or panel discussions. The event also provides networking opportunities with site supervisors, community partners, and nearby HRSA-BHWET award recipients.
The Summer Symposium will provide Nursing, Counseling, and Social Work CEU opportunities for site supervisors, faculty, local counseling professionals and other HRSA-BHWET grantees.
The Webster Institute for Clinical Scholarship and the SIUE BHWET grant are supported by the Health Resources and Services Administration (HRSA) of the U.S. Department of Health and Human Services (HHS) as part of an award totaling $1,083,454 million with 0% percentage financed with non-governmental sources. The contents are those of the author(s) and do not necessarily represent the official views of, nor an endorsement, by HRSA, HHS, or the U.S. Government. For more information, please visit HRSA.gov.
Register and learn more about the Summer Symposium on the event website.