Public Relations Students Work to Help At Risk Students Start Careers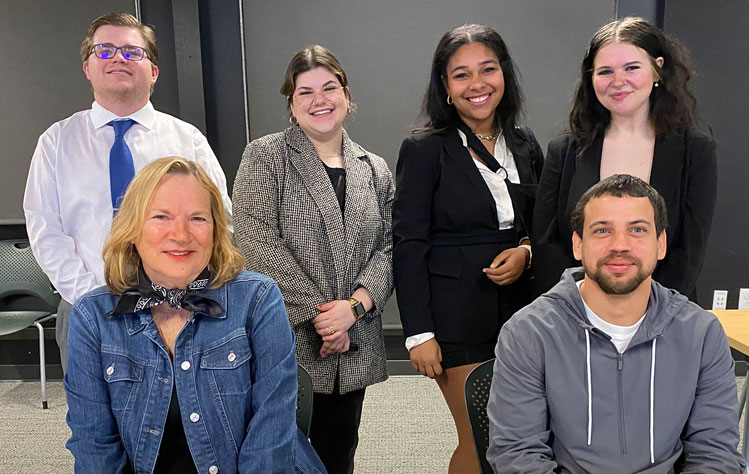 Front row, left to right: Mary Dean, Urban Tech Hero marketing director, and Danny DeJesus, Urban Tech Hero founder. Back row: Garrett Dohlke, Madelyn Randazzo, McKaylah Bell, and Laine Sulz, account executive.

Webster Public Relations students completed a communications plan for Urban Tech Hero, a non-profit organization that helps at risk youth start careers in Information Technology through mentorship, training, and certification. The students prepared a strategic communications plan for the organization to recruit professional mentors, new students, and donors.
The non-profit is based in Wilmington, Delaware, and provided the Webster students an opportunity to work with a client remotely. Representatives of Urban Tech Hero traveled to St. Louis to meet with the student team and view their presentation. The project was part of the Capstone Public Relations Campaigns class taught by Assoc.
"The class gives students real-world experience through experiential learning," said Gary Ford, Associate Professor and Chair, Communications and Journalism Department and Interim Chair, Audio Aesthetics & Technology Department for the School of Communications. "This project gave students the opportunity to help a very worthy cause while working remotely with a client in another city using skills and technology they will need in their careers."