Webster University Ranked in Top 25 of Midwest Universities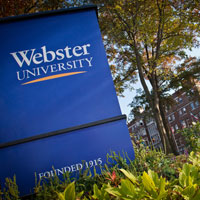 Webster University was ranked No. 22 out of 167 Midwest Universities in the annual "Best Colleges" announcement compiled by U.S. News & World Report. The University was in a four-way tie for 22nd place on the 2023 Regional University – Midwest list.
Among the categories in the annual ranking, Webster was recognized as a "Best Value" school, as a "top performer" for social mobility and as a "Best for Veterans" school.
"Webster's recognition in the U.S. News rankings continues to be strong," said Webster University Chancellor Elizabeth (Beth) J. Stroble. "We are ranked in the top 25 and achieved scores across all categories that, in many cases, put us within a fraction of a point of being in the top 10."
The U.S. News & World Report Best Colleges ranking measures universities in several categories based on federal educational data and responses from surveys sent to leaders at colleges and universities. Based on a complex formula, a resulting score between 0–100 is calculated for each school. Webster earned a score of 70, its 8th highest score in 23 years and tying it for 22nd place with three other institutions. Last year, Webster earned its highest score of 75, earning a ranking of No. 16.
There is much for Webster to celebrate in this year's rankings:
An increase in Webster's average faculty salary
Graduation rates for Pell recipients exceeding the national Pell recipient average
Reduction in the percentages of undergraduate students who took out federal student loans
"We continue to make strong gains in several areas at Webster University, from lowering overall costs for students to strengthening the resources our students and faculty have access to, which improves graduation and retention rates," said Webster University President Julian Z. Schuster. "Since the start of the pandemic, our graduation and retention rates have consistently risen – a clear evidence of Webster's commitment to students' success."
Besides a strong showing on the "Midwest University" list, Webster was mentioned in several categories:
Webster was listed on the "Best Colleges for Veterans." According to U.S. News & World Report, this category reflects "being an institution that helps veterans and active duty service members pursue, pay for, and complete their degrees."
Webster was included on the "Best Value School" ranking for balancing net cost of attendance, need-based financial aid, and above average academics.
Webster was recognized for "Top Performers on Social Mobility," which looks at the earning power of graduates when compared to those who did not attend college.
To see the full rankings, visit www.usnews.com/colleges and visit the page about Webster here.