Webster Vienna Student Discovers Ecuador through Study Abroad Program
Anja Jungmayr is a student from the UK majoring in International Relations and minoring in Philosophy, and a strong advocate for human rights, sustainability and climate action. In 2021, Jungmayr founded the Webster Vienna Sustainability Club, which aims to educate community members on sustainability issues and foster discussions on these topics. This is part of her work as sustainability officer for the SGA.
Her interest and commitment to human rights and sustainability led her to apply for the faculty-led study abroad program HRTS 3200 Indigenous Rights and the Rights of Nature in Ecuador. The program took Jungmayr to the Ecuadorian Amazon jungle where she spent seven days with the indigenous Sapara people learning about indigenous cosmovision, social movements and conservation.
"This wasn't a vacation, it was a journey."
Read about Jungmayr's experience in her own words, reflecting on her time in Ecuador after returning to Vienna:
Making change on environmental issues has always been a passion of mine, and informs both my activist work outside of university, as well as steering me in my academic study. The opportunity to learn about how these environmental issues affect people whose lived experience is so different from my own, and open my eyes to different ways of thinking about the topics I am engaging with, was a major driver. I also liked the fact that the trip itself would be so adventurous, going deep into the Amazon, and really disconnecting from the rest of the world.

We landed in Quito, and spent a day there engaging with people our professor had gotten to come in and talk about human rights and the lives of indigenous people. Then we had to go in a bus for five hours to get to Puyo, where we would get small propellor planes (maximum eight people to a plane!) into the Sapara community. Once in the rainforest we spent time engaging with the culture, learning games and hearing stories, as well as going on hikes through the rainforest, and canoe rides on the river. At the end of the trip we also had some time in Banos, where we hiked to a waterfall, and experienced local nightlife. The experience was truly incredible, once in a lifetime!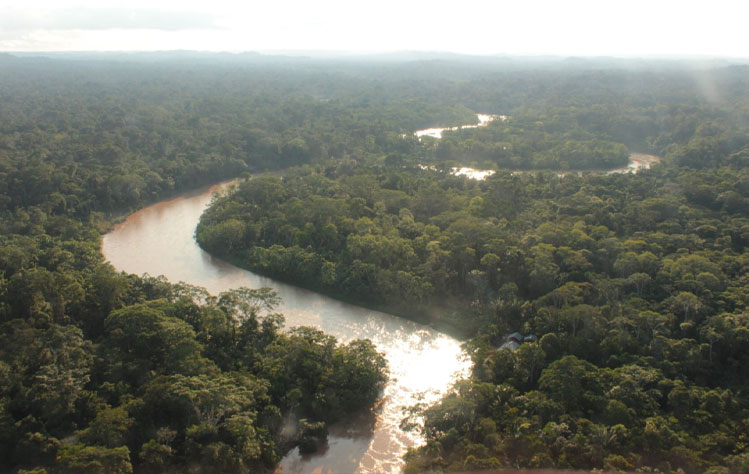 I would absolutely recommend this program. I think Vienna is so international, and a lot of our students have travelled a lot. But this kind of travel is something else entirely, and to such a different place and culture that the experience can feel so unfamiliar that is really forces you to leave your comfort zone. Part of being a global citizen is having space for worldviews different than your own, and this is a wonderful opportunity to explore that.
I think what one of our guides said really sums it up – this wasn't a vacation, it was a journey. There are human rights problems in Ecuador for people who have no culpability in really global processes such as climate change. But they still feel its effects, both on an environmental level, and in being subjected to the political and economic systems that create the problem. Seeing it in person though was something else, and the drive to try and help bring justice to this situation is something I think I will carry with me always.
I'm taking a year off studying, to travel to different places around the world, trying to understand more the diversity of problems tying human rights to the environment, and trying to embed that knowledge in an international relations perspective. Ecuador will definitely be on that list, especially considering the friendships I've made there, with people working to change the things I'm also passionate about. I then want to take what I've learned forward, into higher-level international relations study, trying to create new perspectives on old issues.
-Anja Jungmayr