Webster Vienna Mentors Prepare Students for Post-College Life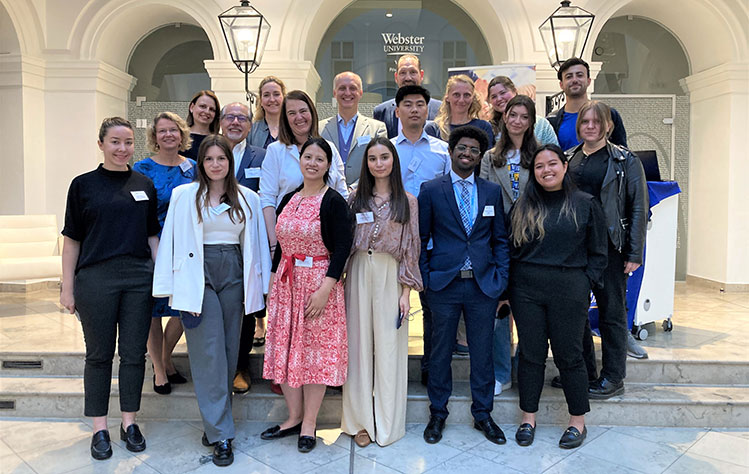 Webster Vienna Private University (WVPU) celebrated a successful year of alumni-student mentoring with a farewell event held in May on the university's campus in Vienna, Austria.
Undergraduate students in the third or fourth year of their degree program were eligible to apply to be mentored by WVPU alumni with at least five years of career experience. This year's cohort included 15 students paired with mentors from various career fields, including business, the nonprofit sector, data science, strategic planning and more.
The mentors and mentees met privately throughout the year to work on objectives that aligned with each students' post-commencement goals, as well as to lend support, advice or simply a listening ear.
"It was an honor to be a part of that growth process," said Marlene Martin, a business controller for a nonprofit in the Netherlands who mentored WVPU student Emily Usner. "The clarity and openness of her sharp mind paired with the insecurity of her youth reminded me of my first steps when the world lay ahead of me."
A mid-year workshop with international learning and development expert Elisabeth Cassels-Brown, along with formal kickoff and farewell networking events, gave mentors and mentees more time to connect, reflect and learn from each other.
Nikolaus Hiebaum, a senior manager with German airline Lufthansa, was quick to confirm that the experience was mutually beneficial.
"I thought the exchanges with Abel were stimulating," he said of his mentee, Abenezer Tadele. "I feel I got something out of it as well by being engaged with someone junior and having a different outlook on life."
Applications for the next cohort of the mentoring program, Dare to Grow Together, are now open. When asked if she had any advice for potential mentors, Martin didn't hesitate:
"My mentor role has given me hope for the future," she said. "Stop being a couch potato and pass on the torch!"