Webster Athens Students Host Holiday Party for Refugee Children in Greece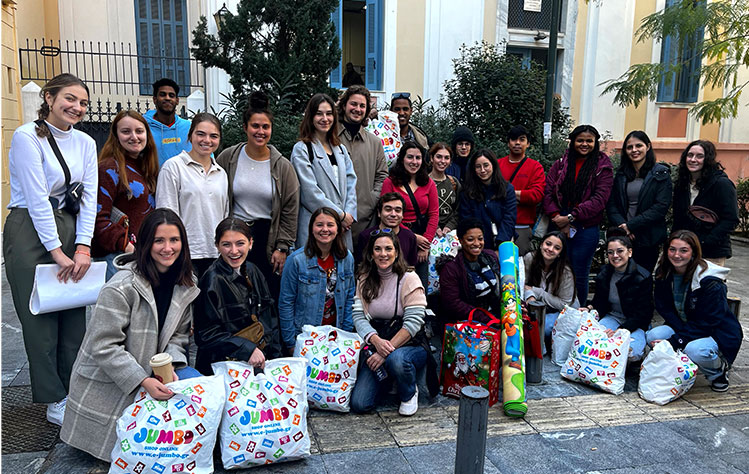 Webster Athens students coordinated a holiday party for refugee children held at the Caritas Refugee Center in Athens, Greece on Friday, Dec. 2.
The event, sponsored by the Office of Student Affairs and hosted by Study Abroad as well as many other local students, had become an annual happening that was interrupted for the past two years due to the global pandemic.
When the students were asked to host this year's event, they unanimously agreed and began the planning with great enthusiasm.
Ultimately, approximately 70 children and their parents arrived to find the Caritas Center transformed into a magical, festive environment decorated with a plethora of items students bought and made.
Four different rooms featured various arts and craft activities, such as ornament creations, holiday card decorating, bracelet making and face painting. Each of the rooms had a student who took the lead and organized the activity. Children rotated amongst the rooms while parents were treated to coffee and traditional Greek holiday cookies as well as other treats and food and drink items.
The party also featured magic tricks and balloon creations from Toto the Clown. Festivities concluded with a very special appearance from Santa Claus, played by Webster Athens freshman Jovan Milošević, who distributed toys and gift bags for each child.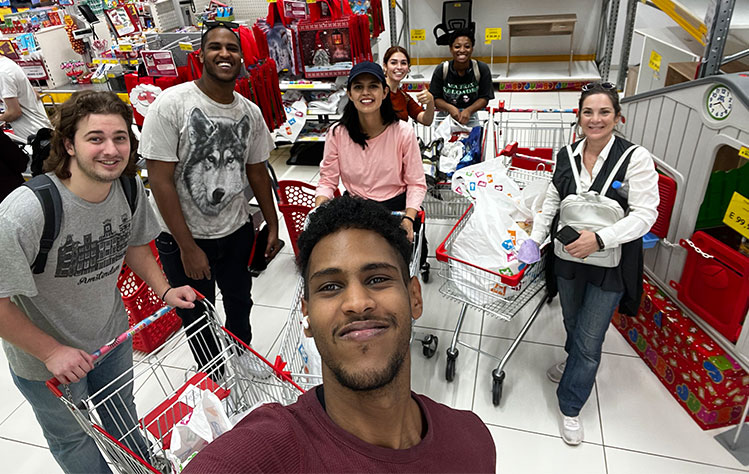 Planning for the party started with Mikaelle Pierre-Paul, a junior Business Management student from Webster Ghana, who set up a GoFundMe campaign that allowed family, friends and Odyssey in Athens alums who participated in planning the event in the past to contribute to this year's efforts and achieve the party's return.
"I really enjoyed working with my peers to pull off the Caritas Refugee Center's Children's Holiday Party," Pierre-Paul reflected after the celebration. "It took optimism, teamwork, and aid from everyone who contributed to make the party a success."
Pierre-Paul acknowledged that the planning was not without its challenges and stumbling blocks — including a limited amount of time and hurdles with starting the fundraiser.
"But once we sorted out the kinks, the project soared!" he said.
He and his fellow Webster Athens students ultimately raised over $1,000 in 2 days, which allowed them to purchase not only all the supplies, food, and entertainment that was needed for the party, but extra supplies greatly needed by the center such as socks, diapers, baby wipes, and sanitary pads.
The Caritas Center welcomes refugee children and their family members throughout the year for various programs including English and Greek lessons. Some of the Webster Athens Study Abroad students volunteer at the center during the semester, and this event served as a meaningful, unique culmination of their time abroad.
"I am glad that I was able to work on this project and see the positive impact that it had on the lives of the children and parents at the center," Pierre-Paul said. "It was a great success and even though my time of study abroad is coming to an end, I look forward to contributing to next year's program to continue the great tradition of spreading love and generosity in the holiday season!"
"I am very proud of our students who once again came forward and took the lead to host this very special day for the refugee children and their parents," said Webster Athens Director of Student Affairs Dina Skias. "A great deal of planning and coordinating went into this, and all who participated did an outstanding job. They showed the true spirit of Webster University by contributing to the community in this manner and positively impacting the children and their families. This day will be remembered by all."