Webster Ghana Hosts Ambassador of the Delegation of the European Union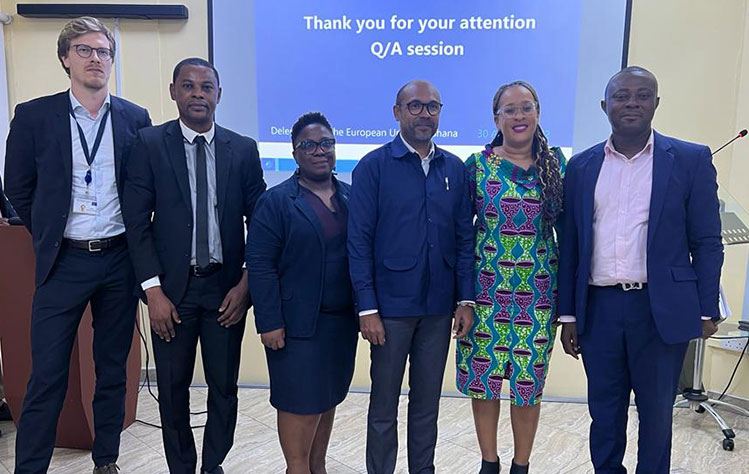 The Department of International Relations at Webster University Ghana recently hosted the ambassador of the delegation of the European Union, H.E. Irchad Razaaly. The theme for the event was "The role of the EU as Ghana's Development Partner: Challenges and Prospects."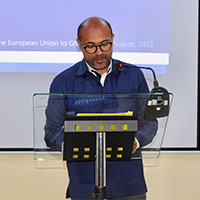 The ambassador's visit was part of a broader priority by the Ghana campus to increase industry engagement opportunities for students through guest lectures, internship opportunities and field trips. Webster Ghana's ultimate goal for these engagements is to increase students' knowledge of real-world issues by bridging the gap between academic theory and professional practice in industry.
Ambassador Razaaly presented a brief overview of the history of the EU, the makeup of its leadership and information on how the EU functions and maintains cooperation among its 27 member states. His presentation further explored the EU's support of Africa through foreign direct investments and aid as well as Ghana-specific initiatives (efforts to tackle poverty, create jobs and achieve the Sustainable Development Goals set forth by the Ghanaian government).
The presentation was followed by an engaging discourse centered around how to promote fair trade between Africa and the EU, the EU-Ghana partnership to strengthen democracy and good governance, and how the EU can partner with African governments to address corruption and ensure the effectiveness of development aid and grants. The session concluded by examining areas for partnership to create jobs and entrepreneurial opportunities for youth as well as education scholarship opportunities.
Students left the lecture with a deeper understanding of global governance and international development issues.