Webster Groves and Uzbekistan Students Win Freshman Writing Award Recognition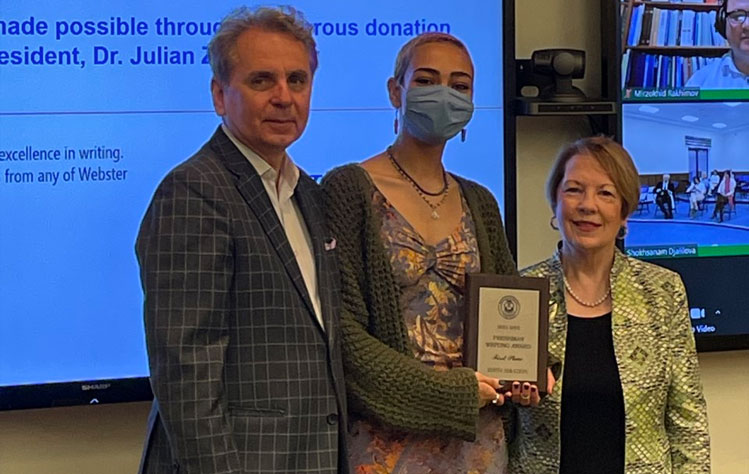 For the first time ever, the Freshman Writing Award provided an opportunity for all freshmen worldwide to be honored for writing they completed for a Fall course. Faculty and/or staff representatives at each campus participated in the planning process, and judges included colleagues located throughout Webster University's global system.
Karina Zafarova and Edith Zerazion (pictured above with Chancellor Stroble and President Schuster) were recognized in a hybrid ceremony with students, faculty, and staff gathering at both the Tashkent and Webster Groves campuses and joining together with each other and others throughout the worldwide Webster University community via Zoom.
Chancellor Elizabeth (Beth) J. Stroble presented the awards with President Julian Schuster after opening comments from Nancy Hellerud, Vice President for Academic Affairs. In her comments, Chancellor Stroble noted that good writing is impossible without good reading and that writing should open up our world and our understanding of the world around us.
President Schuster encouraged attendees to spread the importance and celebration of good writing with others so that we may continue to expand the reach of the Freshman Writing Award and the value it places on writing and communication. President Schuster has provided personal funding to support the Freshman Writing Award, underscoring his commitment to good writing.
This year's first place winner, Zerazion, was recognized for her essay, "Symbolism and Self-Perception in 'The Yellow Wallpaper,'" which she wrote for Anne McIlhaney's Seminar in Literary Analysis course. Zerazion received an educational grant and a plaque commemorating her award.
I want to thank Anne McIlhaney, for giving me this opportunity, and the entire English Department here at Webster for creating such a nourishing environment for young writers to grow and improve within." - Edith Zerazion
Zafarova won second place for her essay, "Why Are Women Forced into a Marriage in Developing Countries?" which she wrote for Keri Zeller's Global Cornerstone class. Zafarova also received an educational grant and a plaque to recognize her award. In her comments, Zafarova mentioned how writing has become her passion.
The ceremony included comments and congratulations from other attendees as well as closing comments by Erica Ellard, director of the Reeg Academic Resource Center.
About the Freshman Writing Award
Students nominated and/or self-nominated for the Freshman Writing Award must have been freshmen during the applicable Fall semester preceding the award and must have written their nominated work for a Webster course during the applicable Fall semester. Students at all Webster campuses, worldwide, are eligible to submit their work or to have their work nominated by their faculty. There are no
limitations on the types of written work that may be submitted for the award. Students and faculty are encouraged to submits essays, articles, podcast scripts, other types of scripts, short stories, poems, etc., during the nomination process that runs from mid-December to mid-February.
At the close of the nomination period, an international faculty and staff judging committee reviews the nominations and selects two winners. The judging criteria includes effectiveness, clarity, and purpose of writing. Winners are recognized in a ceremony in mid-April of each year.