Webster's newly created Gleich Honors College designed around University core values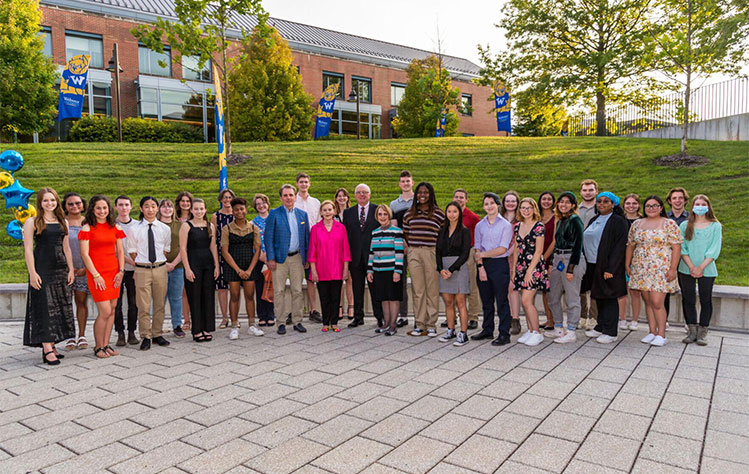 Webster University's new Gleich Honors College offers students exceptional opportunities for new academic challenges, research projects and community outreach.
The new college was named in recognition of Marianne and Peter Gleich, who recently donated $1 million to create the honors college. The funding will be used to expand learning and research opportunities for all undergraduate students, including international students, those who transfer to Webster and students at Webster's international campuses.
Emily Thompson, interim director of Gleich Honors College, lead the faculty committee that developed the Impact Scholars pilot program for the honors college. The Gleich Honors College launched this school year, 2021-2022, with the first group of honors students.
"Though the honors college idea is not itself innovative, the way we have designed and executed ours is unique," says Thompson.
The Gleich Honors College reflects a distinctly Webster view on what constitutes an "honors" student. The approach is student-focused, place-based, inclusive, diverse and structured around high-impact practices. These are not simply trendy terms that were added after the fact to an existing honors program, but core values around which the Gleich Honors College was designed.
The Gleich Honors College is yet another way for Webster to create exceptional educational experiences for a diverse group of students. This has been our mission since the University was founded in 1915."
Mentoring
Undergraduate students played a central role in designing the honors college and will continue to be involved by mentoring incoming honors students.

Community service
Webster's mission reflects at honors college by having community service woven into the curriculum. Students learn about local communities around the campus and international communities throughout Webster's network.
This particular balance of the local and the global is unique to Webster because of University's geographical reach.
The program is intentionally diverse in terms of socioeconomic backgrounds, ethnicity, disciplinary interests and learning styles. Students are chosen through an application process that asks them to reflect on the complexities of global connections, on their own civic responsibilities and on the particular skills that each student hopes to develop through the undergraduate experience at Webster.

Most honors programs rely primarily on national test scores and high school grade point averages, which Thompson notes is not the optimal way to identify a diverse group of remarkable students who will succeed in the honors program.
Julian Z. Schuster, Webster University President, says, "The Gleich Honors College is yet another way for Webster to create exceptional educational experiences for a diverse group of students. This has been our mission since the University was founded in 1915."
Another way Webster attracts a diverse group of students is by creating a flexible honors college that proposes multiple means to achieve its learning objectives.
"We do not adhere to the isolating, ivory tower view of what an honors college should be," Thompson says. Along with the usual credit-bearing courses, students fulfill requirements through high-impact projects (research and transnational).
"This allows us to welcome students into the Gleich Honors College who are majoring in areas with high credit requirements and students who wish to double major. Students who transfer to Webster or who discover the honors college after their first year also have a chance to join the program this way," she adds.
"The Gleich Honors College is intentionally designed to embody Webster's innovative, global and diverse character," said Chancellor Elizabeth (Beth) J. Stroble. "For students, the benefit is their inclusion in a community that identifies and taps their individual talents and potential in new ways to stretch them as scholars, leaders and individuals. The Webster honors college defines excellence by the diversity of the students we welcome and the quality of their achievements, a departure from models that rely upon exclusion for the pre-determined excellence of a few."