Webster University Alumna Receives Wishes for Teachers Draft Day Grant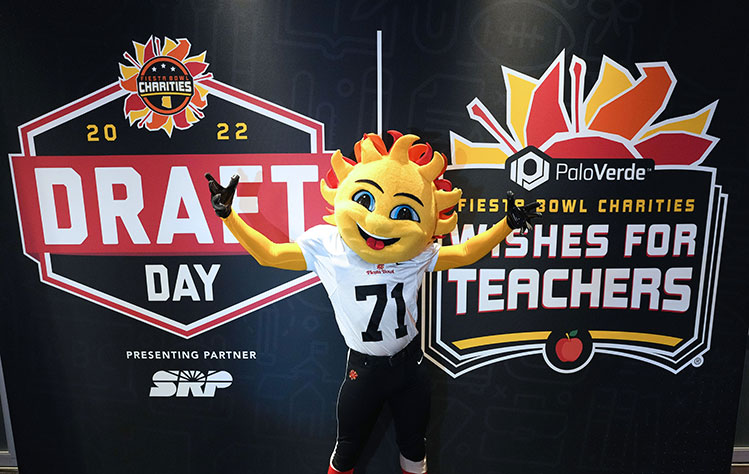 SCOTTSDALE, AZ – Continuing the Fiesta Bowl Organization's annual tradition of honoring, supporting and celebrating educators throughout Arizona, Fiesta Bowl Charities granted 400 teachers with $2,500 each through the Palo Verde Fiesta Bowl Charities Wishes for Teachers Draft Day presented by SRP.
Among the 400 teachers selected was Webster Alumna Megan Schlottog, who earned a bachelor's in psychology in 2006. Through the program, Schlottog's wish is to purchase coding robots for their students.
Schlottog is currently a STEM teacher at EDUPRIZE in Queen Creek, Arizona.
The wishes were spread throughout the state this year with 72 cities and towns represented amongst the 400 teachers selected. Nearly 212,000 students across 321 schools and 95 districts will be positively impacted by their teachers' wishes with this year's group combining for more than 5,300 years of experience in the classroom. A full list of teachers who received a Palo Verde Fiesta Bowl Charities Wishes for Teachers grant can be found here.
Recipients included those teaching everything from the arts to science, both gifted and special education, and languages and life skills amongst a diverse group of subjects. The 400 wishes granted will benefit teachers who will aim to enrich the lives of their students through technology improvements, addition of educational programs and fitness equipment and much more.
"Palo Verde Fiesta Bowl Charities Wishes for Teachers is one of the most impactful teacher support programs in Arizona donating $1 million dollars to benefit thousands of Arizona students. Adding to the excitement this year is the return of our in-person Palo Verde Fiesta Bowl Charities Wishes for Teachers Draft Day presented by SRP which further enhances the experience for our recipients," said Randal Norton, Fiesta Bowl Board Chair. "Teachers are truly selfless individuals who help shape the futures of our students here in Arizona, and we are proud to play a part in supporting our teachers to do more in the classroom for the leaders of tomorrow."
This year's $1 million total donation brings the Wishes for Teachers' seven-year cumulative grant total to $5.7 million awarded to 1,600 teachers, impacting more than 700,000 students across Arizona.
"Palo Verde is excited and humbled to be part of such an incredible program that invests in teachers who are inspiring tomorrow's leaders both inside and outside of the classroom," said Kory Raftery, manager of External Affairs at Palo Verde. "One of our principles at Palo Verde is putting people first, and Wishes for Teachers allows us to partner with an organization that supports some of the most important people in our communities."
Created in 2016, the Fiesta Bowl Wishes for Teachers program grants classroom wishes to Arizona teachers. Public and charter school K-12 teachers across the state are invited to apply each fall with the recipients verified and selected by a random drawing during the Palo Verde Fiesta Bowl Charities Wishes for Teachers Draft Day presented by Salt River Project (SRP).
"Providing teachers with the tools and resources they need benefits Arizona's children. Partnering with the Fiesta Bowl on the Wishes for Teachers campaign is one of the many ways SRP supports teachers," said Andrea Moreno, program manager of SRP Community Stewardship. "I'm honored to share that from 2021 to 2022, SRP provided $1.4 million in classroom grants, teacher workshops and materials. Our future workforce relies on the support that we provide to educators and non-profit organizations today."
ABOUT THE FIESTA BOWL
Since 1971, the Fiesta Bowl is a world-class community organization that executes innovative experiences, drives economic growth and champions charitable causes, inspiring pride in all Arizonans during and outside of college football bowl season. As a nonprofit organization, it is driven by its vision for the importance of community outreach and service. Through the Vrbo Fiesta Bowl, Guaranteed Rate Bowl and its year-round events, such as the Fiesta Bowl Parade presented by Lerner & Rowe, corporate partnerships and numerous community events throughout the year, the organization provides charitable giving to enhance Arizona nonprofit organizations that serve communities through youth, sports and education.
ABOUT PALO VERDE
Palo Verde Generating Station is a nuclear energy facility located about 50 miles west of downtown Phoenix. The site has seven owners in four states: Arizona, New Mexico, Texas and California. It is operated by Arizona Public Service. Palo Verde is the largest clean electricity generator in the nation and produces enough energy to power about 4 million homes and small businesses across the southwest.
ABOUT SRP
SRP is a community-based, not-for-profit public power utility and the largest provider of electricity in the greater Phoenix metropolitan area, serving more than 1 million customers. SRP is also the metropolitan area's largest supplier of water, delivering about 750,000 acre-feet annually to municipal, urban and agricultural water users. To learn more, visit srpnet.com.