Introducing AAAC and Brothers Empowered at Webster; Plus, the Black Student Scholars Who Lead Them
In one of many efforts to recognize and celebrate Black History Month, Webster sought out two current Black student trailblazers to help introduce the organizations they lead to a larger audience. Jalalah Muhammad and Jason Hester are making their voices heard, making a difference, and making sure every Black student scholar has the opportunity to find belonging and connection at Webster.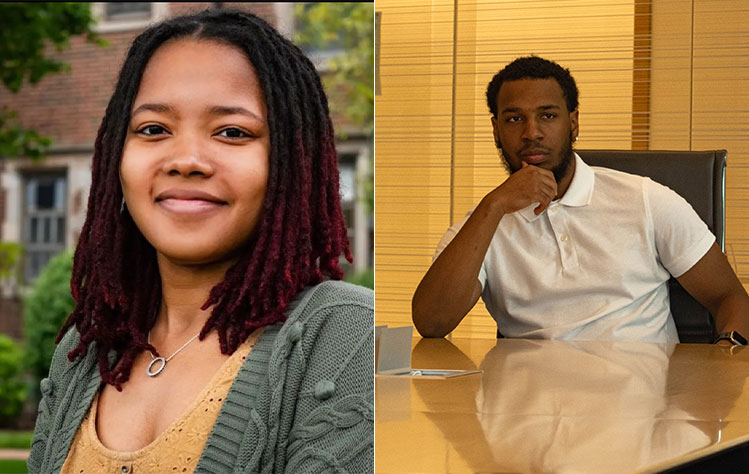 Jalalah Muhammad chose Webster on the advice of a cousin who earned her master's from the university. Jason Hester continued a family tradition, following in the footsteps of both parents and a grandmother who are all alumni. Now, through their leadership of two prominent Black student organizations on campus, Muhammad and Hester are working hard to make sure the same Webster table that welcomed family before them has even more open and welcoming seats for current Black students and those to come.
Hester, a junior majoring in Sound Recording and Engineering, is the president of Brothers Empowered, a student organization with a mission to "keep men of color in close contact with each other through building meaningful connections."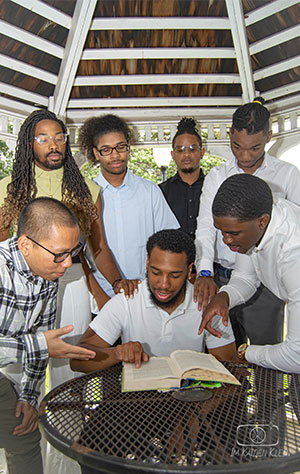 That mission remains especially critical in the midst of a pandemic that continues to see sharp declines in male college enrollment numbers nationally, with the steepest being amongst men of color; and that is to say nothing of historical struggles still often faced by Black men, including microaggressions, negative stereotypes and a dearth of community or feelings of belonging in the collegiate environment.
Hester, with Webster and Brothers Empowered behind him, aims to help maintain the University's long history of working hard to defy those trends and be known as a place where all men of color can thrive.
"I knew if a few friends and I were to get together in this organization, that we could get a lot of work done," Hester said, adding that his main goal as leader is to be the bridge between the group and as many networking opportunities with other groups and individuals as possible.
Thanks, in part, to Hester's leadership, the group has doubled in size since last year. Brothers Empowered holds regular events and meetings throughout the academic year with the next general body meeting – an opportunity to join the organization – slated for early February.
"The way I see it, we're all at a table sharing our knowledge and feeding each other instead of one person sitting at the edge of the table calling the shots," Hester said. "We want to break the division of our community and build it as one. Essentially, we want to make it a safe space for all brothers in the community."
Another group on campus, the Association for African American Collegians (AAAC), of which Hester is co-treasurer, is led by Muhammad, who is a junior Suggs Scholar majoring in Biological Sciences with an emphasis in Health and Science.
As AAAC's president, Muhammad's aim is certainly intertwined with and connected to Hester's, though her organization casts a broader net to focus on "elevating the aspirations of the entire African American community in relation to Webster University."
"Our group encourages participation, community, and activism to encourage African American students to take a more active role in defining their own destinies on campus," Muhammad explained. "Also, to promote Black pride in all facets of university life."
Again, a vital mission considering data that continues to show students of color graduating at considerably lower rates than their white and Asian counterparts.
Muhammad said her personal goal is for AAAC to continue to support students' academic, social, and professional development while also providing opportunities for students to obtain internships, jobs, and other career learning experiences.
Of course, there's room for plenty of light-hearted, somewhat less driven activities, too.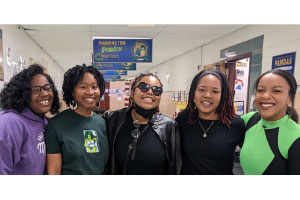 "I aspire to make AAAC known on the Webster campus and within our community by having fun events that allow students to take a break from their courses," Muhammad said.
(It's worth noting that the same is true for Brothers Empowered, where social activities, fun and connection are as present as the networking that can lead to opportunities post-college.)
Under Muhammad's leadership, AAAC has also increased in membership. The group hosts or participates in at least six events per semester, including collaborations with other student organizations and schools.
AAAC has a Valentine's Day Event planned for February 14th inside the University Center from 2pm–4:30pm.
As for Hester's and Muhammad's personal goals beyond their leadership roles, both St. Louis-area natives have big plans.
"After I graduate, I want to begin working for recording studios or news broadcasts doing audio," Hester said. "I wish to make sound for films and become a 'go-to' for all things sound."
"I would like to go to medical school to become a neonatologist specializing in the care of newborns," Muhammad said. "I would like to provide care options and support parents through their journey."
Both students credit Webster for an inclusive collegiate experience brimming with opportunity.
For Muhammad, the University has allowed her to grow a love for research, develop a true sense of belonging within collegiate and scholarly environments, and, of course, develop impressive leadership abilities.
"I have felt valued, seen, supported academically, and cared for by the staff at Webster," she said.
For his part, Hester has seen a personal transformation take shape.
"I see myself as a hard-working person who always seems to get back on his feet when knocked down," he said. "My time at Webster has made me show strength when I was weak and embrace my failures just as much as my successes; It has shaped me to be a better human being."
For more information or to become involved with AAAC and Brothers Empowered, please send an email to the following:
For Brothers Empowered: boewebster@gmail.com
For AAAC: wuaaac@gmail.com