Webster Athens International Relations Students Attend Embassy Receptions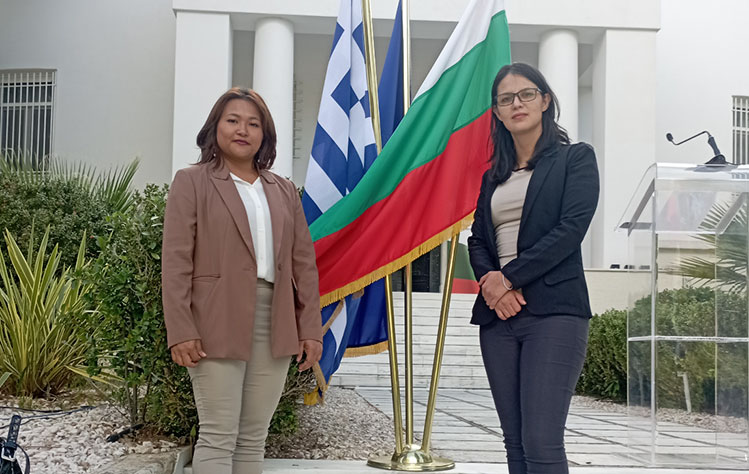 A group of international relations students from Webster University Athens recently attended several embassy receptions. The students attended the Independence Day Reception at the Embassy of the Republic of Poland, the Independence Day Reception at the Embassy of the Republic of Bulgaria, and the Armed Forces Day of Hungary. Professor John M. Nomikos, head of the History, Politics and International Relations Department at Webster Athens, accompanied the students.

At the embassy receptions, students observed ambassadors, official representatives, members of the defense sector, ministers, academics, and other notable individuals as they interacted with one another. The students had the opportunity to network with diplomats, government officials, and professionals from international organizations.

The Webster Athens students hail from various countries, including Afghanistan, Equador, Russia and Myanmar – making for a diverse discussion group upon conclusion of the embassy reception visits.

Htun Thant Kyi Phyu, a Webster Athens student from Myanmar, shared her experience from the Independence Day Reception at the Embassy of the Republic of Poland.

"Experiencing Polish culture and history while celebrating their Independence Day was truly a unique opportunity. It allowed me to connect with Polish sentiments and emotions so as to better understand their nation's pride and identity, language, national costumes, and musical tradition."

Another student, Osman Tahsilzoy, echoed this sentiment about the Hungarian Armed Forces Day.

"My professor, Dr. Nomikos, invited me to attend the Hungarian Armed Forces Day arranged by the respective embassy at the Athens War Museum. Altogether, there were four students from Webster University Athens. We were the only students at the event. Since this was the celebration of Armed Forces Day, the attendees were all in military attire, representing their respective countries. This was my first experience at such an event, and it was an extraordinary experience."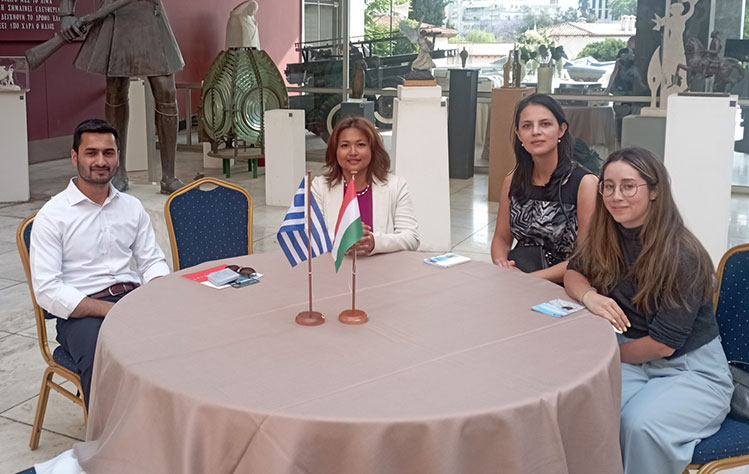 Webster Athens students seated at a table during an embassy reception.
Diplomatic events often require active listening, critical thinking, and effective communication to engage in discussions and professional networking. International relations students learn this in their courses: but practicing it in the real world is entirely different than a classroom setting.

"Our main goal was to gain real-life experience by attending official events and establishing connections with professionals working in fields relevant to our major, International Relations," said Danieal Cobo Gonzalez, a Webster Athens student from Equador. "It proved to be a vital opportunity as we witnessed firsthand the significance of fostering strong international relationships, networking in a professional setting, and obtaining a direct look into the world of diplomacy."

Webster University is proud to provide students with educational opportunities and experiences that prepare them for global citizenship.