Award-Winning Playwright Crystal Skillman to Present New Play at Webster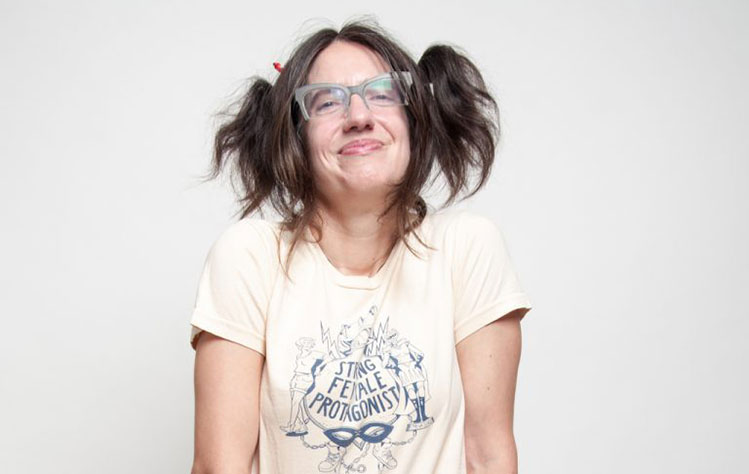 Crystal Skillman, a celebrated playwright, comic book author, musical theater collaborator and a contributor to a popular cartoon, will visit Webster University's main campus in St. Louis to give a staged reading and to also work with students who will perform her play "Rain and Zoe Save the World" March 3-5.
The staged reading will be held Thursday, March 2 at 1:30 p.m. in the Browning Hall Auditorium. A Q&A and reception will follow. The event is free and open to the public. After the March 3 performance of "Rain and Zoe Save the World" in the Emerson Studio Theatre, located in the Loretto-Hilton Center for the Performing Arts, Skillman will talk to the audience and answer questions. Tickets for the play cost $7 to $15 per person but are free to Webster students.
Her appearance is sponsored by David Clewell Visiting Writers Series at Webster University, through Webster's Department of English in the College of Humanities and Social Sciences. Cosponsors include Webster's Faculty Speakers Committee and The Novel Neighbor, the official bookseller of the Clewell Series. Clewell was the poet laureate of Missouri from 2010-2012 and a Webster University creative writing instructor. He passed away in 2020.
"We are delighted that Crystal is coming from New York to see the Conservatory's production of her new play. She has already been working virtually with the students to revise the script and that collaboration has been exciting. But, to have the playwright in the theatre is an exciting opportunity for all involved," said Associate Professor Gad Guterman, chair of the Sargent Conservatory of Theatre Arts. "Her visit presents us with an occasion to join forces with the Department of English, which is also always exciting. Crystal will be meeting with playwriting students to discuss her process, provide feedback, and share some of her upcoming work. We are pleased to offer our students the chance to learn from an admired professional."
Skillman is a four-time NYTimes Critics' Pick playwright who has expanded into audio drama and television. Crystal is the author of plays "Geek," "Open," "Pulp Verité," and co-author of the audio play "King Kirby." She also authored or co-authored the screenplay "Seven Variations on the Same Lover" and "Drunk Art Love." She also worked on the stage adaptation of the hit Claymation film "Mary and Max" with lyricist Bobby Cronin, turning it into a musical. In addition, she has written for Marvel Comics and the animated program "Adventure Time."
She was selected for the 2020-2023 Core Membership at The Playwrights' Center. Her musical collaboration "Postcard American Town" with composer Lynne Shankel was awarded the 2020-22 San Diego State University New Musical Initiative, a competitive incubator and writers-in-residence program that partners early-career writers with the university's musical theater Master of Fine Arts program to help workshop their musicals over a two-year period.
For more information about Skillman, visit www.crystalskillman.com. For more information about the Sargent Conservatory of Theatre Arts, visit www.webster.edu/conservatory.