Webster University Ghana Honors Class of 2023 at Ninth Commencement Ceremony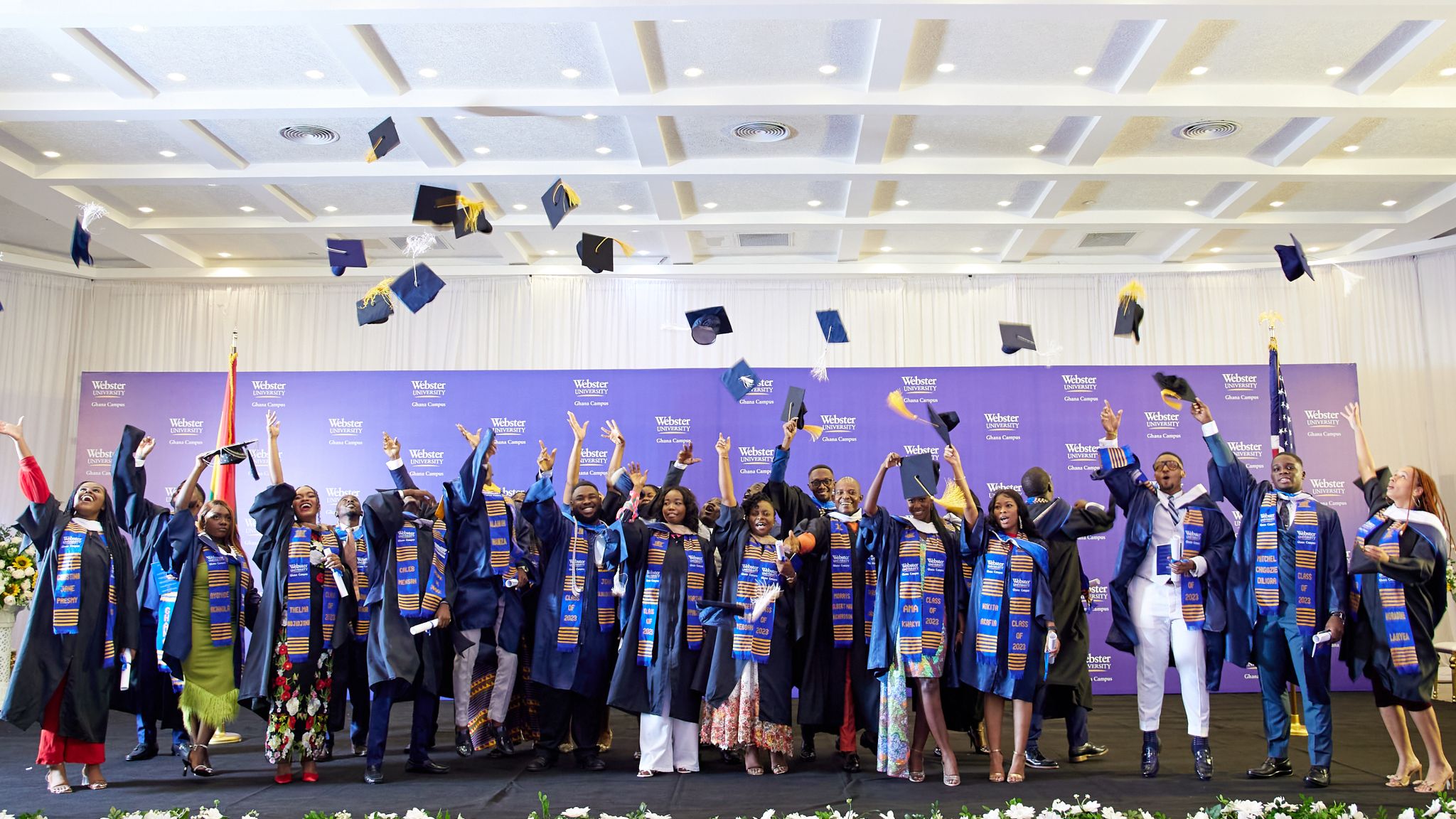 Webster University Ghana celebrated its ninth commencement ceremony on May 20. Graduate and undergraduate students had the opportunity to walk across the stage to receive their degrees.
The Class of 2023 represents several nationalities. Students within the graduating class hail from Ghana, Nigeria, Togo, Niger, Rwanda, Liberia, The Netherlands and the United States of America.
Christa Sanders, campus director of Webster University Ghana, began the ceremony. She congratulated the graduates and described the Class of 2023 as resilient.
''The Class of 2023 has continued to excel even in the face of unforeseen adversity," said Sanders. "Today we applaud you for your steadfast determination, your zeal and your perseverance amidst what has been truly an unthinkable period of world history. 'The Class of 2023 is bold, committed, diverse, driven, empowered, global and innovative, and we believe they are fully prepared to meet the challenges of the 21st century."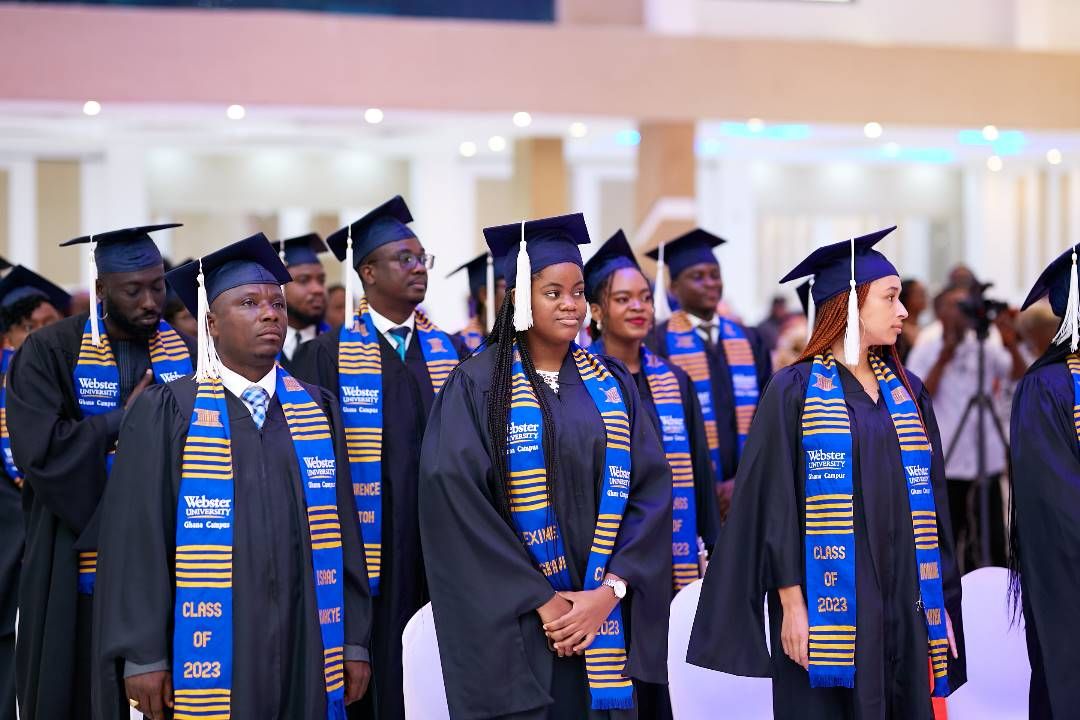 Various students were recognized for achieving academic honors in their degree programs. Damawa Jallah received the honor of summa cum laude in the BA Psychology program, Ilerioluwa Obaweya graduated magna cum laude in the BA Media Communications program and Mikaelle Pierre-Paul graduated magna cum laude in the BA Management program.
The valedictorians for undergraduate and graduate degrees, respectively, were Damawa Jallah and Thelma Adjidjonu.
Adjidjonu gave an address which encouraged her fellow Gorloks to always strive for greatness.
''My time here has shown me that a Gorlok embodies a robust member of society, one who is not afraid to swim against the current, one who strives to make a change with the unwavering support of a community, one who makes the most with opportunities given," Adjidjonu shared.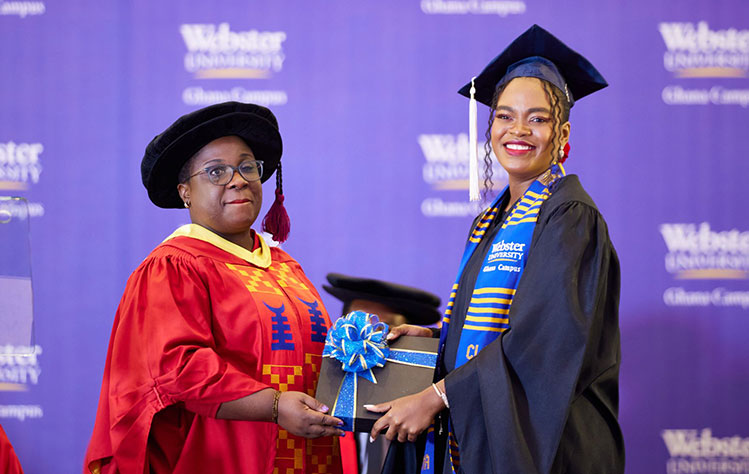 Adjidjonu is recognized as a valedictorian.
Several special guests attended the ceremony, including Virginia E. Palmer who is a US ambassador to Ghana, Ahmed Jinapor Abdulai, director general of the Ghana Tertiary Education Commission (GTEC), and Eric Rhiney, associate professor and chair of Webster's management department on the Webster Groves campus.
As Webster University Ghana's 2023 Commencement Speaker, Ambassador Palmer expressed her excitement in celebrating with the graduating class and as Webster Ghana approaches a decade of academic excellence in Ghana.
''A Webster education gives you a unique perspective on the world, one that recognizes the importance of diversity, inclusivity and collaboration,'' said Ambassador Palmer.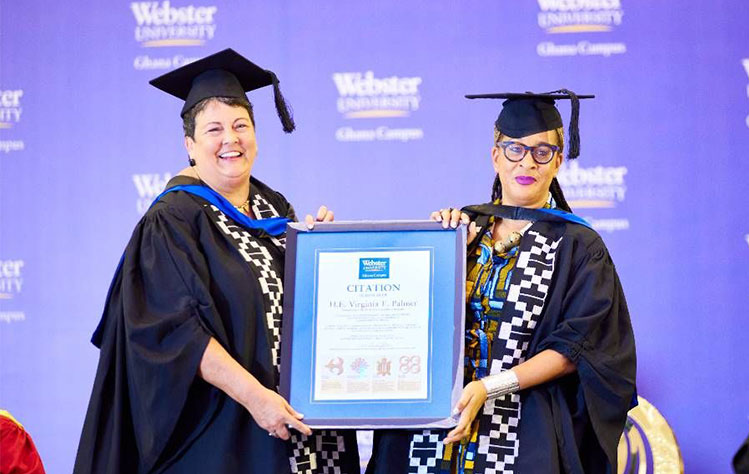 Palmer is presented with a plaque by Sanders.
She further encouraged the graduates to know their power to make a difference in the world – especially as they join the network of over 200,000 Webster alumni globally.
Abdulai, on behalf of the Minister of Education, also spoke to Webster University's long history of quality American education in Ghana.
To wrap up the event, Rhiney shared personal and profound words of motivation with the graduating class.
''If you must show up, you might as well shine,'' said Rhiney. He encouraged graduates to leave their mark wherever they find themselves and not to limit their aspirations.
Congratulations to the Webster University Ghana Class of 2023!