Webster University Ghana Hosts Harris Stowe University for Entrepreneurship Summer Program
Webster University Ghana recently welcomed a group of students from Harris Stowe University, a historically Black university in St. Louis, MO, for an immersive summer program on entrepreneurship. The visit aimed to provide students with firsthand experience of conducting business in Africa – in both formal and informal sectors. Accompanied by faculty members, the students engaged with entrepreneurs from Ghana and Nigeria, gaining valuable insights into African business practices.

During their stay, the visiting students had the opportunity to immerse themselves in the bustling West African marketplace in Accra. Through interacting with local market men and women, students delved into the intricacies of the informal sector, observing and discussing how business is conducted in this vibrant economic setting.

The cultural exploration continued as the group embarked on a city tour of Accra, where they visited iconic landmarks such as the Black Star Square, the recently renovated mausoleum of Ghana's first president, Kwame Nkrumah, the James Town lighthouse, and the Supreme Court. In addition to these urban highlights, they also ventured to the central region to experience the rich historical heritage of Ghana.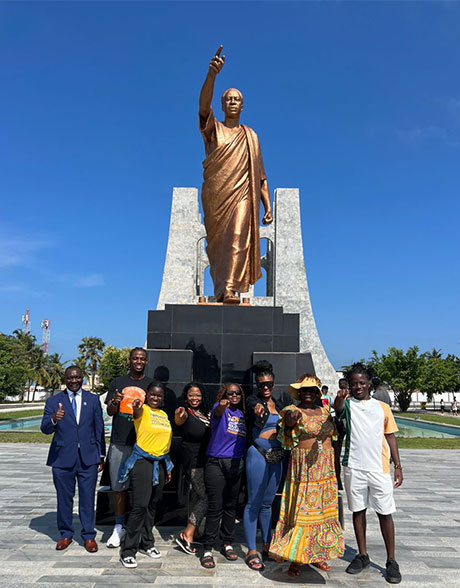 Webster Ghana and Harris-Stowe students visit the mausoleum of Ghana's first president, Kwame Nkrumah.
Their journey included a visit to the Assin Manso Ancestral Slave River, a site of great significance in acknowledging Ghana's history as a major hub of the transatlantic slave trade. The group also explored the UNESCO world heritage sites of Elmina and Cape Coast Castles, witnessing firsthand the haunting remnants of Ghana's past. Furthermore, they engaged with local market women in Cape Coast, gaining insights into their entrepreneurial ventures and the unique challenges they face.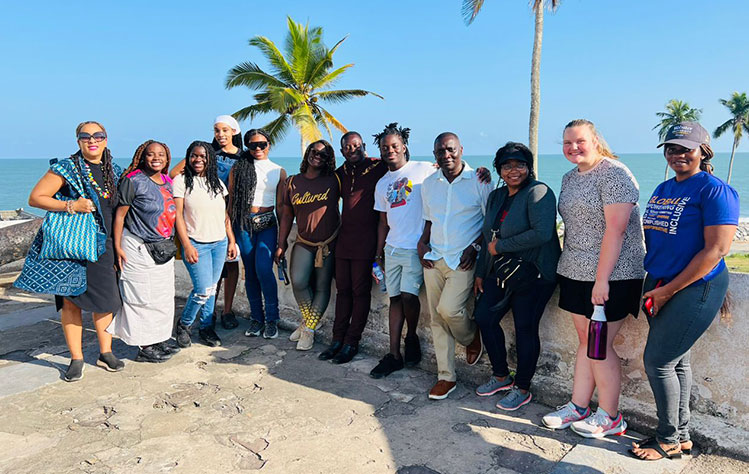 Webster Ghana and Harris Stowe students pictured at Elmina Castle.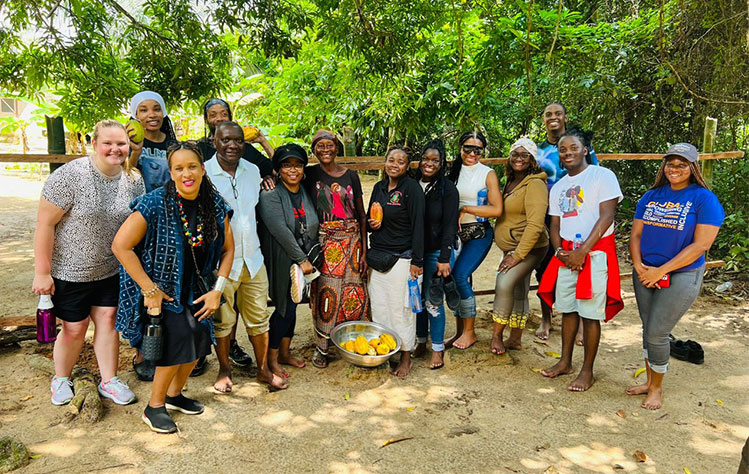 Webster Ghana and Harris Stowe students gather for a photo at the Assin Manso Ancestral Slave River.
The visit provided an excellent platform for Webster University Ghana's leadership and senior faculty members from the Business Department to engage the students in thoughtful discussions on business practices in Ghana and across the African continent. By sharing their expertise and experiences, they aimed to broaden the students' understanding of the dynamic business landscape in Africa and foster cross-cultural learning.

Christa Sanders, campus director of Webster University Ghana, expressed enthusiasm for the exchange of knowledge and cultural experiences while speaking with the group. The entrepreneurship summer program serves as a testament to the power of international partnerships in promoting global understanding and entrepreneurial growth.