Webster Ghana Commemorates Juneteenth 2023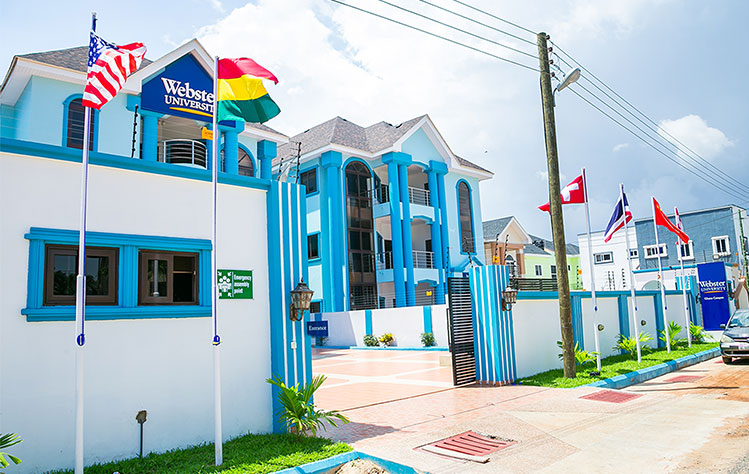 Webster Ghana began celebrating Juneteenth in 2020 - before it was officially declared a national holiday in the U.S. This year, Webster Ghana commemorated Juneteenth with a ceremony, discussion, and interview screening.
"We are thrilled to celebrate Juneteenth at Webster Ghana given the direct link between the U.S., Ghana, and the unfortunate transatlantic slave trade," said Christa Sanders, campus director of Webster Ghana. She continued by expressing her enthusiasm for having discussions and deliberation on Juneteenth as it relates to diversity, inclusiveness, and unity.
Faculty, staff, and students attended the brief ceremony including visiting faculty Sheetal Shah, academic director of the Webster Leiden Campus, and Dustin Smith, assistant professor of management from the Webster Groves campus.
During the ceremony, Shah spoke to the importance of developing an interdisciplinary strategy to address Africa's socioeconomic concerns. She emphasized that Africa is one of only two continents that can live independently of the rest of the world since it is endowed with a wealth of natural resources.
Delia Cook Gillis, professor of African History at the Ghana campus, led a discussion which explored the impact of Juneteenth from 1865 to date.
"In addition to being a time to celebrate, Juneteenth is also a moment for introspection," Gillis shared. "It is a time for bringing up contemporary challenges and to identify the path forward for Black liberation."
The discussion included the screening of a CBS News interview featuring eminent scholar Henry Louis Gates Jr. on the significance and history of Juneteenth. Following the screening, questions were posed on lessons learned from slavery for the African continent.
"For Africa to thrive, it must look within," said Gillis. "Africans must adopt a new mindset of appreciating the continent's natural resources and develop innovative methods to market Africa to the rest of the world."
In her concluding remarks, Gillis urged students to brainstorm solutions to Africa's challenges. By doing so, they can improve the future of Africa and make Juneteenth a meaningful celebration for all.