Global Student Leadership Summit – Recap 2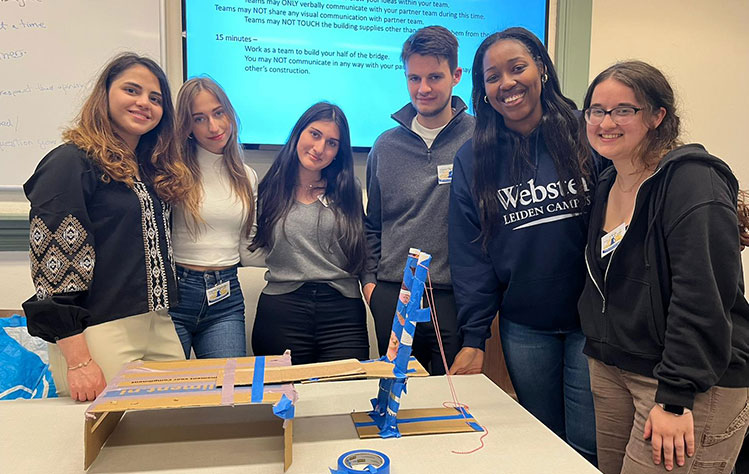 The Global Student Leadership Summit (GSLS) is a high impact learning practice for a group of 28 undergraduate student leaders from throughout Webster's worldwide network. These students were selected because of their strong leadership potential and the ability to work collaboratively across differences. 
 
On May 23, after breakfast, the student leaders began their day by attending Part I of a presentation called Intercultural Competence with Dr. Sinead Hewson. Next, in mixed campus groups, students had the opportunity to discuss a case study covering the topic of global protests. Students brainstormed what they would do as leaders in the Webster community within that scenario.

After lunch, the student leaders attended Part I of the CliftonStrengths seminar. Leading up to the Summit, each student took the CliftonStrengths Assessment to discover their unique blend of strengths. Throughout the rest of the seminar, students will learn how they can grow in their areas of strength.

Students began work with their campus groups on their action plans in preparation for presentations on Friday, and later, the application of these plans at their home campuses.

The day concluded with roundtable discussions.
 
May 24 began with a visit to Aalmarkt, a renowned Leiden street market. The student leaders had the opportunity to enjoy Dutch cuisine and partake in the daily culture of Leiden.

Next, concurrent sessions divided by campus covered two topics. Students either attended a presentation by Jonathan Talbott discussing action plan public speaking or a presentation by Alan Elliot Merschen on action plan "Shark Tank." Both sessions aimed to prepare the student leaders for presentation of their action plans later in the week.

Part II of Intercultural Competence with Dr. Sinead Hewson preceded time for the students to work on their action plans.
 
Additional information about the Global Student Leadership Summit can be found here. 

The public is invited to view the project presentations given at the end of the week by GSLS participants. The presentations will be streamed live on Friday, May 26 (2:15 a.m. CST, 9:15 a.m. Leiden) on Zoom. A recording of the presentations will be available following the livestream.