International Students Create Webster University Cricket Team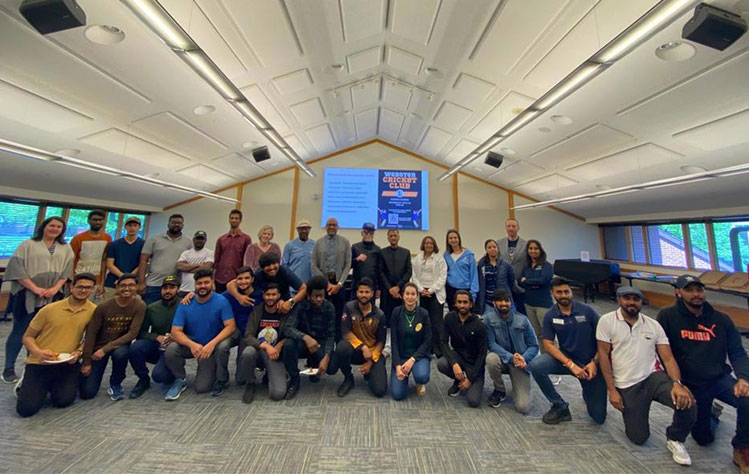 This past spring, three international students - Faheel Akhtar, Khoushleem Bano, and Vinay Kumar Polavarapu recognized that Webster University lacked a cricket team. With the support of Joe Roberts, a faculty member in the Walker School of Business and Technology, the three students created the Webster University Cricket Team (WUCT). A kick-off event was held on April 26 – and the students haven't looked back.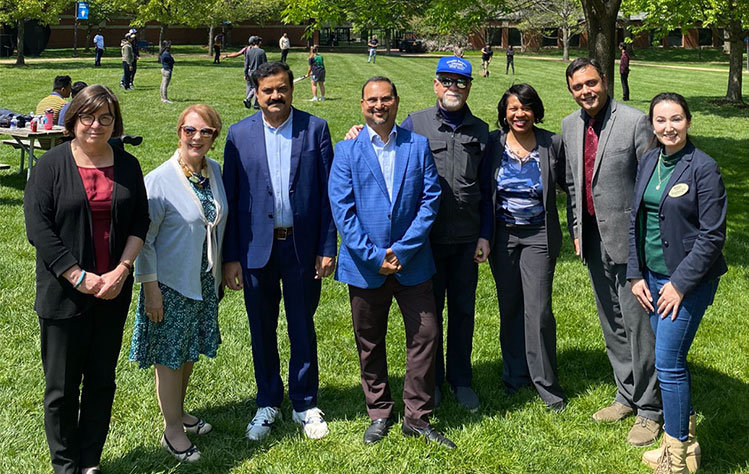 Several Webster faculty and staff members attended the April 26 kick-off event. Pictured from left to right are Vice President for Academic Affairs Nancy Hellerud, Chancellor Beth Stroble, two visitors from the Jaipuria Institute of Management, WUCT Faculty Advisor Joe Roberts, Walker School of Business and Technology dean Simone Cummings, Assistant Vice President Samrat Ray Chaudhuri, and Graduate Assistant Khoushleem Bano.
WUCT has already rivaled cricket teams such as St. Louis University (SLU) and Daar Ul-Islam Masjid, from Ballwin, MO. Webster won by five wickets in the second game of the match against Daar Ul-Islam Masjid, and four wickets in the second game of the match against SLU.

"Cricket is very popular in Asian countries like Pakistan, India, Bangladesh, Sri Lanka, Nepal, and many more," said Akhtar, a senior majoring in business administration, and president of WUCT. "Many students at Webster want to play cricket because they had been playing in their home countries. We started WUCT so all students who are interested in playing cricket can keep their activity alive along with their studies, and so Webster feels more like home for them."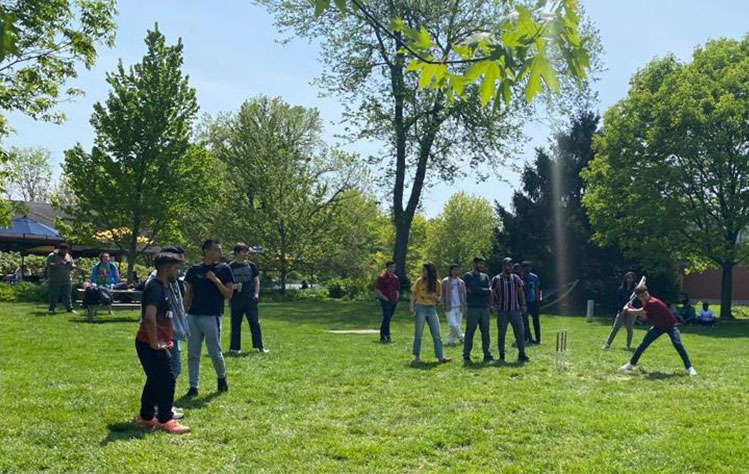 A group of Webster students play Cricket at the kick-off event.
The WUCT plans to continue challenging local universities and private leagues in the region. Akhtar hopes that as the team grows, they someday will be able to represent Webster University on a state level.

If you are a local university or private league that would like to challenge WUCT, an alum or business who would like to sponsor WUCT, or are a current Webster student interested in joining WUCT – please reach out via email to WUCT President Faheel Akhtar (faheelakhtar@webster.edu.) or WUCT Advisor Joe Roberts (joeroberts@webster.edu).

Students can also visit Webster Cricket Club - Involved@Webster to join the WhatsApp group, where information about practices and matches is announced. No cricket experience is necessary to join!