John Burke, Giant of Webster's National Championship Chess Team, Sets His Course for Post-Graduation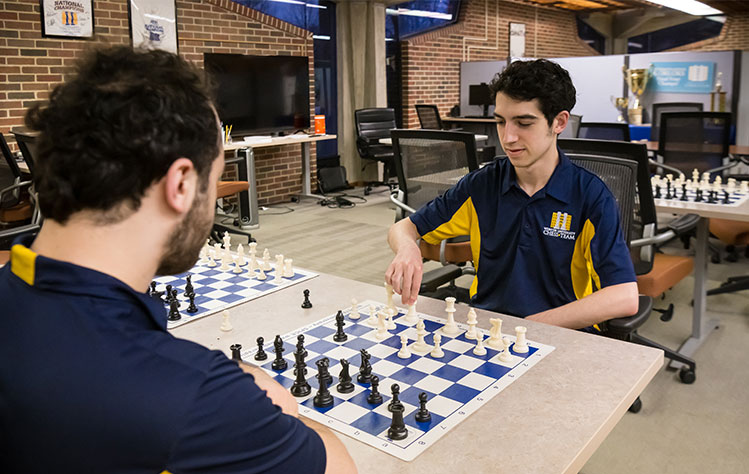 English major, chess player, and soon-to-be May 2023 graduate John Burke has prepared to bid a fond farewell to his beloved Webster Chess Team, but not to the sport itself.
"I'm going to go back home after graduation, and I definitely want to continue focusing on chess," Burke said. "I want to keep competing and push myself to become the best I can be."
Just how good Burke can be has been on display a lot recently, according to coach Liem Le.
"He has been the MVP of our team this entire season," Le said. "In the Pan American Intercollegiate Team Championship in January, he scored four wins and two draws out of six games. In the recently concluded President's Cup, he scored three wins out of three games, all with the black pieces, which means he prevailed despite starting all the games with a small disadvantage. The result is unprecedented in the history of the President's Cup. Thanks to his clutch performance, as well as performances of the other team members, the Webster Chess Team won all tournaments this season with a perfect score of 9-0."
Le went on to say that coaching Burke has been an absolute joy. He described him as a proactive, efficient, and disciplined player who hasn't let his successes go to his head or hinder his heart.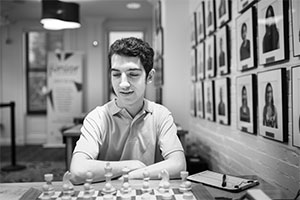 "Despite being a former chess prodigy and still one of the most promising young talents in the country," Le said, "John remains down to earth and always willing to help anyone. This is why his teammates like and respect him."
Burke was quick to assert that the respect and admiration goes both ways.
"I'd like to thank coach Le, as well as the former coach of the chess team, Susan Polgar, for all their help during these four years. I'm also grateful to all my teammates, especially my roommate, Benjamin Gledura," he said.
It was chess itself that drew Burke away from his New Jersey hometown to the Webster Campus in St. Louis — often called the chess capitol of the U.S.
"I was impressed with the track record of success, and I thought it would be a good choice to come here and study and get a degree while still focusing on the game I love," Burke said.
Burke chose to pursue English for his degree choice because of a creative writing class he loved during his first semester. He said he has always been interested in writing, and gaining the ability to understand and discuss great literature intrigued and excited him. He has nothing but praise for Webster's English department, and he's grateful his experience there has helped prepare him for further opportunities that connect back to his favorite game: He's a regular contributor to American Chess Magazine and various other publications – something he definitely plans to continue into the future, alongside coaching and playing.
When asked just what it is about Chess that keeps him so dedicated, Burke had a clear, honest answer, laced with good natured humor.
"I play it for a lot of reasons, but one of the most satisfying things about chess is being able to construct a plan in your mind and see it come to fruition," he said. "It's very satisfying to plan ahead and see that your calculations were right as the game unfolds. On the flip side, it's frustrating when you realize too late that your plan was stupid and you're about to lose the game!"
For someone with such refreshing candor about losing, as Coach Le pointed out, Burke certainly hasn't done much of it for Webster, especially recently.
At the above-mentioned President's Cup, he was the only player of all players to win all of his matches and be recognized by the tournament director for the stunning accomplishment. Yet he was determined to point out that the success of the whole team was paramount to celebrating.
"It was a great feeling to contribute to the team's success. It's always nice to do well on a personal level, but since it helped to win a title for Webster, it was extra special," he said.
Coach Le, like everyone in the Webster Chess family, said he is eager to see Burke's next moves – on and off the board.
"I am sure John will achieve many more successes in his chess career," Le said. "I am excited to see what the future holds for him."