Webster Hosts Missouri Psychological Association Conference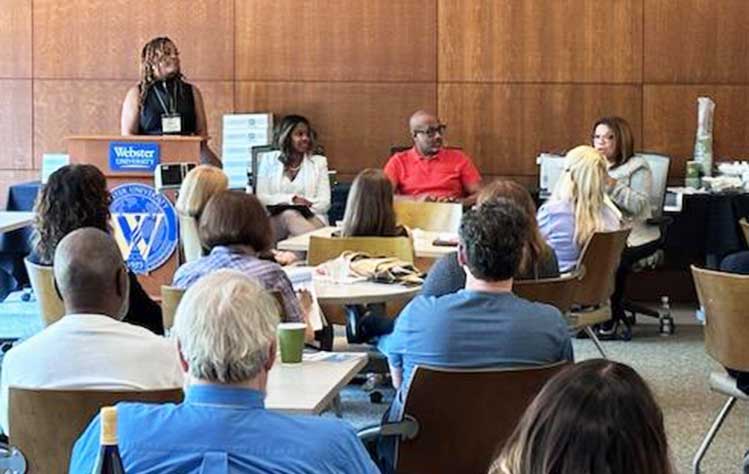 Webster University hosted the annual Missouri Psychological Association (MOPA) conference July 14 and 15 in the East Academic Building and Browning Hall. Approximately 70 psychologists from throughout Missouri attended.
Panels for the two-day event included workshops on women's health, how to negotiate with insurance companies, problems rural residents have receiving services, and the impact social media has on mental health. One panel, titled "Marginalized Identities in Leadership: How to Leave the Door Open," featured Webster University Associate Vice President for Diversity, Equity & Inclusion and Chief Diversity Officer Vincent C. Flewellen.
"Vincent was able to provide the perspective of being a person in a marginalized community who is in a leadership role," said School of Education Adjunct Professor Jameca Woody Cooper, who is serving as the president elect of the Missouri Psychological Association. "He was able to talk about why representation matters in all aspects of organizational culture."
The keynote speaker at the event was Jim Broyles, director of Professional Affairs for the Ohio Psychological Association. His lecture was titled "Protecting Your Interests: Working with Insurance Companies."
MOPA was founded in 1954 with the purpose of advancing psychology as a science, as a profession, and as a means of promoting human welfare. It is the largest organization representing Missouri psychologists and supports practitioners in their efforts to promote the psychological well-being of all citizens and advance the profession of psychology through volunteer association members and professional staff.
In April, five Webster psychology students presented their peer-reviewed papers to professionals attending at the 95th annual meeting of the Midwestern Psychological Association in Chicago.
Cooper, who currently serves as Chair of the American Psychological Association's Committee on Aging (CONA), said these conferences are important, especially due to the challenges mental health professionals face in Missouri. Missouri ranks in the bottom tenth in service and access according to the nonprofit Mental Health America, an organization that examines residents' access to mental health services and adult mental health. Missouri has an average of 32.3 psychologists per 100,000 people, significantly lower than what is needed. It's estimated that nationally, 250,000 additional psychologists are necessary to fulfill mental health needs.