Webster Professor and Students Working to Create Safer School Environments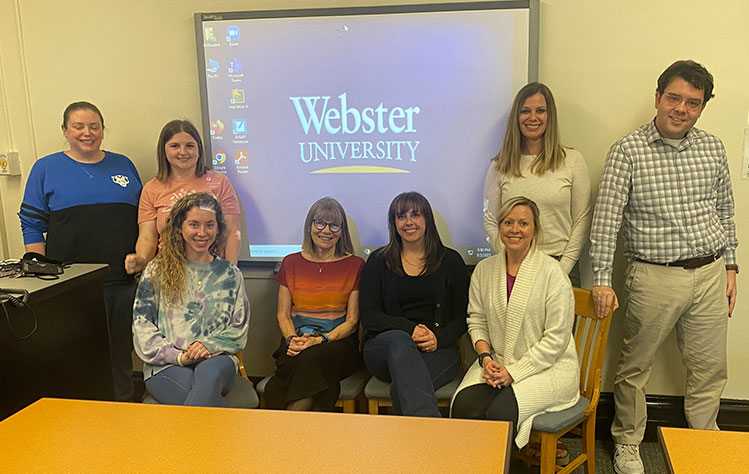 Students with Professor Debbie Stiles after a PREPaRE Workshop Session. From left to right, first row: Kendall Sims, Debbie Stiles, Jessica Brown, Michelle Gestring, and second row: Tracy Mense, Alice Becker, Laura Axtetter, Joseph Parks.
With violence in schools on the rise, it's critical that educators know how to prevent or handle a crisis. Webster University Professor Debbie Stiles, a National Association of School Psychologists (NASP) Trainer of Trainers in School Crisis Prevention and Intervention, is working to bring that essential knowledge to teachers, administrators, and mental health professionals.
Stiles recently led a workshop on Webster's campus to train current and future educators about crisis prevention, emergency response, and school safety. As a result of the workshop,11 graduate students and alumni received certificates from NASP for completing the PREPaRE Workshop 1 Comprehensive School Safety Planning: Prevention through Recovery.
"I believe the students and alums who acquire Workshop 1 credentials become more prepared, compassionate, and effective educators and mental health professionals," Stiles shared.
Workshop 1 consisted of three evening sessions and covered subjects such as physical safety, psychological safety, school climate, student resilience, and crisis management. Those who become certified can train colleagues in their workplaces about what they learned through the course. Several students have already begun sharing their takeaways with co-workers.
"I'm so grateful to have taken the NASP PREPaRE workshop," said Jessica Brown, a workshop participant. "There are many possible incidents that can occur at schools, so it's important to be prepared for anything. What I especially enjoyed about this course were the roleplaying activities. This workshop used a great balance of learning strategies, including activities and discussions that helped me absorb and retain the information. The way this information was taught, I fully expect to remember what I learned and feel confident that I am prepared to navigate the difficult and dangerous situations that can occur at schools. I would recommend the NASP training to every current and future educator!"
Diana Carvajal Endara, an international student who participated in the workshop, expressed a similar amount of gratitude.
"Having taken the workshop and earning a NASP PREPaRE certificate will allow me to apply what I have learned in my future workplace and be able to contain and support in crisis times."
Using the knowledge from the workshop, Stiles and a group of her students are working on a research paper titled, "Using the Listening Guide for Understanding the Emotional Impact of the Uvalde School Shooting." The students hope this study will provide a glimpse into the thoughts and feelings of children and adults before and after school shootings – and that their insights will give mental health professionals a starting point of the best approaches for recovery and healing.