Celebrating 10 Years of Webster Suggs Scholars: Tekoa Bell
Webster University's Dr. Donald M. Suggs Scholarship program is 10 years old this year. Webster is reaching out to some of the 37 students or alumni who benefited from the program to feature their personal and professional successes.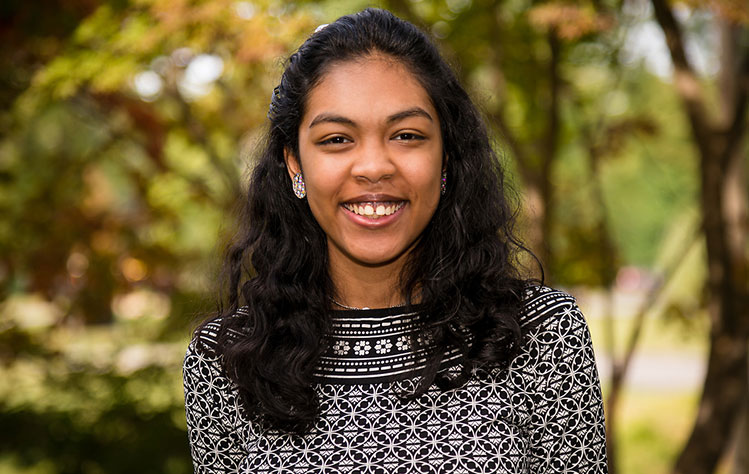 Tekoa Bell
BA, Political Science
Class of 2023
Tekoa Bell's future plans encompass something much larger than a specific career title, salary range or clearcut path from A to Z. The Webster University Senior Political Science major, who is the oldest of five siblings and an avid reader and writer, said her ultimate goal is "to inspire future generations."
How exactly does one go about achieving such a substantial aspiration?
For Bell, the answer so far has been three-fold. First, she chose a role model. Second, she chose a university brimming with opportunity, and third, she joined a speech and debate team.
Bell's role model is Ralph Bunche, the celebrated political scientist who became the first black man and person of color to win a Nobel Prize for his 1948 mediation of conflict in Palestine. It was her admiration of him that led to her choice of major.
"I've always liked learning about history and civics, so I thought it would be interesting to pursue a political science degree," she said. "I'd like to be able to follow in his footsteps."
To do so, Bell sought community, connection, and opportunity in her college experience; She found all three at Webster.
"I felt like Webster had a much more friendly environment with a lot of opportunities that I could take advantage of," she said, crediting Chief Diversity Officer and Suggs Scholar Director Vincent Flewellen with guiding her toward exploring what those specific opportunities could be.
"Flewellen encourages all the Suggs Scholars to become involved on campus," Bell explained. "It's what pushed me to become a Student Ambassador, as well as an Orientation Leader and Peer Mentor for the First-Year Experience and Family Programs."
As her skills and confidence have grown through those leadership-building endeavors, so too has a drive to strengthen and define her voice in new ways.
Enter Webster Forensics, the speech and debate program that offers the opportunity to travel across the country in competition with other universities at public speaking tournaments.
"Right now, I'm working on an informative speech about how social media algorithms can lead to alt-right radicalization of young men. We're working towards being able to go to the Pi Kappa Delta Nationals Tournament this year, and I'm very excited," Bell said. "I'd love to give a shout-out to coaches Gina Jensen and Tom Serfass. Even though I'm a new member on the team, they've been a huge support and have helped me build the skills that have been critical to my success in college."
Of course, before she could have any of that critical success in her college experience, she had to get in and find a way to pay for it. For that, Bell said, the Suggs Scholarship made all the difference. Without it, her approach to the kind of ambitiously inspirational future Ralph Bunche would be proud of might have taken a much different shape.
"The Suggs Scholarship pushes me to contribute to my community," Bell said. "It has allowed me to connect and lead with other students of color and has also opened up many other opportunities in my life. I'm very honored to be a Suggs Scholar."
About the Suggs Scholarship
The Dr. Donald M. Suggs Scholarship was established to honor Dr. Donald M. Suggs, an oral surgeon, newspaper publisher, patron of the arts, and distinguished community leader, and is administered by The St. Louis American Foundation. The scholarship is designed to enhance recruitment and retention of academically talented undergraduate students from communities that are typically under-represented in higher education. The funding for the Webster University Dr. Suggs Scholarship Program is provided by Webster University. A committee of staff volunteers helps select students for the program. Webster University has 32 students currently enrolled in the program, more than double of any other participating institution of higher education.