Webster University Holds First American University Bachelor's Degree Commencement in Tashkent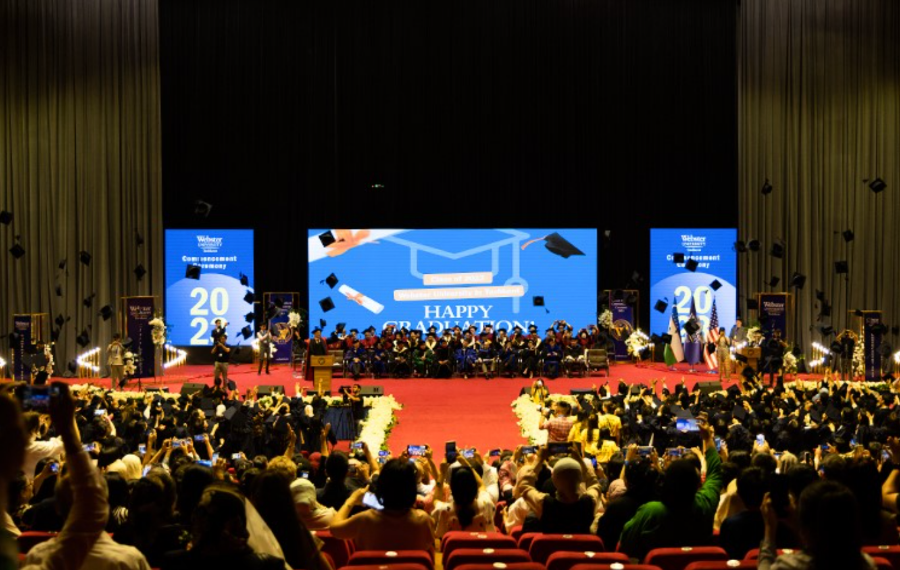 Webster University in Tashkent celebrated its inaugural bachelor commencement ceremony on May 20. This was the first American university commencement for students earning a bachelor's degree to take place in Tashkent. Graduates obtained bachelor of science degrees in the fields of business administration, economics, management information systems, media studies and international relations. For master's degrees, graduates were received in the Teaching English as a Second Language, Education and Innovation, and MBA levels.

Many honorable guests from other campuses attended the ceremony. The President of Webster University, Julian Z. Schuster, along with the Vice President for Academic Affairs Nancy Hellerud, travelled from the main campus in Webster Groves, Missouri. The Director General for Webster University Global Campuses, Ryan Guffey, flew in from Geneva, Switzerland. Five of the university's six deans attended to deliver certificates to the graduating students: Dean of the School of Communications Eric Rothenbuhler; Dean of the Walker School of Business and Technology Simone Cummings; Dean of the College of Science and Health Michael Hulsizer; Interim Dean of the College of Humanities and Social Sciences Danielle MacCartney; and Interim Dean of the School of Education Stephanie Mahfood.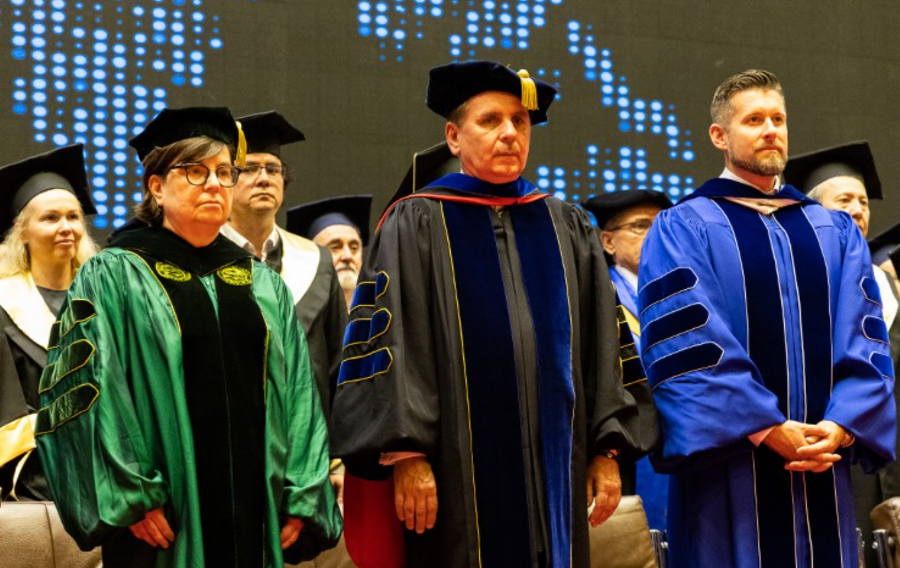 Webster University Vice President Nancy Hellerud, President Julian Z. Schuster, and Director General for Global Campuses Ryan Guffey.
The ceremony took place in the Main Hall of Alisher Navai Cinema (Panorama) on the Tashkent campus. Over 1,000 individuals, including graduates, their families, and guests were invited to the venue to mark the historic day in Webster Tashkent's history. Five hundred thirty-eight graduates walked across the stage; 151 received a bachelor's degree and 387 earned a master's degree.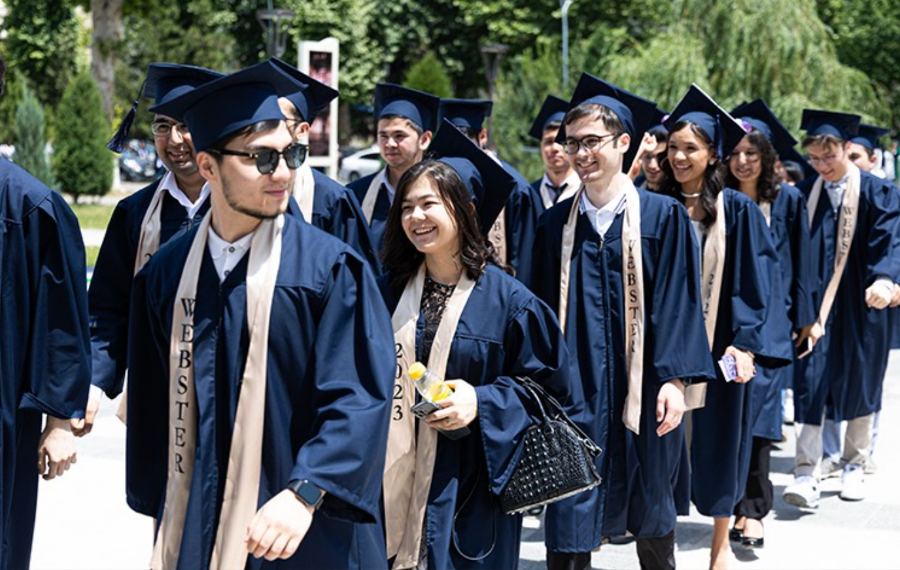 Webster University Tashkent graduates smile as they prepare to enter their Commencement ceremony.
Vassilis Polimenis, rector of Webster University in Tashkent, began the ceremony by congratulating graduates and recognizing those around them who helped them reach this milestone.

"Your hard work, dedication and tenacity have paid off and you should be proud of your remarkable achievement," shared Polimenis. "But let us not forget that success is never achieved alone, your parents and family have also played a significant role in your journey. We want to honor and celebrate them alongside you."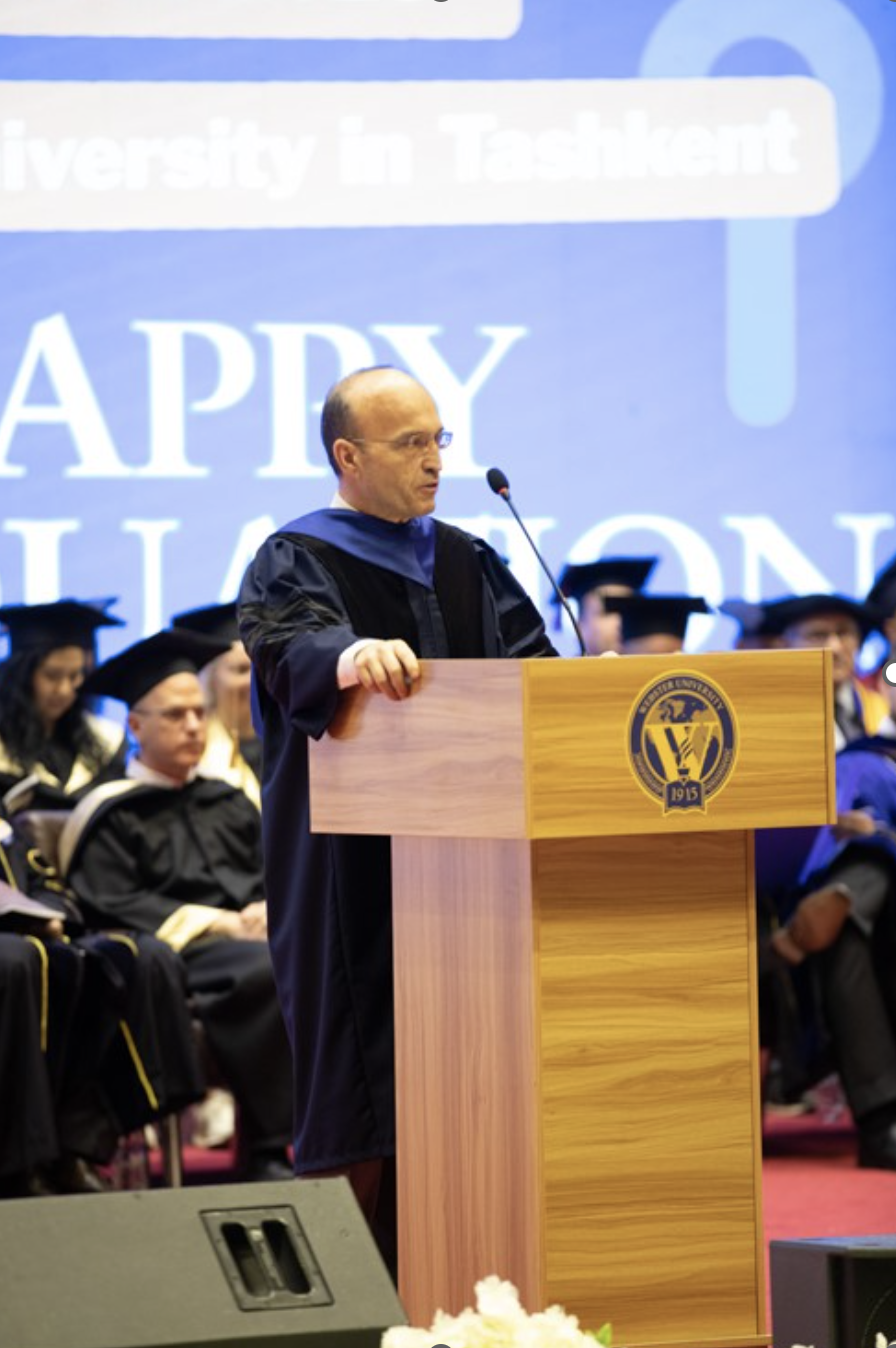 Rector Vassilis Polimenis addresses the Class of 2023.
Polimenis concluded his speech by reminding graduates to further build on their cultural creativity, critical thinking and development in the sphere of artificial intelligence as the modern world progresses. He noted that the ceremony was extra special, as Webster graduates represent the future generation who have received a quality American education regarding the values and upbringing of the Uzbek nation.

Rasul Rakhmonov, PhD., the Executive Director for the Implementation for Educational Programs for Webster University in Tashkent, shared that, "This is truly a tremendous occasion, marking years of collaborative efforts and interest. In the years to come, I am confident the number of successes will continue to rise."

Jonathan Henick, US ambassador to Uzbekistan, then addressed the students, noting the importance of Webster University in Tashkent. "Webster, the pioneer American institution in Tashkent is paving the way for universities offering American style higher education here in Uzbekistan," said Henick. "I believe that this is what sets Webster apart and ahead of any other university in Tashkent. Our educational approach cherishes independence, critical thinking, experiential minding. The US leadership in innovation, technology and entrepreneurship stands as a testament to the success of this philosophy."
Henick further offered advice to the Class of 2023 to keep in mind post-graduation before concluding his speech by encouraging the graduates to continue learning, to keep an open mind and to lean into one's natural talents.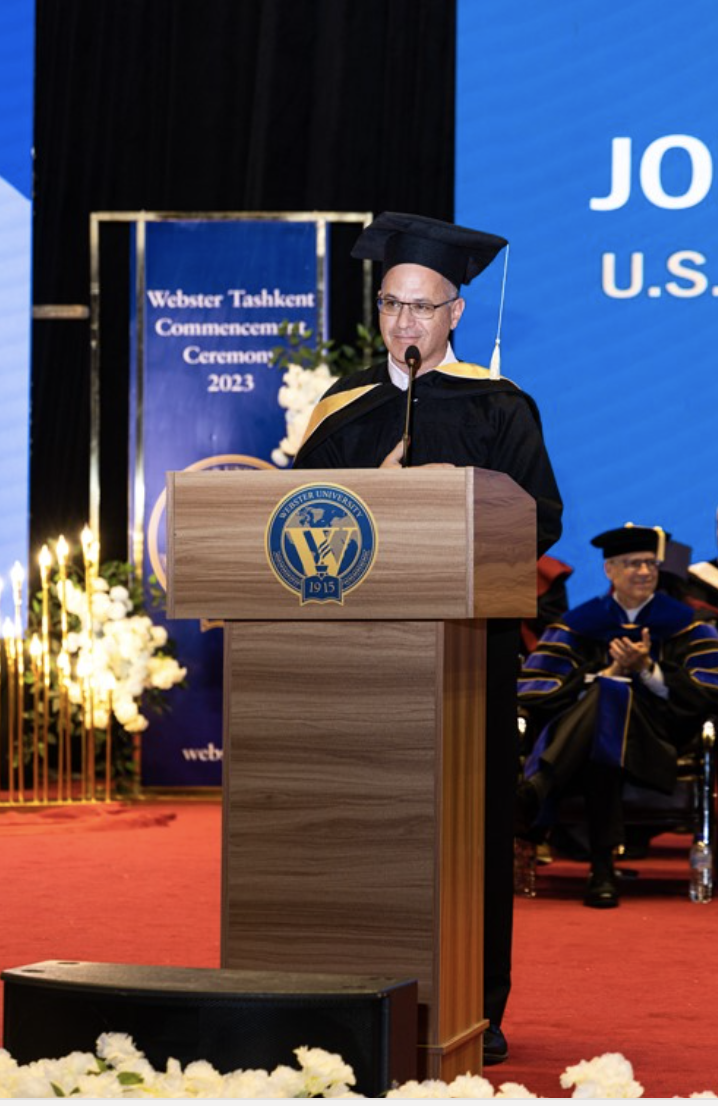 Ambassador Jonathan Henick is welcomed to the podium with a round of applause.
President Schuster concluded the ceremony by addressing the students before officially conferring their degrees.

"Four years ago, in collaboration with the government of the Republic of Uzbekistan, we launched Webster University Tashkent," President Schuster said. "Now, we are witnessing the most impactful result of the deed. We are sending off 538 smart, well-educated, global citizens with Webster degrees into this world. These graduates will make their workplaces and communities better places, whether these places are in this beautiful country or anywhere else in the world."
President Schuster recognized those who supported and encouraged the graduates along their academic journey – the faculty and staff of Webster University Tashkent and the families and friends in attendance. He closed by using the metaphor of a bridge to encourage graduates to build connections across cultures and between people and to stay connected to Webster University as an engaged alum.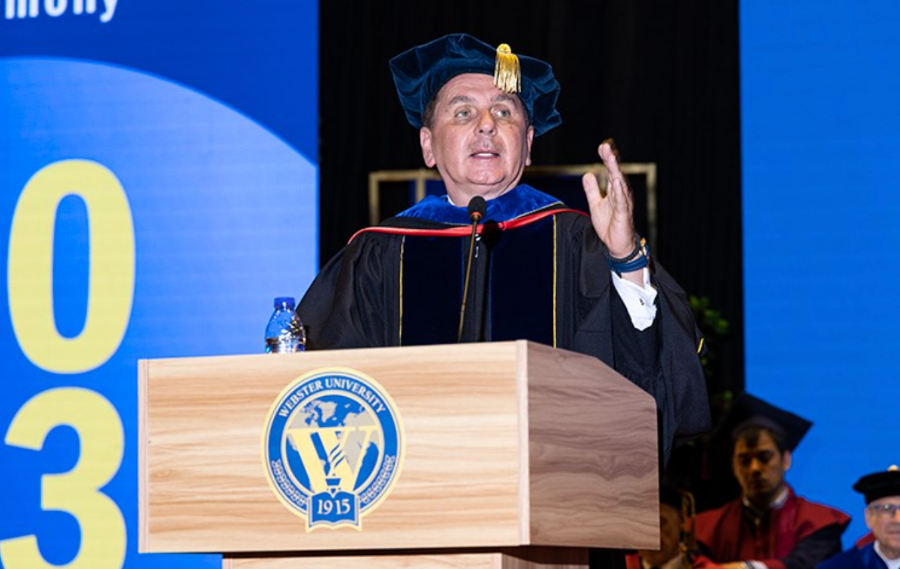 Webster University President Julian Z. Schuster addresses Webster University Tashkent graduates.
Webster University in Tashkent graduates look forward to what is to come as they embark on the next stage of their journeys.

"In the near future, I am planning to pursue my education at a graduate level," shared Class of 2023 graduate Sevara Khamdamova. "I also want to apply my theoretical knowledge and get more practical expertise at international organizations."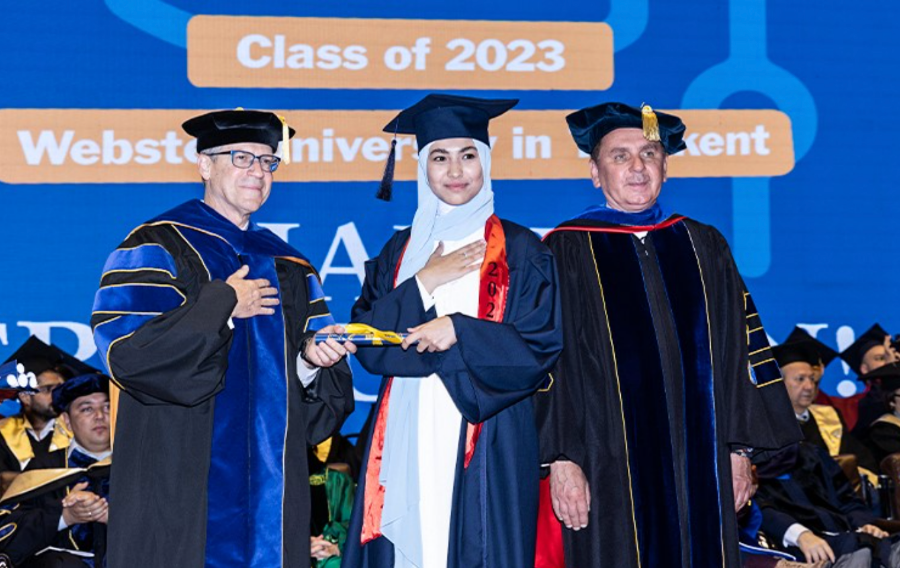 Graduate Sevara Khamdamova recieves her diploma.
We congratulate all graduates for this successful achievement and becoming a part of more than 200,000 remarkable Webster alumni around the world.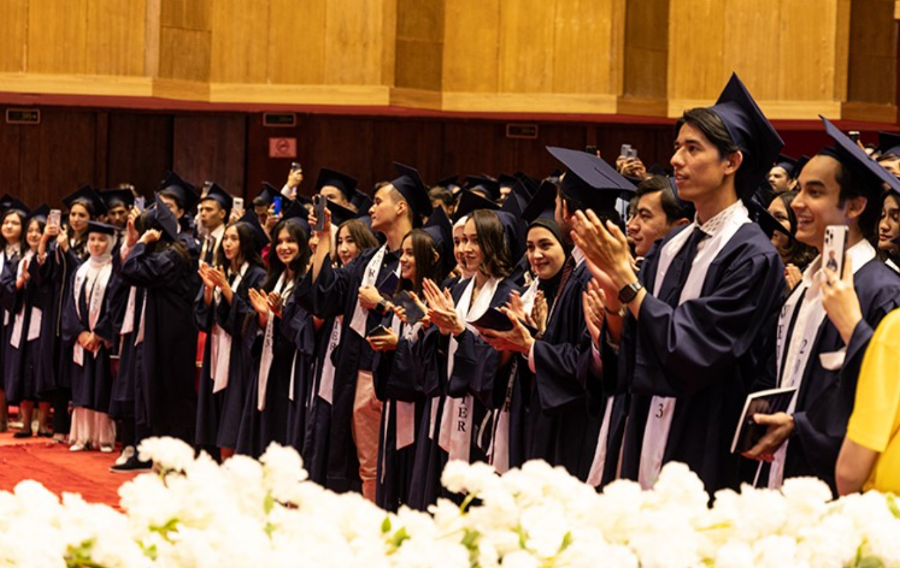 About Webster University in Tashkent: Established in 2019 through the Decree of the President of the Republic of Uzbekistan, Webster University Tashkent is an official campus of Webster University in St. Louis, Mo. As the premier American university in Central Asia, Webster University in Tashkent is committed to ensuring high-quality learning that transforms students for global citizenship and individual excellence.