Webster University and University of Health Sciences and Pharmacy in St. Louis Create a New Pathway for Students to Earn a Pharmacy Degree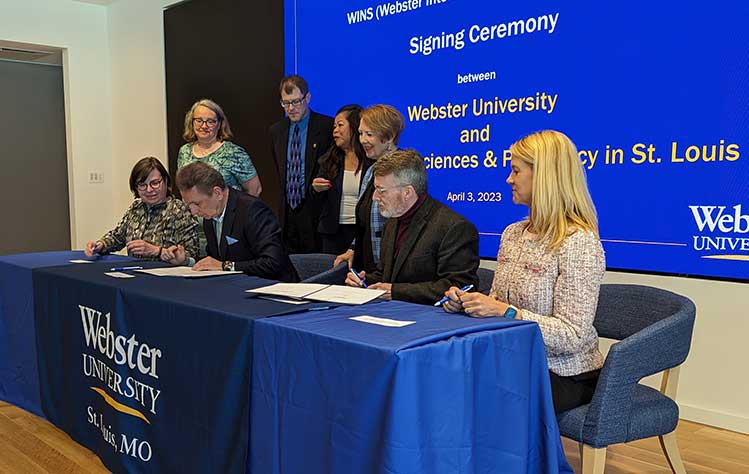 Webster University (Webster) and University of Health Sciences and Pharmacy in St. Louis (UHSP) have agreed to create a pipeline program that will accelerate the acceptance of Webster biological sciences students into the Doctor of Pharmacy program at St. Louis College of Pharmacy at UHSP.
The new pathway will allow Webster students in the biological sciences to complete their Bachelor of Science undergraduate degree while simultaneously starting the Doctor of Pharmacy degree, thus reducing the degree time by one year and potentially saving students both time and money.
"This agreement streamlines the educational journey for students whose goal is to work in pharmacy," said Webster University President Julian Z. Schuster. "It is through unique partnerships like this one that we can help students succeed in their future careers."
Under the new program, Webster students will have multiple options to take advantage of the pipeline to UHSP:
Students who are in their fourth year of Webster's undergraduate Biological Sciences (BS) program or have already earned a Bachelor of Science in Biological Sciences from Webster can apply to UHSP and be considered for enhanced admission consideration.
Students who are currently in their junior year at Webster University, have completed all general education requirements, and finished all the classes required for their biological sciences major, can apply for entrance into the new accelerated "3+4" path. After completing their junior year, they would start their senior year at UHSP and be able to transfer up to 30 credits from their first professional year in the Doctor of Pharmacy program back to Webster University to complete elective requirements of the bachelors, while continuing their professional degree.
"This program is unique in that it offers options for alumni and current students to pick the path that best meets their needs," said College of Science and Health Dean Michael Hulsizer. "By giving students options for how they want to pursue their education, we also are giving them the flexibility needed to achieve their life goals while at the same time saving students time and money. We are excited to work with UHSP and look forward to our partnership."
"St. Louis College of Pharmacy has an incredibly rich history of advancing health care and pharmacy education, and we're thrilled to partner with Webster University to give their students the chance to pursue a Doctor of Pharmacy with us," said Terri Warholak, dean of St. Louis College of Pharmacy. "We are excited for this chance to prepare and equip future pharmacy students to succeed as local, global health care leaders in the years to come."
UHSP will agree to review and interview three Webster students per year, with an option to increase the number. In order to be accepted, students must have completed specific courses at Webster University that are prerequisites for UHSP's Doctor of Pharmacy program. Students must also have a 2.7 GPA or higher, including a 2.7 GPA in all core science and math classes. Students must also complete an interview and submit a writing assignment for admission to St. Louis College of Pharmacy at UHSP.
"At UHSP, our desire to create an environment where we are is the institution of choice for students, and we are always looking to create as many opportunities as possible for students interested in pursuing a rewarding career in pharmacy," said Brenda Gleason, interim chief academic officer at UHSP. "This partnership opens the door for Webster students to stay in St. Louis to pursue a top-tier pharmacy program within St. Louis College of Pharmacy."
The agreement is set for five years, starting in fall of 2023, but may be extended.
About Webster
With its main campus in St. Louis, Missouri, USA, Webster University (www.webster.edu) comprises an action-oriented global network of faculty, staff, students and alumni who forge powerful bonds with each other and with their communities around the globe. Founded in 1915, Webster is an independent nonprofit university with students studying at campus locations in North America, Europe, Asia and Africa and in a robust learning environment online. The University is committed to ensuring high-quality learning experiences that transform students for global citizenship and individual excellence.
About University of Health Sciences and Pharmacy in St. Louis
University of Health Sciences and Pharmacy in St. Louis (UHSP) believes that the creation of a healthier society starts with our students.
For more than 158 years, the University has been committed to providing students with an outstanding education that lays the groundwork for impactful futures in health care. With programs designed to give students the opportunity to advance their knowledge and skills, enhance their well-being and grow as professionals, UHSP is helping students become better versions of themselves so they can create positive change in the world.
UHSP offers undergraduate, graduate and professional degrees. Undergraduate degrees prepare students for health professions careers and serve as the foundation for graduate or professional study, while St. Louis College of Pharmacy prepares students to be future pharmacy leaders and innovators. To learn more, visit uhsp.edu.