Webster Vienna Alumni Symposium Explores Cybersecurity, AI, and Secure Digital Future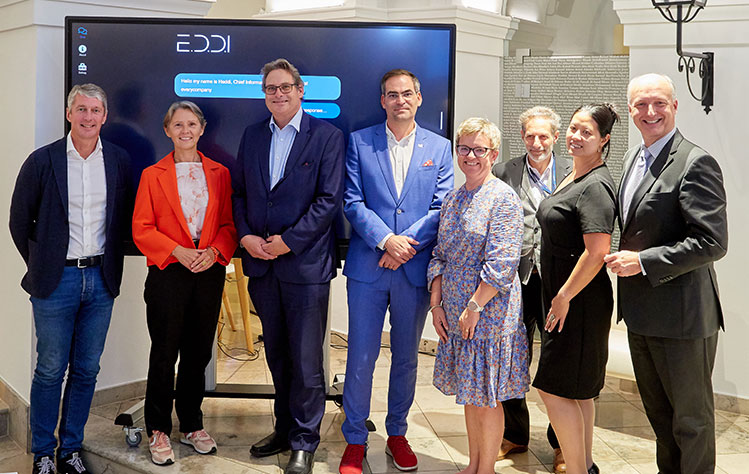 On Sept. 27, more than 70 attendees gathered at Webster Vienna Private University (WVPU) for the 15th Webster Vienna Alumni Symposium. During this year's event, alumni, students, and business leaders gained valuable insights into the current and upcoming challenges in cybersecurity and how businesses, governments, and individuals can better protect themselves against evolving cyber threats.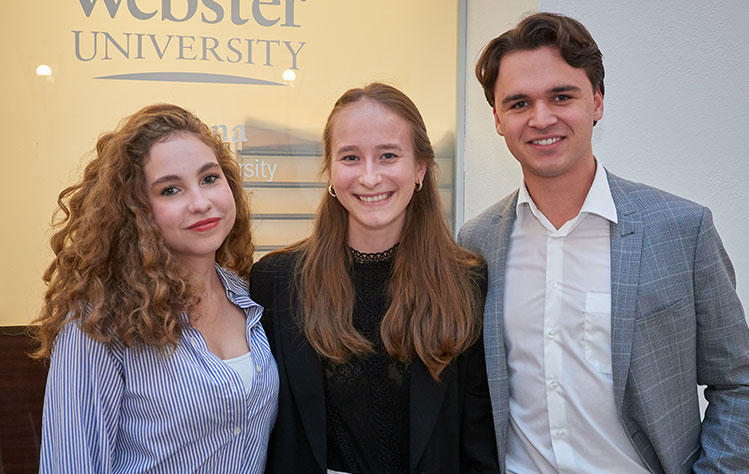 WVPU Students attended the event to learn more about the cybersecurity industry. Photo: Carl Anders Nilsson
Entitled "Defending Against the Unknown: The Role of Cybersecurity in Building a Safe Digital Future," the event convened prominent experts for a discussion on the evolving landscape of cybersecurity, artificial intelligence (AI) and its pivotal role in shaping a secure digital environment. Speakers included Maria Kirschner, vice president, country general manager, Kyndryl Alps; Clemens Möslinger, director of cyber security, Austrian Federal Chancellery; and Georg Schwondra, partner risk advisory - cyber risk, Deloitte Austria.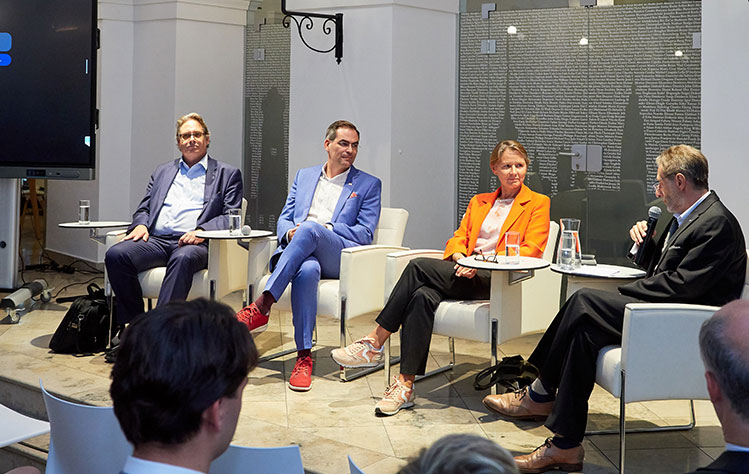 Panelists (from left to right): Georg Schwondra, Clemens Möslinger, and Maria Kirschner. Photo: Carl Anders Nilsson
The expert panel welcomed Heddi, a generative AI character powered by ChatGPT and orchestrated through Labs.ai's E.D.D.I. (Enhanced Dialog Driven Intelligence) platform. Labs.ai, an Austrian firm specializing in conversational AI technology, was co-founded by Webster Vienna alumni Franz Weber and Gregor Jarisch. Taking on the role of chief technology officer for the fictional "Everycompany," Heddi provided insights about a recent ransomware attack that the tech company encountered.
The symposium's platform allowed the experts to explain and discuss innovative approaches against evolving threats to digital systems. All experts agreed that addressing cybersecurity is a massive global challenge; a game with attackers that demands cooperation between governments, corporations and policymakers to win. The conversations underscored the significance of robust legal frameworks, cutting-edge technologies, and heightened risk awareness for both companies and individuals. As cybercrime knows no borders, its shadow looms everywhere. The panelists concurred that AI casts a double-edged sword in cybersecurity: hackers harness it to prepare attacks; defenders employ it to strengthen their digital defenses.
Samuel R. Schubert, associate director of Webster Vienna, emphasized the significance of cybersecurity in the context of the rapid advancements in artificial intelligence. "As AI continues to reshape industries and societies, we must prioritize the protection of our digital infrastructures. Ensuring robust cybersecurity is not only about preserving data integrity but also about upholding the trust that underpins our digital interactions."
Webster Vienna, a premier research university, is dedicated to convening informed individuals who can navigate the complexities of our digital world. The symposium's success illustrates the university's position as a hub of intellectual exchange and innovative thinking.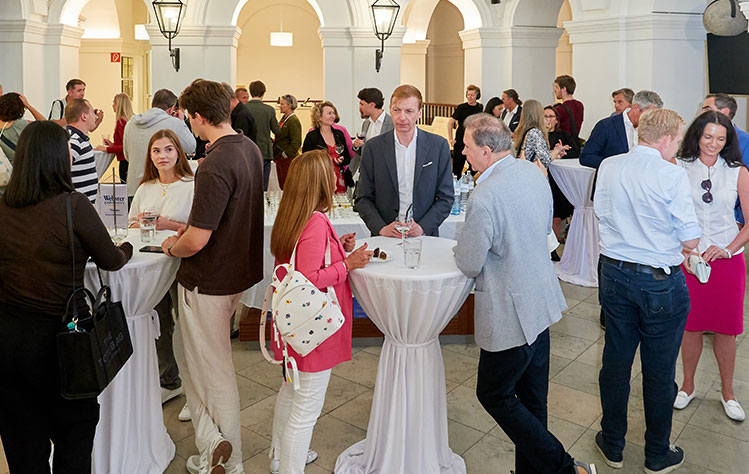 A reception took place after the event for the discussion to continue among attendees. Photo: Carl Anders Nilsson