Webster Vienna Hosts Inaugural Entrepreneur Night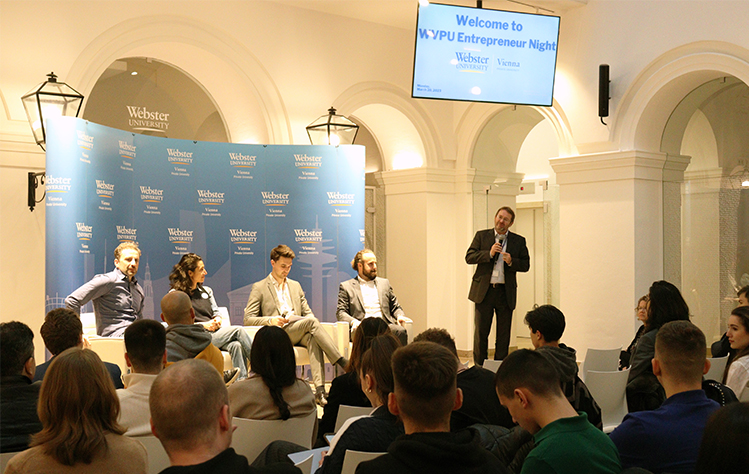 Webster Vienna Private University (WVPU) hosted its inaugural Entrepreneur Night on March 20, featuring a panel discussion about the various facets and challenges of being an entrepreneur.

More than 50 people attended the event, including students, instructors, employees, and others interested in entrepreneurship. The event was hosted by Career Services and the Webster Vienna Alumni Association.

Under the moderatorship of Webster Vienna alumnus Philipp Grüll, panelists Michael Hilbert, Maryam Yeganehfar and Philip Rosenauer recounted their experiences establishing companies and shared expertise about what start-up investors look for when deciding to buy in.

Yeganehfar, a Webster Vienna alumna who founded the company YamYam Event Production, emphasized a crucial part of her company 's success - "Be sure to do your math." She backed up her claim with examples, specifically citing the COVID-19 pandemic, when her company was on hold for almost two years due to restrictions.

According to renowned venture capitalist Michael Hilbert, partner at Match-Maker Ventures, it can take anywhere from just 30 seconds to 1 minute for a funder to realize whether a business idea or start-up is worth investing in. Hilbert emphasized the importance of remaining authentic when telling your story during a pitch. A venture capitalist does not invest in a product but in the person behind the idea.

Philip Rosenauer provided his perspective on the potential legal challenges of starting a business – specifically trademarking products and even a company name.

All three panelists agreed that a crucial success factor for founders is to be aware of one's own strengths and weaknesses, along with asking for and accepting help when needed.

After the panel discussion, Webster Vienna students were given the opportunity to ask questions and network with the industry experts. Many students shared their ideas for starting a business.

Given the great interest in entrepreneurship among students, WVPU intends to continue investing in opportunities which further connect students with the knowledge and resources they need to be successful in their future business ventures.

This article was written with support by WVPU student Victoria Gueorguieva.