Webster Vienna Hosts Event with US Ambassador to Austria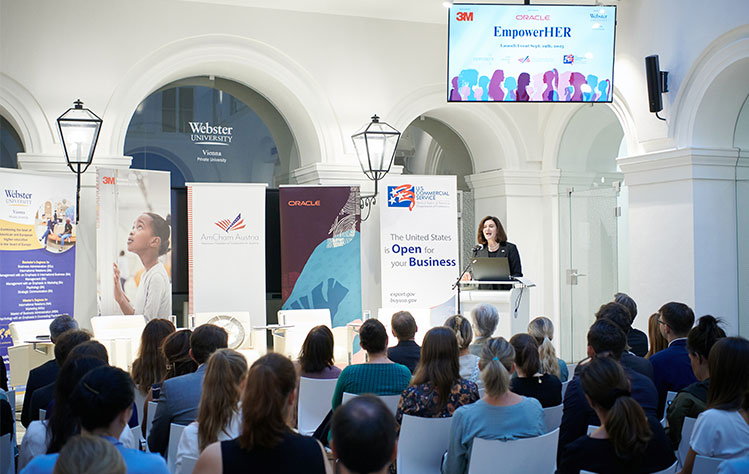 Victoria Reggie Kennedy, United States Ambassador to Austria, speaks at the event.
On Sept. 19, Webster Vienna Private University (WVPU) hosted the official launch of the transatlantic initiative "EmpowerHer" of the American Chamber of Commerce in Austria (AmCham Austria) in cooperation with the U.S. Embassy. This initiative focuses on women's empowerment in the business community and models the advantages of equal opportunity in commerce and trade.

Following the welcome remarks by Johannes Pollak, rector of WVPU, U.S. Ambassador Victoria Reggie Kennedy and EcoAustria Director Monika Köppl-Turyna shared insights on the current gender gap and the expected impact of promoting women in leadership positions.
 
Webster Vienna, which offers American higher education in the world's most livable city, is pleased to be able to support both American and Austrian efforts to mentor working professionals in the Vienna region. 

"It was a pleasure for Webster Vienna Private University to welcome attendees of the launch of the EmpowerHer initiative," said Johannes Pollak, rector of WVPU. "This program, which supports women's leadership in the business world, embodies the Webster Vienna mission to generate knowledge and prepare students for success through a globally oriented and personalized education, small classes and mentorship."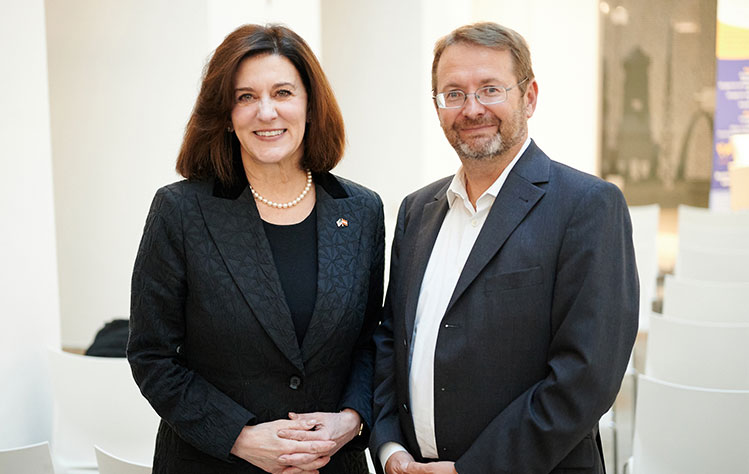 United States Ambassador to Austria Victoria Reggie Kennedy pictured with WVPU Rector Johannes Pollak.
ConnectUS, AmCham Austria's networking program, brings together up to 80 talented individuals from member organizations across all industries. Through a series of four interactive events running until May 2024, ConnectUS aims to facilitate meaningful connections and foster professional relationships among the next generation of leaders, with a focus on promoting women's empowerment and gender equality. WVPU alumna and Special Projects Officer Allison Snowden will participate in the ConnectUS program.

MentorUS is a mentoring program for female employees of AmCham Austria member companies, bringing together a group of Austro-American business leaders with women who aspire to excel in leadership and management roles. 

WVPU, one of the longest operating private universities in Austria, became the first university in the country to offer degree programs entirely in English; the first to offer an accredited MBA degree in 1985; and one of the first to receive full accreditation as a private university in 2001. 

More than 40 years from its founding, WVPU is an integral part of the Austrian higher education landscape. Well known for its rigorous teaching excellence and student mentorship, its roster of research faculty guarantees the indivisibility of teaching and research in the classroom while delivering practical real-life skills.  

Learn more about Webster Vienna, American education at its best in Europe: study.webster.ac.at.