Webster University Dance Ensemble 2023 Spring Concert April 28-30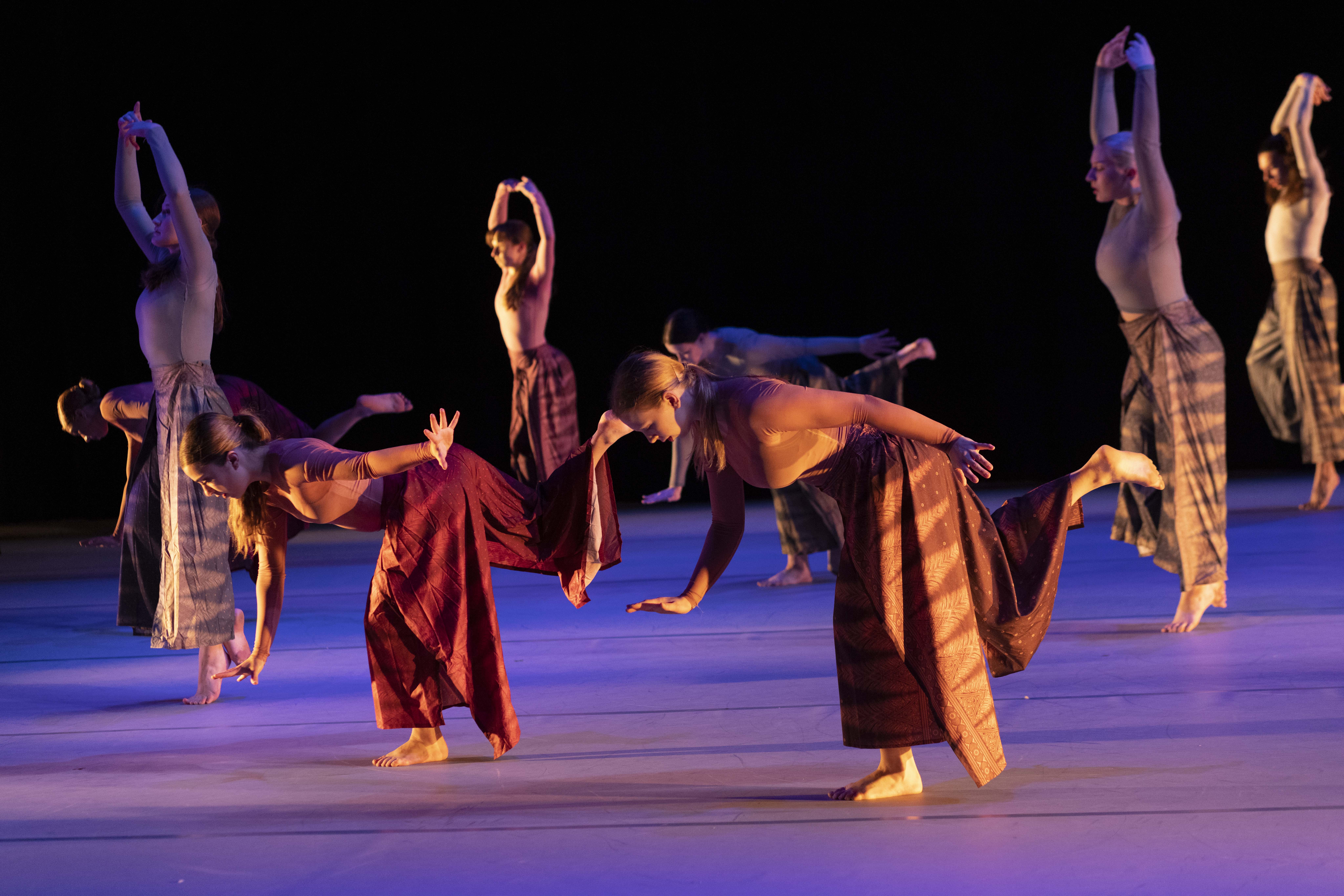 Webster University Dance Ensemble (WUDE), under the artistic direction of Xi Zhao, will present its 2023 Concert April 28-30. The Dance Ensemble performs on the Browning Mainstage of the Loretto-Hilton Center, 130 Edgar Road, on Friday and Saturday, April 28-29 at 7:30 p.m.; and Sunday, April 30 at 2 p.m. The concert features a variety of works performed by students in a wide range of styles – such as contemporary, ballet, or aerial dance. The show highlights the dancers' extensive technical training and eclectic performance abilities.
The Department of Dance is honored to have two guest artists this year: Abby Z and the New Utility, and alumni guest artist Prince Lyons. Other choreographers include Webster faculty members Maggi Dueker, Dawn Karlovsky, Monica Newsam, and Michael Uthoff. This year's performance features all premieres of original works.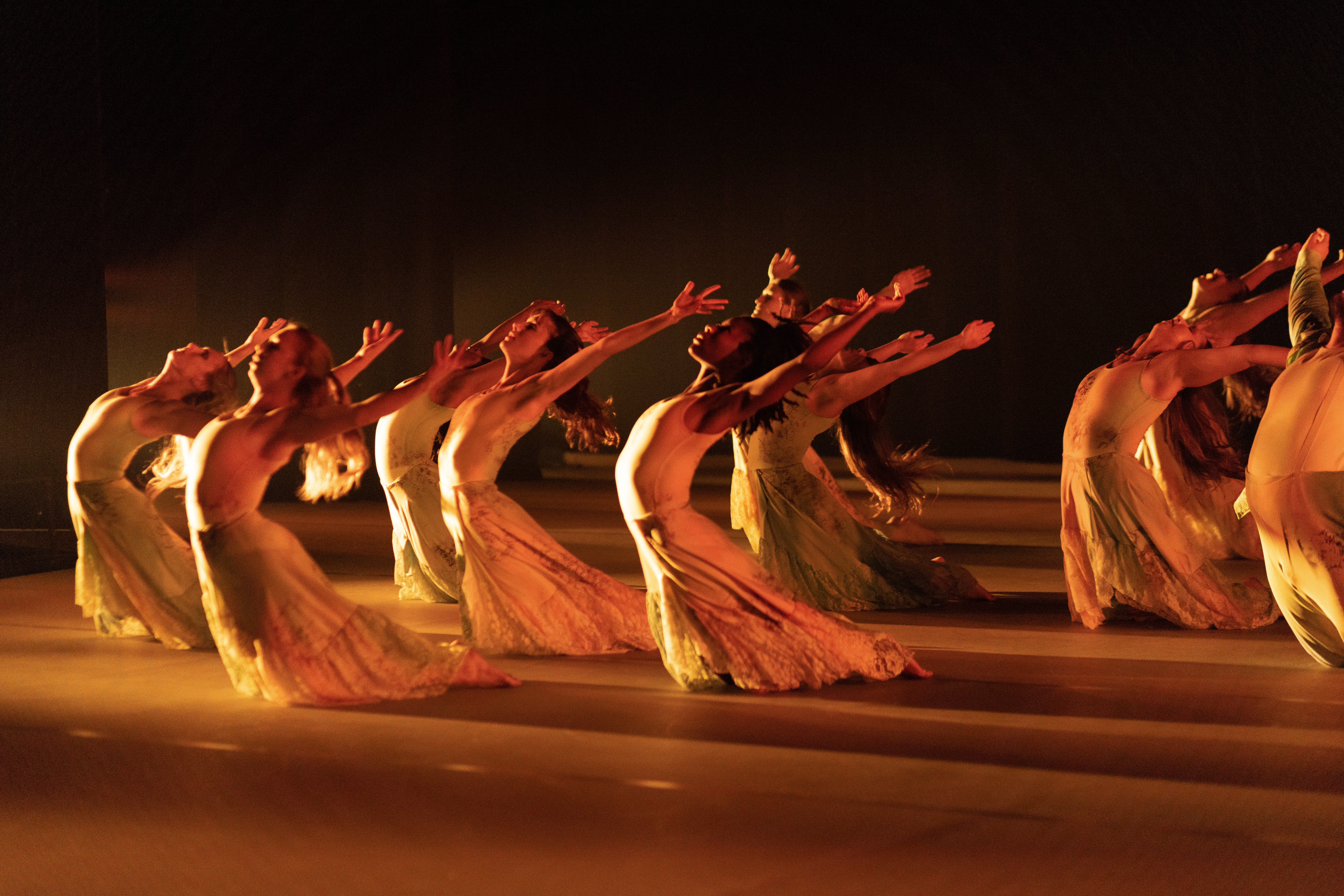 Concert Features
Abby Z and the New Utility company members Fiona Lundie and Benjamin Roach recreated the process and practice of working with Abby Zbikowski by teaching material from current and former company works, having these dancers transform that material and create new material from the original movement task prompts, and arranging all of that into a rhythmically specific structure that forges a strong community while celebrating the individual identities of its members. Slingshot Alloy is a physical and mental rollercoaster that pushes its dancers to utilize their weight and momentum to propel themselves through the space, unlocking a freedom and resilience only found through total exhaustion overcome by and for each other.
Baby Don't Hurt Me, choreographed by Prince Lyons, WUDE alumni guest artist, and Haley Rhiney, Webster Dance senior, facilitates a conversation through contemporary dance and speech about the many forms of love and their potential emotional effects on various relationships. Lyons spoke deeper on this subject. "In a world where we know so little, let's talk about love, loss and feelings that we all share, no matter how ugly it gets. Thank you to the cast and Webster University Dance Ensemble for allowing me to explore so deeply." Rhiney shared gratitude for the opportunity to work with Lyons. "Thank you to Prince for welcoming me into your choreographic world and process. I will cherish this experience and use the creative knowledge you've given throughout my career. The work called for an open and vulnerable journey to the finish product."
Maggi Dueker, chair of Webster Dance, spoke about her contemporary piece Apart/A part. "For this piece, I wanted to incorporate contemporary jazz movement vocabulary in an exploration of the ways that we as individuals come together to build partnerships and communities. My hope is that the work portrays a sense of joy and celebration found through moments of intersection and connection through movement."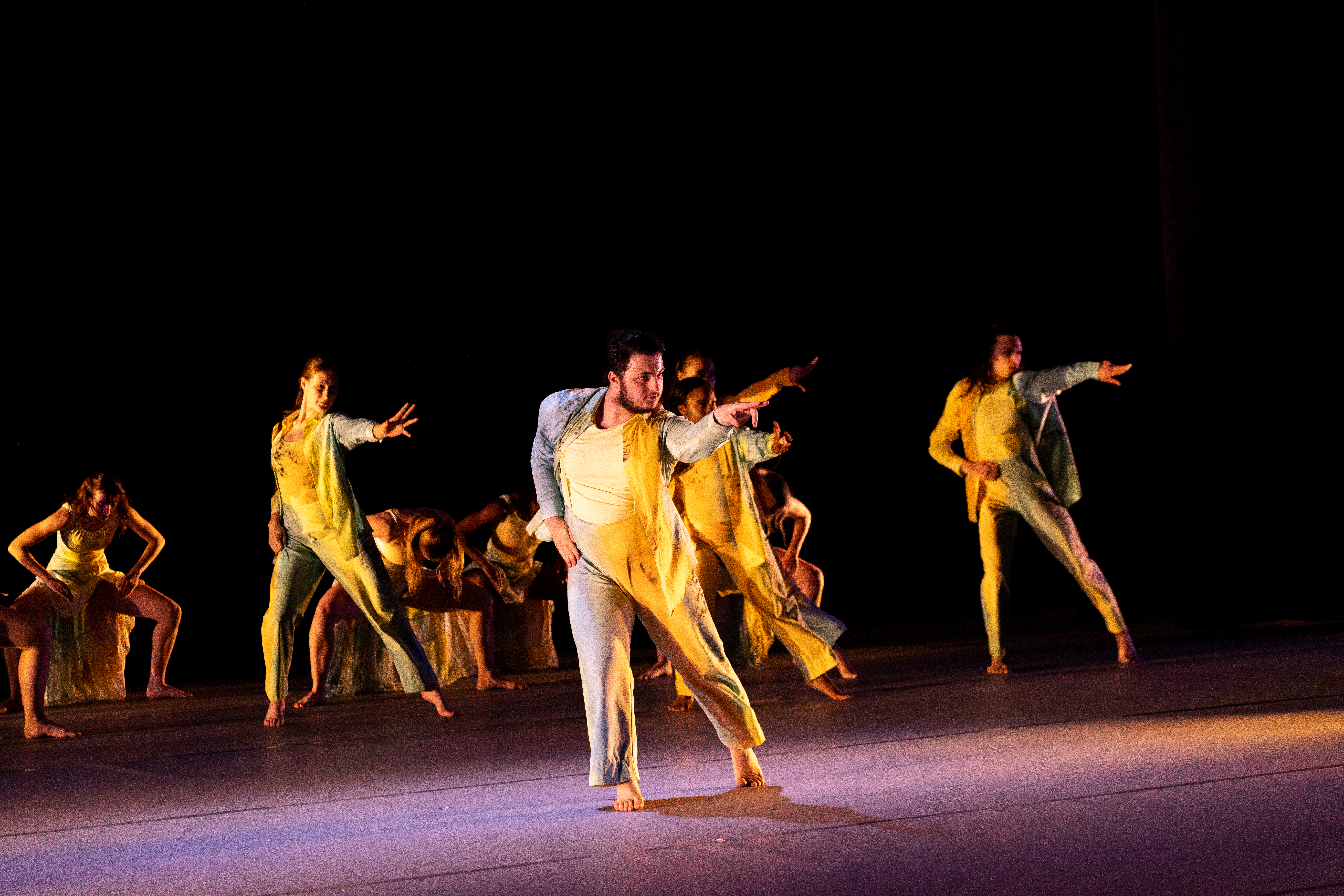 Dawn Karlovsky, Webster faculty and founder and director of Karlovsky & Company Dance creates a new work for nine dancers for WUDE this year. She comments on her work in the piece, Seeing You Seeing Me. "I've been exploring the ways in which we observe and connect with one another. In general, the dance works I create reflect my interest in real life experiences and in human interactions. This new piece continues this fascination of integrating life with art to express something that can be felt and experienced universally. As we take more time to notice and to see one another, our communications and connections deepen. I've been thinking about what we learn from this type of interaction. How does this further our ability to be compassionate? Throughout our creative process, the input from the dancers has been an invaluable resource to the creation of this work. I value each dancer's personal artistic voice and include opportunities for their uniqueness to be seen."
Monica Newsam, Webster faculty and president of Newsam Aerial, invites the audience into an examination of their own life path and the choices they make as they encounter the challenges and the people that give our lives meaning. This ambitious piece explores new movements using aerial dance apparatus and techniques on the wall. Monica Newsam will be collaborating with video artist Zlatko Ćosić on this piece. While the limits of dance and movement are explored in Light On the Path, the audience is encouraged to consider their own path in a new light – specifically the challenges they face and people they connect with along the way, while letting go of the past, living in the moment, and facing the future.
Michael Uthoff, lecturer at Webster Dance and the executive director of Dance St. Louis, shared the approach behind his work. "This work was conceived to examine a willingness to stand still, to dance with each other as a group and to produce connectivity with each other. Though we work out of a loose narrative, each dancer must find their own personality. However, because of the music, one's personality must be subordinate to it. The music dictates the time, energy, and purpose. I've enjoyed the challenge it poses on the young dancers as we work within the classical idiom but try and refrain from its preconceptions."
Tickets
Tickets to the performance can be purchased online. Webster students, faculty, and staff with a valid Webster ID gain entrance for free.
For more information contact the Fine Arts Hotline at 314-968-7128, or dance@webster.edu.