WVPU Fall Orientation: A Warm Welcome to Vienna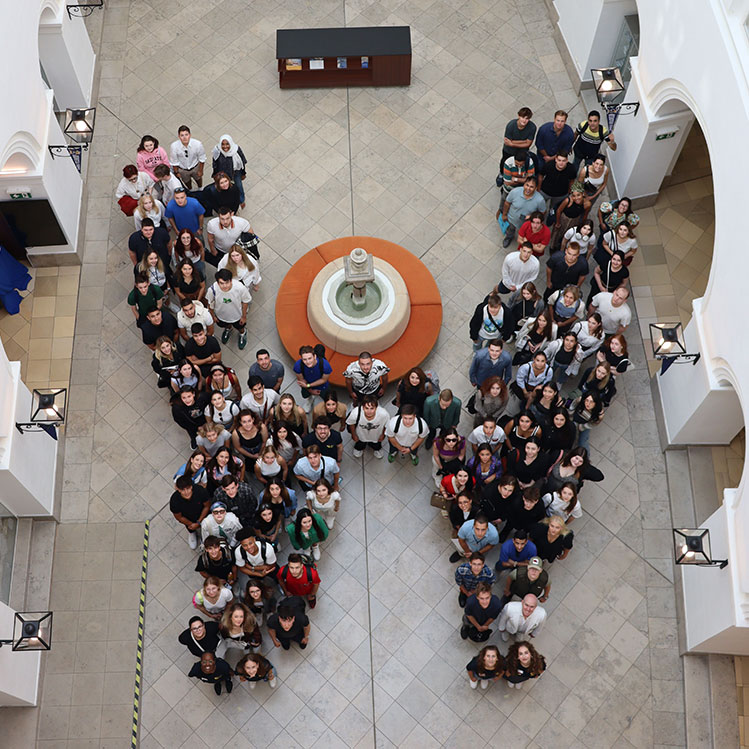 WVPU freshman forming the traditional "big W" at the start of their college journey.
Webster Vienna Private University's (WVPU) fall semester is off to a strong start. The University recently hosted a two-day orientation session to welcome more than 110 new undergraduate and graduate students. With participants hailing from more than 20 countries, this event provided an opportunity for students to connect with one another and familiarize themselves with the campus. Fall semester study abroad students were welcomed to Vienna with a separate orientation at the end of August.
On Sept. 5th and 6th, WVPU's Student Resource Center (SRC) kicked off orientation by welcoming all new students to Palais Wenkheim – a historic building and home of WVPU.
The SRC serves as a hub for new students to transition into university life. During their first day on campus, students received identification cards, obtained final class schedules, and attended information sessions conducted by WVPU staff members.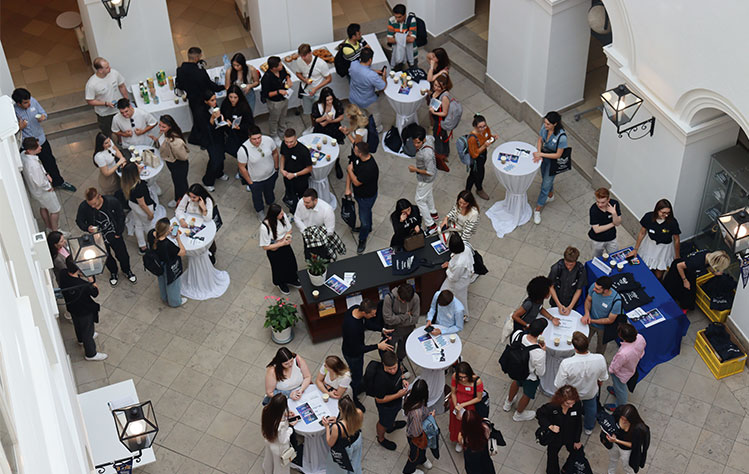 A group of WVPU freshman gather in the Palais Wenkheim atrium on orientation day.
As part of the orientation, students had the opportunity to explore the Webster Vienna library, which offers an abundance of periodicals for those studying at Webster Vienna. Additionally, new students were introduced to the basics of life in Austria, ensuring they felt at ease in their new surroundings. Students met Webster Vienna staff members, who are on hand to provide assistance during their time at the university.
"The orientation days at Webster Vienna are a transformative experience for our new students," said Jennifer Sowerby, student resource center officer at WVPU. "Back-to-school at Webster Vienna is a time when our students not only receive crucial information and resources but also build connections with peers. We strive to create a welcoming environment where students feel supported and empowered to take advantage of all that Webster Vienna has to offer. Our goal is to ensure that each student begins their academic journey with confidence and excitement. We are here to guide them every step of the way."
The SRC, which organized New Student Orientation, goes beyond welcoming students and helps facilitate extracurricular activities and resources at Webster Vienna. The center also oversees the Webster Vienna LEADS program, which focuses on fostering leadership skills and personal development. By encouraging student involvement in clubs and on-campus activities, the SRC ensures that students have a well-rounded university experience.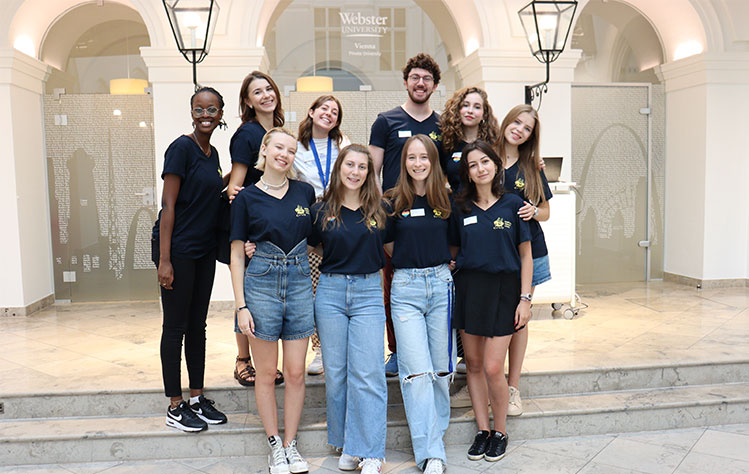 Student representatives of the WebsterLEADS team.
In an effort to help ensure a smooth transition to life in Vienna, WVPU encourages students to visit the SRC or contact student.services@webster.ac.at for additional support. Whether seeking guidance about campus activities or looking for assistance with housing placement, the SRC is available to help guide students.