Webster Alumnus Lands Dream Voiceover Part
Spring 2020 was no ordinary semester for recent Webster University graduate Noah Cornwell. Amid the COVID-19 outbreak, all of his classes at Webster were placed online and Cornwell is certain he also caught the virus. Still, he managed to keep up his grades and complete his degree. He also landed a job as a voice actor in an upcoming "Yu-Gi-Oh!" mobile app.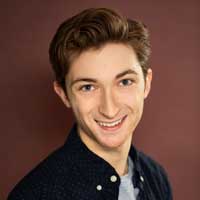 It all started with a trip to New York. Cornwell graduated this year with a theatre degree. As part of the program, the senior class of the Conservatory of Theatre Arts attended the New York showcase in March 2020, where they each had the opportunity to meet casting directors and agents. "New York was normal in every in every sense of the word for showcase," Cornwell said. "Everyone got a little bit of interest."
But that sense of normal wasn't going to last. "I actually had an agent interview the day that Broadway closed down, so that was kind of a shock to the system because the New York showcase was literally right as that happened," Cornwell said. "The New York showcase was kind of our graduation in a weird way, because we didn't go back to school after that."
Cornwell said that times were uncertain after that, especially since his class was also supposed to go to the Los Angeles Showcase, but because of COVID, the trip was transformed into a virtual showcase, where students met with casting directors and agents one on one. This virtual showcase was where he met an NYC casting director who took great interest in him. "He gave me a bunch of different roles and sides to read," Cornwell said.
According to Cornwell, after the interview, he asked to keep in touch, to which the casting director replied that he would have him audition for something soon. But Cornwell didn't realize that what he'd be auditioning for was something that consumed his childhood. "I got an email from him like a week and a half later with a bunch of sides saying, 'we want you to audition for Yu-Gi-Oh!' I was like, 'Oh my gosh,' because Yu-Gi-Oh! is like one of my favorite things from when I was a kid."
Yu-Gi-Oh is a Japanese series of comic books in the Manga tradition that follows a young boy who loves to play games but is often the target of bullies. Originally published in the late '90s, the series was adopted for television and film and eventually was turned into a popular game.
Cornwell auditioned and after an in-person call back through Zoom, he was notified that he got the part of Yuma Tsukumo, a character from the TV show "Yu-Gi-Oh! Zexal." But just like most other interactions during the pandemic, even this job would be altered. Cornwell had to work at home.
He admitted that recording at his house instead of in a studio was strange. "It forced me to kind of understand different parts of the process that I probably wouldn't originally have gotten the opportunity to understand," he said. "I got to spend a lot of time with one of the sound editors and to get me prepared for this, I sent him pictures of my setup and he told me specifically where different sounds were coming from."
One such sound, according to Cornwell, was his metal bed. "It rings if I scream too loud, and this character is all scream, like way up high in the voice," he said. The sound editor heard it in one of the recordings and asked what it was. "He was like, 'that's a metal bed. You have to put blankets everywhere.' So, I just basically built myself a gigantic fort with all the blankets I had and that was the strangest part of it—climbing down from my bed and into my cave every morning," he said. "I can't wait until I can get into a studio and do it because it's just going to be performing it then. It'll just be the job that I love to do."
Cornwell went on to say that being a voice actor for a "Yu-Gi-Oh!" mobile app was like a dream come true. "It's not something I ever considered a possibility really, not because I didn't think I could do it, but because I didn't even consider that a position would be open for one of my favorite things from when I was a kid," he said. "It was so gratifying to know that work I did when I was a kid, like fooling around and playing games, helped me further down in life."
His love of "Yu-Gi-Oh!" wasn't the only thing that helped him, though. His time at Webster was also an invaluable experience. Cornwell said that the technique he used to get the part was one he learned his freshman year. "It's called Voice Soup. It's all about fine tuning every aspect of a character's voice: high pitch, low pitch, are they melodic, are they monotone, are they scratchy... so it's like a soup," he said. "So, I listened to the character's voice from the TV show and I just tried to emulate it as best I could using that Voice Soup technique."
If his whole experience has taught him one thing, Cornwell says it's flexibility. "Flexibility is key. And not only must you be flexible. You must also be efficient, which is a very fine line to walk, especially when you're remotely recording or auditioning," he said. "You need to be efficient and you need to show that you are worth the time and money that they're going to spend on you."