Academic Resource Center Offers Testing Center Aid for Students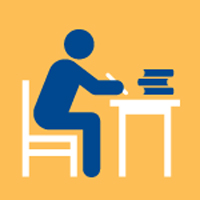 The Testing Center at the Webster Groves campus serves students who need tests rescheduled with an instructor's approval as well as accommodated tests, MBA waiver exams, foreign language placement exams, the MoGEA (Missouri General Education Assessment), and credit by exam assessments. In addition, the Testing Center offers proctoring services to other universities and institutions for a fee.
Webster University Testing Center staff is committed to protecting academic integrity and has strict guidelines in regards to what constitutes academic dishonesty.
The Testing Center empowers students to:
Manage their time and schedule their exams according to deadlines.
Coordinate with their faculty members to ensure their exams arrive at the Testing Center.
Advocate for using the Testing Center to ensure they get extended time or other accommodations if appropriate.
Arrive at appointments on time with all the materials needed.
Testing Center Guidelines for Students
Remain quiet throughout the exam. Whispering, talking, writing or any form of communication with other students during an exam is never appropriate.
Remain in your chair until you finish the exam unless you have permission from a proctor to leave the room.
Use only materials approved by the test administrators during the exam.
All testing materials should remain on your desk throughout the examination.
Stop all work when the time has been called.
Turn in all examination materials (exam, scantron, scrap paper) before leaving the Testing Center.
No cell phones, laptops, and other electronic devices are allowed in the testing rooms and must be locked away before the start of the exam.
Testing Center Guidelines for Faculty
When scheduling an exam for a student, please follow these procedures to ensure a smooth testing process:
Complete the Testing Center exam form. Faculty can complete this form either in person at the Testing Center or online at webster.eduesting-center. Please include an exact time limit, the dates the test can be administered, proctoring instructions, accommodations (if applicable), allowed testing aids, and any other necessary information. Please note that the Testing Center voicemail and email are not monitored from Friday at 4:30 p.m. to Monday at 9 a.m.
Provide several ways for the testing center to contact you. For questions regarding the administering of the exam or, if a student has an issue, the testing center will need to reach out.
Verify your proctoring instructions. Proctors are required to have students lock up all personal belongings. Only items explicitly allowed by faculty members are permitted in the exam rooms. For example, if you verbally tell students that they are permitted to take in a textbook, note cards, calculator, scrap paper, ruler, etc., but you do not write these details on the Testing Center Exam Form, your students will not be allowed to take these items into the exam room. This situation can increase student anxiety, which we try to minimize.
Academic integrity is an integral part of the Testing Center functionality. To help ensure these standards, the Testing Center does not accept students' homework assignments, late work, or take-home exams/work and does not collect work to be distributed back to students. Additionally, students may not personally bring their exams to the Testing Center. These policies protect the academic integrity of the Testing Center.
Testing Center Information
Testing Center staff members are available to answer questions at (314) 246-8225 from 9 a.m. to 7 p.m. Mondays through Thursdays and Fridays 9 a.m. to 4:30 p.m. during the regular semester. (See the Academic Resource Center website at webster.edu/arc to confirm hours during breaks and the summer semester.)
Faculty may send exams directly to arc@webster.edu or deliver them in person to the Testing Center in the Academic Resource Center (ARC) at Loretto Hall room 40.
For specific concerns, contact Carolyn I. Brown, ARC assistant director, at (314) 246-7668 or carolynbrown04@webster.edu.