Disability Awareness: We can all overcome our challenges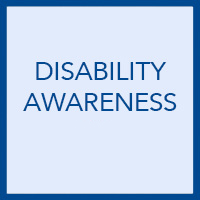 Election Day and the Thanksgiving holiday encouraged the Accessibility Committee and the Academic Resource Center to reflect on the accomplishments of some of the United States' most well-known individuals despite their challenges with "disabilities."
Everyone faces their own challenges, whether they be physical, intellectual, or emotional, and must find ways to overcome these barriers to accomplish great things.
One of the biggest achievements one can make is to attain the role of President of the United States. Presidents are not immune to the same disabilities that affect any other person. In fact, several of the country's chiefs of state have overcome disability challenges.
Many are well aware of some of these examples but may be less familiar with some of the more hidden disabilities that our commanders in chief have overcome and/or managed.
The below list from Inc.'s article 11 U.S. Presidents Who Overcame a Disability documents some of these examples:
George Washington – widely believed to have been dyslexic
Thomas Jefferson – believed to have been dyslexic and had a stutter
James Madison – had epilepsy
Abraham Lincoln – had depression and other physical ailments, such as headaches; widely believed to have had Marfan's Syndrome as well
Theodore Roosevelt – was nearsighted and had severe bronchial asthmas
Woodrow Wilson – was dyslexic and experienced a stroke while in office
Franklin Delano Roosevelt – was partially paralyzed by polio
Dwight D. Eisenhower – widely believed to have been dyslexic
John F. Kennedy – was dyslexic and had chronic back pain
Ronald Reagan – was nearsighted and had hearing challenges during his presidency for which he used a hearing aid
William Jefferson Clinton – had a high-frequency hearing deficiency