October is Disability Awareness Month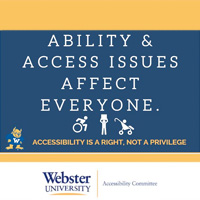 October is disability awareness month, the time in which diverse contributions of people with disabilities are recognized and valued.
In observance of this month, Webster's Universal Accessibility Committee has posted signage around the main campus in Webster Groves, meant to accomplish three things:
To acknowledge that people with disabilities are an innate and essential part of the Webster community
To raise awareness of the many barriers that people with disabilities face in their daily lives and their need for accommodations
To encourage a more proactive approach to the inclusion of people with disabilities.
This effort stems from a desire to enact change and shift our collective mindset to one which considers the needs of all people and works with intention to create a non-discriminatory and equal-access environment.
As you pass these signs, consider their implications and the ways in which you might incorporate their messaging into your daily life.
Submitted by Karen Wakeland, Accessibility Committee chair