Accessibility Podcast Series: Setting Up ADA Accommodations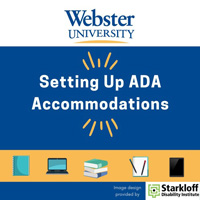 Throughout Fall 2019, Webster University's Accessibility Committee will be coordinating with campus and community partners to produce a series of podcasts focused on providing access to students with disabilities.
The second podcast of the series, "Setting Up ADA Accommodations," is now available.
In this session, Nellie Hopmann, Webster University's Academic ADA Coordinator, is interviewed by Jim Singer with Webster's Galaxy Radio.
This episode covers the processes students should follow to set up and maintain their accommodations, the rights and responsibilities students have in setting up their accommodations, questions students frequently ask or should be asking about accommodations, and what faculty and staff can do to best support students throughout the accommodations process.
For more information about ADA accommodations at Webster, reach out to Nellie Hopmann, Academic ADA Coordinator, at chopmann22@webster.edu, disability@webster.edu, or 314-246-7700.