Office of Admission Welcomes Area Community College Advisors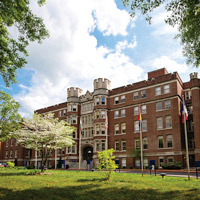 The Transfer Team in the Office of Admission recently welcomed advisors from area community colleges to Webster's home campus.

Advisors from East Central College visited the Webster campus on Feb. 23 and met with members of the transfer admissions team and Kim Kleinman from academic advising. Advisors from St. Charles Community College visited on Feb. 26 and met with members of the transfer admission team and Laurie Nest from the Westport and WingHaven campuses.

The team will also host advisors from St. Louis Community College-Meramec on March 16.

During the visit, guests enjoy a light breakfast, conversation and a campus tour with the Gorlok Guides. Through these visits with local community colleges, Webster is able to share information with the advisors about new and existing academic programs, Webster's extensive study abroad opportunities, the University's generous transfer policy and scholarship opportunities for transfer students.
April Community College Events
The Transfer Team has also been busy this spring with community college campus visits and attending transfer fairs. The team is gearing up for two events on community college campuses next month. The team will host "Webster Days" at St. Louis Community College- Meramec on April 6 and Southwestern Illinois College (SWIC) on April 12.
Meramec and SWIC students will be able to apply for admission on-site, meet one-on-one with an admissions counselor and learn more about Webster academic programs, dual admission and transfer scholarship opportunities.