Advising Curriculum Series: How Students Can Take the Next Steps in Advising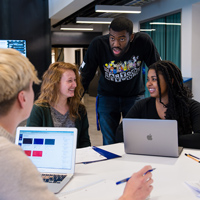 The Undergraduate Team of the Academic Advising Center offers a second program for faculty advisors on Friday, Dec. 13, at 2 pm CT in East Academic Building Room 133 and via WebEx (see below).
This program will discuss "How Students Can Take the Next Steps in Advising." We will discuss what students can learn from advisors once they have mastered advising basics to get the most out of their educations.
Besides thinking about Global Citizenship Program courses as ways to complement their major and interests and using other credentials (double majors, dual degrees, minors, and credentials, we welcome Kelly Heath of Study Abroad, International Languages and Cultures chair Silvia Navia, and Interim Dean of Students John Buck to add what their programs do to an enriched student experience.
This year's series is organized around an Academic Advising Syllabus that recognizes that students learn about advising in a developmental way. The first session, "What Students Should Learn from Advisors in Their First Year," gave faculty advisors tools to meet students' needs as they come for their first advising appointment. It will help students meet expectations about using tools like the Undergraduate Catalog, Degree Audits, Degree Plans, and the Student Success Portal. The Feb. 21 program will address "How Students Can Get the Most From Advising as They Approach Graduation."
The program grows out of New Faculty Orientation, but will be useful for beginning advisors as well as veterans. It is excellent preparation for participation in the Summer Advising Team.
RSVP to Craig Skinner at craigskinner37@webster.edu.
WebEx info:
Meeting link
Meeting number (access code): 924 234 766
Meeting password: advising