Outstanding Marketing Student Honored by Faculty at AMA Conference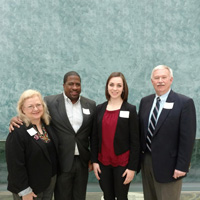 David J. Brennan, professor of Marketing, Eric Rhiney, assistant professor of Marketing, and Donna Cartwright, adjunct professor of Marketing and several Webster University seniors (Katie Fields, Hailey Hogan, Rachel Mencel, Drew O'Brien, Zac Smercina, Sydney Tedesco and Madison Watts) from Webster University's Geroge Herbert Walker School of Business and Technology marketing program attended the 57th Annual AMA Student Marketing Conference.
The conference, sponsored by the St. Louis chapter of the American Marketing Association, was held in St. Louis on Feb.16 and featured presentations by several regional marketing professionals. These professionals discussed their marketing jobs and careers. They also emphasized the knowledge and skills that graduating marketing students would need to be successful in career positions in the marketing field. In the afternoon the conference provided a visit and tour of several St. Louis advertising agencies.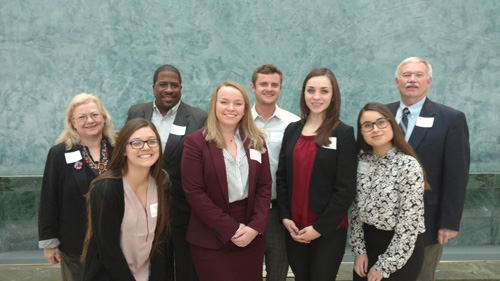 At the conference, Rachel Mencel, a graduating marketing senior, was recognized as the Outstanding Undergraduate Marketing Student from Webster University for 2017/18. This award was given for her superior academic achievements in the undergraduate marketing program at Webster University.
Rachel is a student from Colchester, Illinois who has spent her university years at Webster University in St. Louis including a study abroad in Vienna. She will complete her Bachelor of Arts in Management with an Emphasis in Marketing with a second major in Advertising/Marketing Communications in May 2018. Rachel was selected as Webster's Outstanding Undergraduate Marketing Student due to her high academic achievements – an overall high GPA and high grades in her marketing courses – and her many extra-curricular activities. She is currently interning at the Fabulous Fox Theater as a marketing intern and at the Stray Rescue non-profit as a social media and marketing intern. She is also very active in student and professional organizations at Webster as well as with collegiate and private volleyball teams.
The award was announced at the 57th Annual Student Marketing Conference held in St. Louis, Missouri on Feb.16.
It is a distinct honor to be selected as Webster University's Outstanding Undergraduate Marketing Student for 2017/18. Rachel is an outstanding marketing student with proven academic excellence, interesting intern experiences and notable extra-curricular activities. We congratulate Rachel and wish her all the best in her marketing career.