Confucius Institute Hosts Annual Teacher Training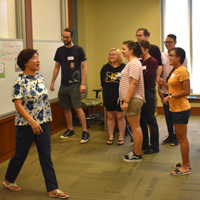 The Confucius Institute at Webster University (WUCI) held its annual Teacher Training Workshop for area K-12 Chinese Teachers on Aug. 17.
This annual workshop is one of the ways in which the WUCI fulfills its mission of supporting Chinese teaching in the local area and facilitating deep levels of cultural exchange.
During the morning session, teachers Weiwei Chien and Xuan Chen from Chaminade College Preparatory School gave a talk on the Teaching with Comprehensible Input (TCI) and Teaching Proficiency through Reading and Storytelling (TPRS) methods of foreign language teaching.
To demonstrate these methods, seven Webster University students and employees with no background knowledge in Chinese were invited to attend. Through practice of those two methods, the guests learned and exhibited comprehension of an impressive amount of the language in a short period.

In the afternoon session, Yanhong Zheng of Fayette County Public Schools in Kentucky spoke on classroom management techniques and effective teaching activities. Classroom management is a topic particularly important for Chinese teachers, who often encounter cultural differences in this aspect of their work. Teachers came away from this session with a new array of techniques try out in their own classrooms.