ARC Welcomes Back Staff, Expands ESL Support, Online Access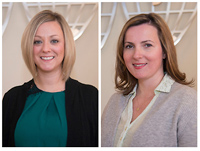 The Academic Resource Center (ARC) is pleased to announce the return of Sanela Bejdic, Testing Center coordinator, and Shelley Wolfmeyer, Academic ADA coordinator, following the births of their youngest children—a girl in December for Bejdic and a boy in November for Wolfmeyer.
With the return of these ARC team members, they will resume their respective duties, which have been supported by other members of the ARC team during their leaves of absence.
If you have any questions about the Testing Center, proctoring or scheduling exams, etc., please reach out to Bejdic at 314-246-8225 or dzanksan@webster.edu. If you have any questions about academic ADA accommodations, assisting students with accommodations, etc., please contact Wolfmeyer at 314-246-7700 or shelleywolfmeyer@webster.edu.
ESL Support Expanded
The tutoring program and the Writing Center are building ESL support by adding peer tutoring and writing support as well as professional writing support. Flyers advertising these services have been created in several languages, including French, German, Spanish, and Chinese, and are being distributed to students.
Presentations Available for Class, Meetings, Workshops
ARC team members are available to present to your classes, during your department meetings, at special workshops and events, and more. Common classroom presentation, workshop, and event topics include academic integrity, proper documentation and plagiarism prevention, study skills, and time management.
Many of these presentations are being promoted as Gorlok Grit Huddles and introduce students to topics often covered in academic counseling appointments, including adjusting to change in college; managing time in stressful situations; creating a healthy balance between school, work, family, and activities; goal planning for the semester and beyond; resisting procrastination; and preparing for finals.
Department meetings often include conversations about academic ADA accommodations and assisting students with disabilities, assistive technology—particularly Kurzweil 3000, and the Plagiarism Prevention Program.
If you are interested in a presentation or meeting, please contact an ARC team member. For Gorlok Grit Huddles, specifically, please contact Lisa Hempen, Student Success coordinator, at 314-246-8284 or lhoffmanhempen67@webster.edu.
Scheduling Enhancements
This semester, Hempen is piloting an online scheduling option for students to make academic counseling appointments. Students may still contact Hempen by phone or email but may also now schedule appointments through WC Online at https://webster.mywconline.com as well. Appointments are available for in-person, phone, and/or WebEx sessions.