ARC Sees Usage Increasing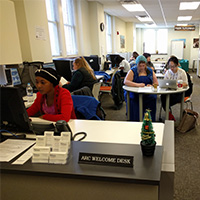 The Academic Resource Center (ARC) team and services strive for excellence in their work to support students, faculty, and staff. In order to focus on continuous improvement, assessment is necessary.
Qualitative feedback is so important, which is why the ARC home page includes links to the feedback surveys for key services:
Academic Counseling
Testing Center
Tutoring Program
Writing Center
With the links always available and the surveys always active, students and other customers can provide feedback as soon as their sessions have concluded. And, ARC team members, including peer tutors and writing coaches, can encourage completion of the surveys.
Surveys often provide important feedback to members of the ARC team...and their highlights can illustrate to others why they, too, should consider ARC resources. For example:
"[The ARC staff member] was so helpful when I met with her this fall. She was really knowledgable and helped me breakdown my scientific report into a more clear and concise article. I would definitely come back!"
"Meeting with [the ARC] has been the most helpful thing on campus for me. I absolutely adore meeting with them, and they've kept me successful in classes and in general, right now."
"I can't thank the staff of the ARC in general) enough!"
"It's been great, I very much enjoy meeting with my counselor, and it is very helpful, (and would be absolutely a lifesaver if I was living alone)..."
Increases in resource utilization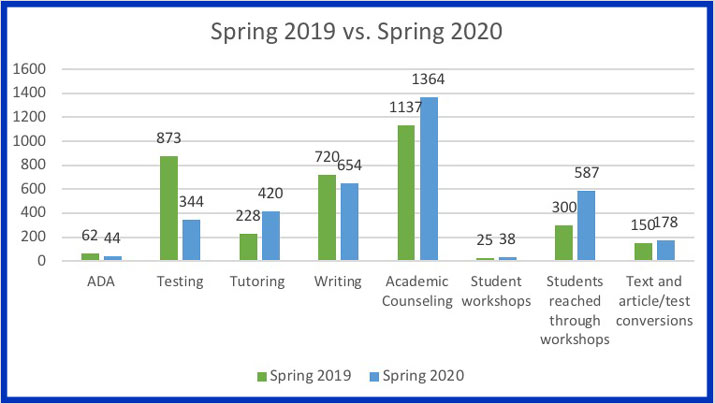 Quantitative data is a little easier to collect and provides helpful and insightful information. As seen in the chart above, most services have seen increases in Spring 2020 compared to Spring 2019. Of note, testing services are down significantly, in large part due to COVID-19 and the need for remote operations.
Tutoring services, however, have increased by 184%. This increase is, in large part, attributed the University's partnership with NetTutor, which began in late June/early July 2019. In fact, NetTutor alone had more appointments than all tutoring appointments in Spring 2019.
Academic Counseling continues to see steady increases in use, too. Academic Counseling is one-on-one support that provides the assistance students need when they need it. Conversations often focus on accessing University resources, goal setting, learning styles, motivation, note taking, self-advocacy, stress relief and management, study skills, test taking, time management, and more.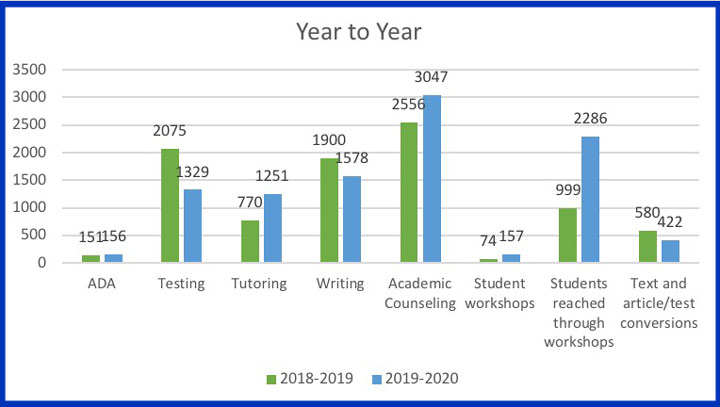 Available ARC resources
The ARC wants you and your students and classes to connect with their services. Faculty and staff members can connect students to services directly and/or by raising relevant flags and referrals through the Student Success Portal, powered by Starfish:
Academic Counseling Referral
Academic Integrity (flag)
ADA Concern (flag)
ADA Referral
Tutoring Referral
Writing Referral
Additionally, we encourage faculty to invite ARC team members into their classrooms for short presentations about the various services and how the services and resources can support their students. Services of particular interest are likely:
Academic Counseling resources
Academic Integrity and Writing resources
Tutoring resources
ARC team members can even teach mini lessons in classrooms when invited. These lessons typically focus on academic integrity, paraphrasing, proper APA and/or MLA documentation, and writing development or time management and study skills.
10 Facts and Requesting Presentations
Presentations can be requested online at or by contacting one of our ARC team members directly.
Want to know more about how the ARC can help you and your students? Our 10 Facts to Know about the Academic Resource Center is a quick-access guide to help answer some of those questions.