The ARC Ready to Help Students, Faculty, and Staff In Spring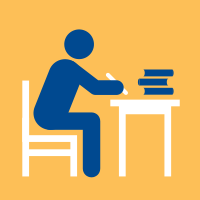 The Academic Resource Center (ARC) offers support and a wide array of resources to students, faculty, and staff at Webster University throughout the global system. The challenge, however, is getting students to use the services.
The reason this challenge exists is threefold:
Many students are unaware of the services or do not remember the many occasions they've been informed about the services.
Many students believe they do not need assistance.
Many students are hesitant to contact individuals they have not met/go places they have not gone.
The ARC team, and Webster University, are asking faculty and staff members to help overcome these challenges. Assistance can be provided in a number of ways. Below are a few examples.
Provide information about the ARC in your syllabi
Below are a few examples of excerpts that can be included in your syllabi to provide students information on ARC services:
Academic Resource Center: Support and resources, including academic counseling, accommodations, assistive technology, peer tutoring, plagiarism prevention, testing center services, and writing coaching, are available through the Academic Resource Center (ARC). Most supports and resources are available to all students, in all modalities, throughout the Webster world. Visit www.webster.edu/arc or Loretto Hall 40 on the Webster Groves campus for more information.
Academic Accommodations: Webster University makes every effort to accommodate individuals with academic/learning, health, physical, and psychological disabilities. To obtain accommodations, students must identify themselves and provide documentation from a qualified professional or agency to the appropriate campus designee or the Academic ADA Coordinator at the Webster Groves campus. The Academic ADA Coordinator may be reached at 314-246-7700 or disability@webster.edu.
If you have already identified as a student with a documented disability and are entitled to classroom or testing accommodations, please inform the instructor of the accommodations you will require for each class at the beginning of the course.
Academic Integrity: The work students do in each course must be their own. This requirement means that students must be aware when they are building on someone else's ideas—including the ideas of their classmates, their professors, and the authors they read—and explicitly acknowledge that they are doing so. Students must cite sources both within their text and in a References page at the end of their work. If students ever have questions about drawing the line between others' work and their own, their professors and the Academic Resource Center's Writing Center or Online Writing Center are available to assist.
Some tips to keep in mind are that students:
Should not copy whole portions of text from another source as a major component of papers or projects.
Should identify the title, author, page number/webpage address, and publication date of works when directly quoting small portions of texts, articles, interviews, or websites.
Should appropriately identify the source of information when paraphrasing (restating) ideas from texts, interviews, articles, or websites.
Should follow the guidelines of the American Psychological Association (APA) Style Guide when referencing all research sources.
For more information, please see the online information on avoiding plagiarism.
Students who violate this policy risk failing assignments, failing courses, and/or expulsion from the University.
Regularly mention the ARC in your class sessions
You can provide this information in person or online through World Classroom.
Bring the ARC and your class together
Invite ARC team members and/or student tutors or writing coaches to your classrooms to present on relevant topics, introduce themselves to your students, etc. Virtual visits are available as well.
You can also schedule a tour of the ARC and bring your students to the facility in person or via the website (www.webster.edu/arc).
Play to their strengths
Encourage your strong students to apply for tutoring and/or writing coach positions in the ARC.
Applications can be found here.
Integrate Student Success Portal tools
Use the Student Success Portal, powered by Starfish, to connect your students to the ARC by raising specific flags and referrals when appropriate:
Academic Counseling Referral
Academic Integrity (flag)
ADA Concern (flag)
ADA Referral
Tutoring Referral
Writing Referral
Students can also "raise their hands" to request assistance with accommodations through the Raise Your Hand referral I Want to Set up Accommodations.
Explore the ARC on the Student Success Portal
Learn more about the ARC (and the Student Success Portal) yourself. You can access ARC information in both the Services and Inventory sections of the Student Success Portal.
NOTE: Students access Services through their My Success Network tabs, but they do not have access to the Inventory. Read more in this previous Webster Today article on the Inventory.
More information on the ARC
The Academic Resource Center (ARC) serves the global Webster system and is available by phone, email, and video conferencing to all Webster students (and employees). It is located on the Webster Groves campus in Loretto Hall, room 40.
To find out more, confirm our hours, schedule a presentation for your class or department, etc., visit our website.
The ARC's full-time professional team members, along with their student employees, are available to answer questions and assist you and your students:
Erica Ellard, Academic Resource Center Director (and co-project lead for Starfish)
Carolyn Brown, Academic Resource Center Assistant Director
Kristin Cobos, Writing and Online Writing Center Coordinator
Corey Hawkins, Transitions Coordinator
Lisa Hempen, Student Success Coordinator
Chanelle (Nellie) Hopmann, Academic ADA Coordinator
Cindy Yamnitz, Assistive Technology Program Coordinator