Academic Resource Center Reopens for Spring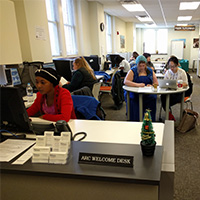 The Academic Resource Center reopened on Jan. 2. However, the Testing Center, the Tutoring Center and the Writing Center will resume specific hours on different days in January.
Testing Center
The Testing Center reopened Monday, Jan. 6, with evening hours only two days a week. Regular semester scheduling resumes the week of Monday, Jan. 13.
Tutoring Center
The Tutoring Center reopens Monday, Jan. 13, for peer tutoring (the schedule will be posted online soon), but NetTutor is available throughout the break via your WorldClassRoom (Canvas) course shell.
Writing Center
The Writing Center reopens for limited hours the week of Monday, Jan. 6, and will return to regular semester hours the week of Monday, Jan. 13. Please visit online for more information on the Writing Center couches schedule for Spring 2020.
Emerson Library
Weekend hours in the Emerson Library resume the weekend of Saturday, Jan. 25. Click here to view the Emerson Library hours.